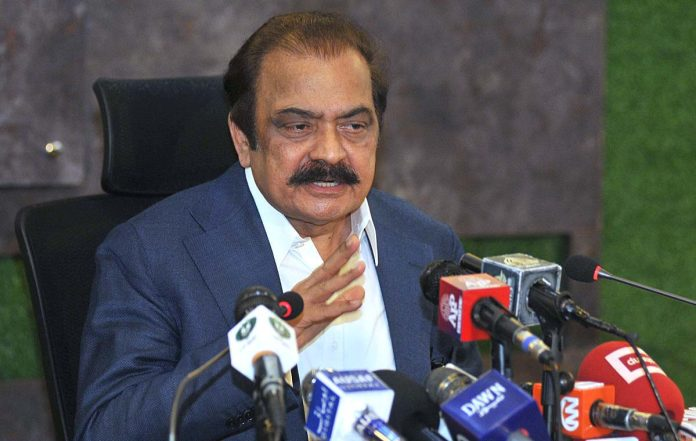 Interior Minister Rana Sanaullah advised Pakistan Tehreek-e-Insaf (PTI) chief and former premier Imran Khan on Friday to "change" his behaviour and revise security measurements.
The minister's remarks came during a press conference a day after Imran was shot in the leg in an assassination attempt.
Referring to a video of PTI leaders released after the incident, Sana quoted Asad Umar as saying that Imran Khan was aware of the threats and that party leadership had repeatedly warned him, but he insisted on continuing his protests.
Sana, on behalf of the federal government and the interior ministry, asked Imran and other PTI leaders to change their behaviour to avoid such incidents.
#Live: Interior Minister @PresPMLNPunjab addressing a news conference in #Islamabadhttps://t.co/OFOUeCCF04
— Radio Pakistan (@RadioPakistan) November 4, 2022
"We are not scared, nor do we want their long march to stop. However, these things must be brought to their notice. We hope our cautioning is not tossed to the wind but taken seriously," he said.
He further said that it was "very saddening" that after the incident, the PTI leadership blamed "three people" for the attack, forcing their supporters to come out of their homes, riling up crowds and "waving weapons around".
Read 'Unfortunate firing incident': Army prays for well-being of Imran
"This is the same language that Imran Khan has used from 2014 on his container uptil now," Sana said, adding that this behaviour would drag the country away from democracy.
He said that it was "saddening that PTI chairman Imran Khan blamed people for his attempted assassination without any investigation or proof".
He maintained that the incumbent government had expressed condolences and prayed for those injured because they considered the PTI "political opponents, not enemies". He claimed that Imran was the one who turned his political opponents into enemies.
Commenting on the viral video of the alleged culprit's statement, Sana highlighted that a first information report (FIR) had still not been filed, raising questions about the delay.
"Maybe they [the PTI] are trying to manage this on their own, which is very concerning," he said, adding that he was unsure if it was "leaked" or "released".
He further said that after the release of the video statement, the government and chief minister of Punjab had suspended everyone at the Gujrat police station where the alleged assailant was held. However, a "very dangerous" second video with "damaging allegations" was also released.
"In the video, the suspect's statements are very concerning and dangerous. Such allegations have been made in the past as well," he maintained, adding that the criminal said religion was part of his motives which was very dangerous.
He said that the video going viral was a cause of concern and could be very damaging and further perpetuate similar narratives.
Sana claimed that the Punjab government – led by PTI allies – had to be blamed for any security lapse during the long march as they were mandated to ensure the security of the march or any other incidents in the region.
"[Punjab] Chief Minister Chaudhry Pervez Elahi is responsible for this lapse as well," he added.
He reiterated in "complete seriousness" that PTI leadership should change their attitudes, and review security measures.
Responding to a question, the minister did not rule out the possibility of Prime Minister Shehbaz Sharif visiting Imran to inquire about his health.
He stated that the premier could "visit him as a gesture of goodwill, but this is under consideration, especially after his allegation against us yesterday". He added that Shehbaz had not come to a decision but could take any call on the matter.
In another question about the culprit's video being released, the minister said that there should be an investigation by the Punjab government as to how the video was leaked, whether it was leaked by the police or taken from the recorder and then released.
"What is worse is that a second video was released," he reiterated, adding that people can get inspired and become fanatical after listening to religiously motivated claims in the video.
Read more Political assassinations: have we learnt any lessons?
Rejecting the allegations against the incumbent government he said that the leak was "not the government's fault as Punjab CM Chauhdry Pervaiz Elahi has handpicked everyone in the province".
Responding to a question about talks with the PTI, Sana said that the opposing party's response was public. "This is political extremism. They say they would rather die than sit and talk to us," he said.
He furthered that when the details of the investigation will finally be revealed then people will see that the country is dealing with religious extremism whilst the seeds of political extremism are being sowed.
"How do we have a conversation with them or talk about betterment," he questioned.
The home minister said that the government had expressed sorrow over the incident but prior to that it had informed the PTI about the possible threats and asked them to install a bulletproof shield. "But the PTI claimed that we wanted to stop them," he added.
"We want to say on the record that we had reports from agencies, and it is not appropriate for you or your life to not heed this caution," he said.
He maintained that if the situation escalates then the government's statement was on the record.


Source link