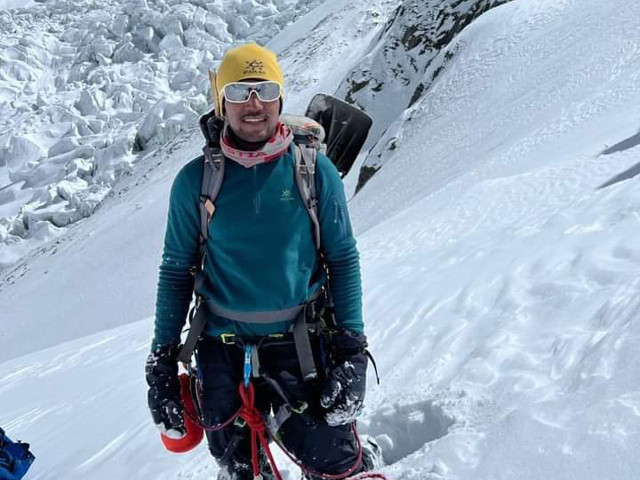 Mountaineer Sajid Ali Sadpara on Saturday made history as he became the first Pakistani to scale the Nepal's 8,091 metre tall Annapurna mountain without the support of high-altitude porters and supplemental oxygen.
This recent scaling of the world's 10th highest peak was a part of Seven Summit Treks' Annapurna Expedition 2023.
Alhamdullilah
Sajid Sadpara just summited Mt Annapurna 8091m in Nepal #Annapurna2023 pic.twitter.com/kxCMvjBUTz
— Sajid Ali Sadpara (@sajid_sadpara) April 15, 2023
Following Sadpara's latest feat, Kathmandu-based commercial adventure operator Seven Summit Treks congratulated him in an Instagram post.
Alpine Club of Pakistan secretary Karar Haidri also congratulated Sadpara in a statement.
Gilgit-Baltistan Chief Minister Khalid Khursheed Khan also congratulated the mountaineer on Twitter, saying: "Heartiest congratulations to Sajid Ali Sadpara for summiting Annapurna peak in Nepal without oxygen and sherpa."
Earlier, a tweet posted on Sadpara's account on Friday said he was at Annapurna's camp four at the time along with the rope fixing team of Seven Trek's summit.
Sadpara had reached Nepal last month, with the mission to summit three of the world's highest mountains Alpine style and without supplemental oxygen.
The type of ascent, where climbers are not supported by high-altitude porters from base camp to the summit, is called Alpine style.
Before his departure, Sadpara told Dawn he was going to climb Kangchenjunga (8,586m), Dhaulagiri (8,167m) and Makalu (8,481m) peaks.
The climber said the mission would take three months to complete.
Also read: Sajid Sadpara becomes first Pakistani to climb Mount Manaslu's 'true summit'
Earlier, Sajid Ali Sadpara, son of legend Ali Sadpara, had said the completion of his mission to summit all 14 peaks above eight-thousand metres altitude without supplementary oxygen would be the fulfilment of "his father's dream".
In April 2021, climbers Sirbaz Khan and Muhammad Abdul Joshi had become the first Pakistanis to summit Annapurna, but with supplemental oxygen and not in Alpine style.
Sadpara has already summited K2 (8,611m), Gasherbrum-I (8,080m) and Gasherbrum-II (8,035m), in Pakistan and Manaslu (8,163m) in Nepal without supplemental oxygen.
Sadpara has made a name for himself in the Alpine community with his summits of the most daunting peaks at a young age. He climbed K2 — the world's second-highest mountain — twice, one time without supplemental oxygen. In 2022, he summited the Manaslu peak without supplemental oxygen, becoming the first Pakistani to achieve the feat.


Source link