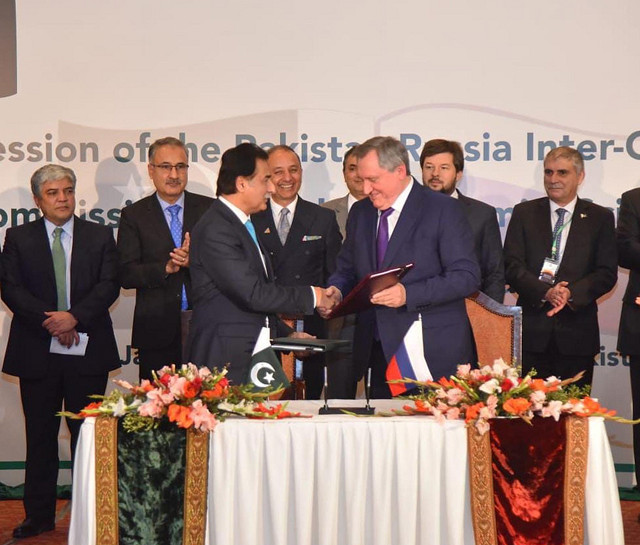 [ad_1]
Pakistan and Russia on Friday reached an agreement on supply of Russian crude oil and other oil products in a major breakthrough at a time when the country is facing severe economic crunch.
The two sides reached an agreement after the Pakistan-Russia Intergovernmental Commission on Trade, Economic, Scientific and Technical Cooperation concluded.
Pakistan would finalise framework for the purchase of Russian oil in March this year and make the payment for its energy imports in the currencies of friendly countries, energy and petroleum ministers of the two countries said after a joint ministerial meeting on Friday.
During the meeting, the two sides agreed to work on a comprehensive plan for energy cooperation which would form the foundation for future work, Sadiq told a joint press conference with Shulginov, while reading from the joint statement.
At the conclusion of the meeting, the two sides also signed an agreement on cooperation and mutual assistance in custom matters, a protocol on exchange of document and data on customs value of goods, and a working agreement on airworthiness of aeronautical products.
"Pakistan and Russia have agreed to work on a comprehensive plan for energy cooperation, which will form the foundation for future work," Sadiq said, adding that both sides also agreed enhance energy trade and broaden energy infrastructure investment based on strategic and favourable commercial terms.
would Talking to the media, State Minister for Energy, Petroleum Division, Musadik Malik said that the structure related to purchase of crude oil from Russia and the Pakistan Stream gas pipeline would be finalised in March. "We will start importing crude oil, petrol and diesel from Russia in March," Malik told the reporters.
"Pakistan wants to import 35% of its crude oil requirement from Russia," Malik continued. Responding to a question, the minister of state added that at present, Russia did not have the liquefied natural gas (LNG) to export to Pakistan.
Shulginov said that Pakistan would pay for the energy purchases from Russia, which would start in late March, in the currencies of friendly countries. He added after consensus on technical specifications, the oil and gas trade transactions would be structured by March this year in a way that mutually benefited both countries.
Read Breakthrough in energy talks with Russia unlikely
Sadiq said that an agreement had been reached that the Pakistan Stream Gas Pipeline should be considered in terms of comprehensive infrastructure and economically viable projects for sustainable gas infrastructure development, ensuring affordable gas supplies.
He maintained that Pakistan and Russia reaffirmed their commitment to a strong and cooperative economic relationship, reiterating that such a relationship contributed to the economic well-being of the two countries as well as the region.
During the talks, the two sides explored additional avenues of cooperation and decided to enhance cooperation in areas of trade, investment, higher education, customs, communications and transport, industry, railways, agriculture science, science and technology, and information technology.
According to the joint statement, the Russian side was invited to the potential projects of the federal and provincial governments of Pakistan, including in the public-private partnership (PPP) mode and requested the Russian businessmen to explore these possibilities.
Read more $250B trade target with China 'absolutely realistic,' says Russia
"The two sides also discussed innovative ways of doing business, including through barter and agreed to explore the option further," it said, adding that relevant ministries and departments of both sides would rigorously follow up to benefit from the potential in various sectors for common prosperity.
They agreed to nominate focal persons to enhance mutual cooperation and discuss issues concerning connectivity and logistics in Central and South Asia. For regional integration and Eurasian connectivity, the two sides came to an agreement to share information about developing and improving rail and road infrastructure.
The development is seen as significant given the fact that former Prime Minister Imran Khan claimed that one of the reasons that his government was ousted was because he wanted to import oil from Russia at discounted rates. The PDM government, however, emphasized that there was no documentary evidence to suggest that any such deal was in the offing.
However, the coalition government led by Prime Minister Shehbaz Sharif pursued the option of importing oil from Russia. The process went ahead after Finance Minister Ishaq Dar had said that the US had no objection to Pakistan importing the oil from Moscow.
(WITH INPUT FROM AGENCIES)

[ad_2]
Source link