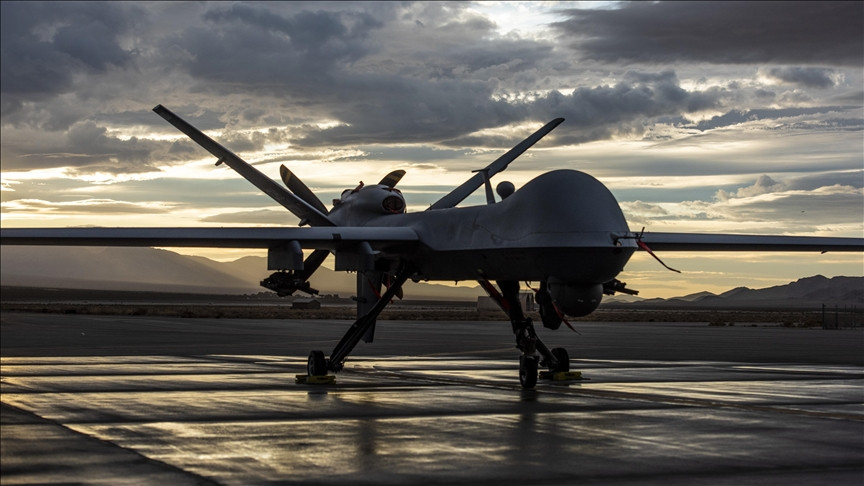 A Russian SU-27 fighter jet crashed into a US Reaper drone in international airspace above the Black Sea, causing the American aircraft to crash, the Pentagon said Tuesday.
The incident occurred after the Russian jet and another SU-27 "conducted an unsafe and unprofessional intercept" of the Reaper, including dumping fuel on the drone and flying in front of it "in a reckless, environmentally unsound and unprofessional manner."
The drone was conducting reconnaissance when one of the SU-27 jets struck the propeller of the MQ-9 Reaper at roughly 7.03 a.m. CET (0603GMT), prompting the drone's operators to bring it down in international waters.
US European Command said the incident "demonstrates a lack of competence in addition to being unsafe and unprofessional."
"Our MQ-9 aircraft was conducting routine operations in international airspace when it was intercepted and hit by a Russian aircraft, resulting in a crash and complete loss of the MQ-9," US Air Forces Europe Commander Gen. James B. Hecker said in a statement.
"This unsafe and unprofessional act by the Russians nearly caused both aircraft to crash. US and Allied aircraft will continue to operate in international airspace and we call on the Russians to conduct themselves professionally and safely," he added.
Also read: Britain backs ban on Russian athletes
President Joe Biden has been briefed on the matter by National Security Advisor Jake Sullivan, said the White House, which maintained that the US would not be deterred from conducting future aerial missions in the region.
"We're going to continue to fly and operate in international airspace over international waters. The Black Sea belongs to no one nation, and we're going to continue to do what we need to do for our national security interest in that part of the world," National Security Council spokesperson John Kirby told reporters.
The Pentagon said the incident is part of a wider pattern "of dangerous actions by Russian pilots while interacting with U.S. and Allied aircraft over international airspace, including over the Black," warning they risk "miscalculation and unintended escalation."


Source link