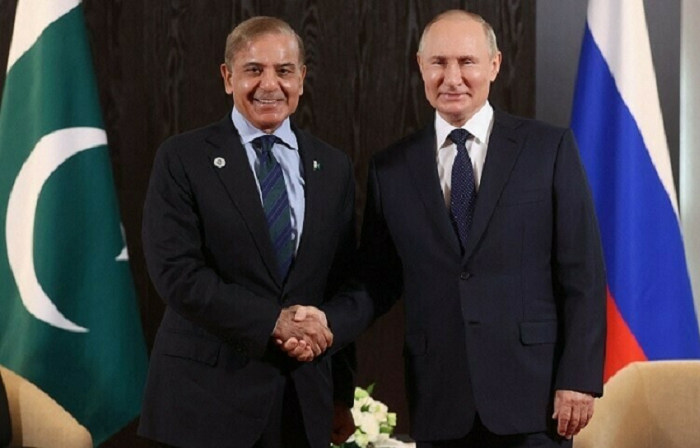 [ad_1]
A delegation led by Russian Energy Minister Nikolay Shulginov called on Prime Minister Shehbaz Sharif on Thursday and discussed the supply of oil and gas from Russia to Pakistan on a long-term basis.
During the meeting at the premier's residence in Lahore, the two sides agreed on the importance of energy sector for the development of bilateral economic and trade relations.
The two sides also reviewed the matters related to gas pipelines, a PM Office statement said.
Welcoming the delegation, the prime minister highlighted the importance Pakistan attached to its relations with the Russian Federation.
He recalled his meeting with President Vladimir Putin in Samarkand in September 2022 and said that the meeting had reached important decisions to further strengthen Pakistan-Russia relations.
He also noted with satisfaction the keen desire on both the sides to upgrade the bilateral cooperation in trade, investment and economic matters.
The Russian energy minister reciprocated the prime minister's sentiments and delivered a special message of Russian President Vladimir Putin to the prime minister.
In his message, President Putin referring to Pakistan as Russia's important partner in South Asia and the Islamic World reiterated Russia's strong interest to deepen the bilateral relationship.
The prime minister provided guidance for the work of 8th Round of Pakistan-Russia Inter-Governmental Commission meeting scheduled to be held in Islamabad on January 20, 2023.
Also read: Breakthrough in energy talks with Russia unlikely
Federal Minister for Economic Affairs Sardar Ayaz Sadiq, Federal Minister for Commerce Syed Naveed Qamar, Minister for State for Petroleum Musadik Malik and Special Assistant to the Prime Minister Tariq Fatimi were also present in the meeting.
According to sources, Russia had offered export of 100,000 barrels of crude oil. However, Islamabad dubbed it as heavy crude, which local refineries could not process. These refineries can only process sweet and light crude oil.
In response, Russia offered to export blended crude oil so that refineries could process it, but it did not provide any fuel specifications. In this situation, Pakistan is undecided how to handle the matter.
However, some officials pointed out that Russia had booked sweet and light crude oil for export to some other countries.
Secondly, payments for Russian crude in dollar are a major stumbling block, which needs to be removed. Pakistani banks have already refused to open Letters of Credit (LCs) for oil imports from Russia.
In the meantime, Russia has come up with a plan for trade payments, which include the use of authorised banks and settlements in local currencies. This mechanism can be used for oil import payments.
Moscow has not agreed on any discount, though Pakistani ministers claimed that Moscow would give a 30% price concession.
Pakistan is also hoping to ink a deal with Russia at the price cap imposed by the European Union and G7 nations because of the Ukrainian conflict. But Moscow has already announced that it will not trade oil at the price cap.
(With input from News Desk)

[ad_2]
Source link