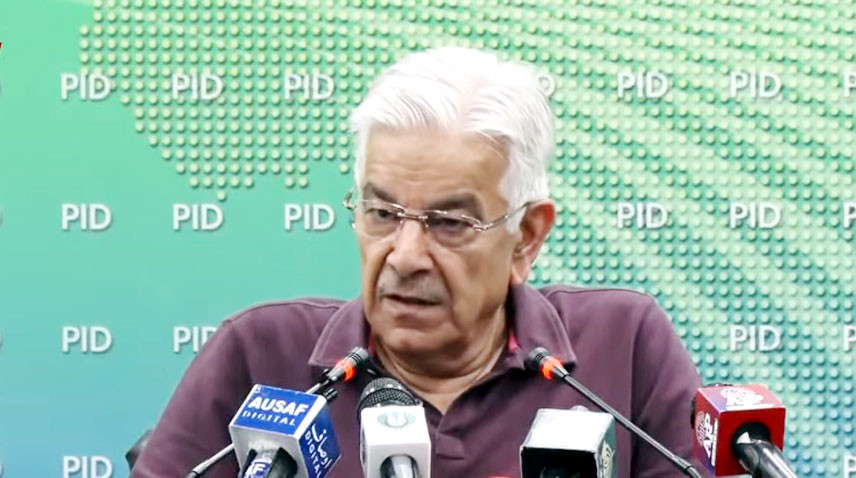 Russian President Vladimir Putin has offered Pakistan wheat in addition to gas supplies keeping in view the damage to the country's breadbasket following catastrophic floods, said Defence Minister Khawaja Asif on Saturday.
Asif further said the Russian president has also invited the prime minister and the visit will take place.
"They have said that they can give us gas. Russia said that they have gas pipelines in Central Asian countries and the pipelines could be extended to Pakistan via Afghanistan. These talks have taken place."
The defence minister also said that Russia has appreciated Pakistan's stance on the ongoing conflict in Ukraine.
He further said that Prime Minister Shehbaz Sharif will undertake his maiden visit to China at the invitation of Chinese President Xi Jinping during the first week of November.
The defence minister said President Xi extended the invitation during a meeting between the two leaders in Samarkand, Uzbekistan on the sidelines of the Shanghai Cooperation Organisation (SCO) summit.
Read: SCO asked to make climate action plan Pak-specific
Asif added that the prime minister's meeting with the Chinese president was extremely successful. He said President Xi expressed his commitment to take forward the China-Pakistan Economic Corridor (CPEC) project and also described Pakistan as an "all-weather strategic friend".
Asif concluded by saying that all SCO members have expressed willingness to support Pakistan as it suffers from devastating floods.
Shehbaz to appoint new COAS in November
The defence minister reiterated that Prime Minister Shehbaz Sharif will appoint the country's new army chief in November in accordance with the Constitution.
"No matter what Imran Khan says, the appointment of the army chief is a constitutional duty which the prime minister will fulfil in November," said Asif while addressing the media in Islamabad.
While saying that former Prime Minister Nawaz Sharif never made the appointment of army chief a subject of discussion he added, "Nawaz Sharif has also fulfilled this constitutional duty four times".
The defence minister also criticized former premier and Pakistan Tehreek-e-Insaf chief Imran Khan and added that Imran is trying to make the issue of the army chief's appointment "controversial". He further said that Imran is "saying things that should not be said".
Asif maintained that the PTI chief is harming the country and its interests in his attempts to regain power and also accused him of trying to prevent Pakistan from getting aid for flood victims.
The PML-N leader also said that Pakistan's national security is linked to its economic security and Imran is jeopardizing it with his constant attacks.
"Imran Khan repeatedly attacked national and economic security of Pakistan," he alleged.
The development comes at a time when efforts are underway to reset the troubled relationship between Pakistan and the US.
A senior adviser of the US secretary of state recently visited Islamabad, while the US President Joe Biden Administration approved $450 million sale of the F-16 equipment in a sign that Washington wants to maintain a working relationship with Islamabad.
In the middle of all this, Shehbaz's meeting with Russian President Vladimir Putin on Thursday and Chinese President Xi Jinping on Friday are significant and show that Pakistan is trying to maintain a delicate balance in its ties with big powers.
The transcript released by Putin's office after meeting Shehbaz suggested Russian eagerness to deepen ties with Pakistan. At the same time, President Xi in his maiden meeting with Shehbaz termed the Pakistani prime minister "a person of pragmatism and efficiency."
Shehbaz also heaped praise on Putin, calling Russia a "superpower" and its president a "man of words". On his part, the Russian president began his meeting with Shehbaz by recalling his working relationship with his elder brother, Nawaz Sharif, when he was the prime minister.
Observers believe that Shehbaz's flurry of meetings with Russian and Chinese presidents indicated that Pakistan's policy, seeking diversification in the country's foreign policy options, remains intact.


Source link