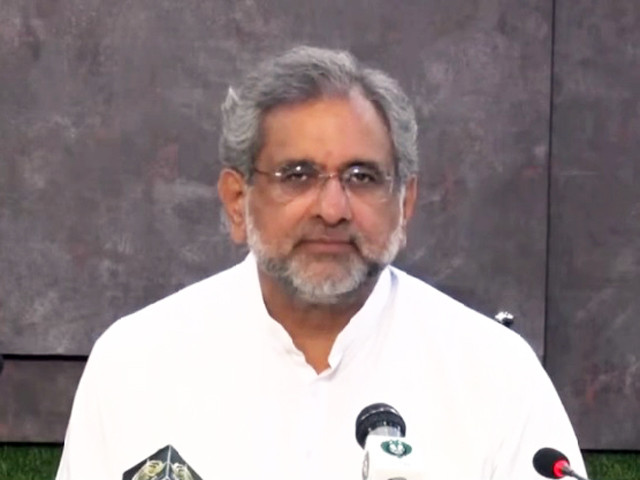 Leaders of the ruling coalition from the Pakistan Democratic Movement (PDM) and Pakistan Peoples Party (PPP) met with senior officials of the Election Commission Pakistan (ECP), including the chief election commissioner (CEC) on Friday, in an effort to convince the electoral body to announce its verdict in the prohibited funding case involving the Pakistan Tehreek-e-Insaaf (PTI).
Addressing a press conference after the meeting, the Pakistan Muslim League-Nawaz (PML-N) leader and former prime minister Shahid Khaqan Abbasi said that the joint delegation spoke with ECP officials and urged them to "decide the case of prohibited foreign funding as soon as possible".
Read IHC reserves decision on maintainability of Bushra Bibi audio leak plea
"The prohibited funding case has been ongoing for eight years," he said and added that, "the election law says that if a party takes money from a foreign individual, it has to be declared".
The PML-N leader said that "the people of Pakistan have the right to know where Imran Khan was taking money from" and maintained that the "evidence is very clear".
"Money was sourced from outside and used for political purposes in Pakistan," said Abbasi. He also alleged that "Imran Khan hid records from the election commission" and that the PTI chairman was "trying to pressurise through personal attacks".
It may be noted that the case had been filed by Akbar S Babar, who is a dissident but a founding member of the PTI, and has been pending since November 14, 2014.
Babar had alleged serious financial irregularities in the party's funding from Pakistan and abroad.
Earlier in June, the electoral watchdog had listed the foreign funding case under 'prohibited funding' and reserved its judgment a week later.
The renewed vigour in the ruling coalition's demand has come as it suffered a heavy blow in the Punjab by-poll upset and subsequent Punjab chief minister's election.


Source link