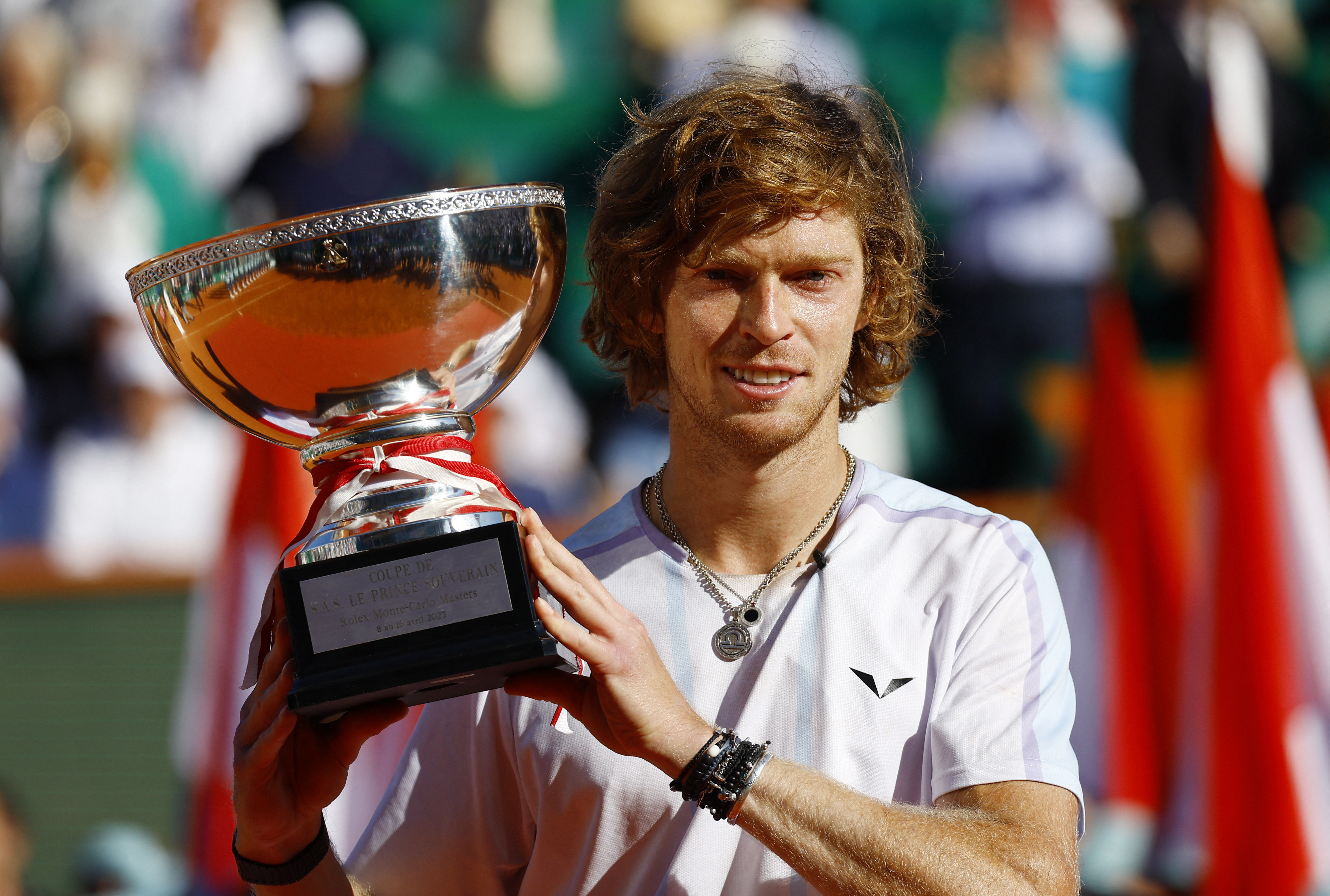 Andrey Rublev said winning his first Masters 1000 trophy in Monte Carlo on Sunday was like a "fairytale" after the Russian battled past Denmark's Holger Rune in three sets.
The fifth seed came from 4-1 down in the deciding set to defeat sixth-seeded teenager Rune 5-7, 6-2, 7-5 after one hour 34 minutes on the red clay of Court Rainier III.
The 25-year-old achieved the biggest win of his career after losing Masters finals in Monte Carlo and Cincinnati, both in 2021, to boost his confidence heading into next month's French Open on clay.
"It's a great feeling. Today I handled my emotions really well," said Rublev.
"After struggling so much, so many times, losing in the finals, semi-finals, losing even earlier, to win first 1000 Masters and finally I did it.
"To win a match like this, losing 4-1, Love-30, breakpoint for 5-1, and to be able to come back and to win is like a fairytale today," said the world number six, who blasted down 33 winners on the way to his 13th career title.
"I remember the previous finals and when I was losing I thought I'd have no chance and mentally I was going down.
"But today I thought, 'Just believe until the end', and this is what I was trying to do in the third set, hoping I would have an extra chance to come back and what a way to do it."
Deprived of his national flag after the Russian invasion of Ukraine, the player from Moscow thanked the crowd for their support.
"Coming from the country where I come from, to receive such international support, it is enormous," he said.
Rune was aiming for his second Masters 1000 title after defeating five Top 10 players en route to the title in Paris last year.
But the 19-year-old conceded he did not have enough time to recover from his thrilling three-set win over Italy's Jannik Sinner on Saturday.
"I didn't have any more in me," he said.
"I was definitely in control in the third set and also I would say mostly in the first set as well but didn't manage to close it out.
"Disappointing, but the most important tournament of the clay season is the French Open, so if I can prepare myself as best as possible for that one, that's what matters."
The two players had previously played each other twice – the Dane won last year at the Masters 1000 in Paris in the quarter-finals before defeating Novak Djokovic in the final.
In January, it was Rublev who won their Australian Open clash after saving match points in the last 16.
But on Sunday, the meeting of these two fiery big hitters failed to live up to expectations.
The Dane saved seven of the eight break points he faced in the first set, before benefiting from a big unforced error by Rublev on the last game's break point.
The Russian immediately took the lead in the second set to lead 2-0, but Rune came back to 2-2.
In the process, Rublev chained four games to equalise at one set all. Rune seemed to be on a roll to victory in the third set racing to 3-0 and had a double break point to lead 5-1.
But it was the Russian who lined up three games in a row and then managed the break, taking advantage of the nervousness of his opponent, who notably missed two smashes in a row to lead 6-5 and serve for the match.
He gave himself three consecutive match points and concluded with an ace on the second.
Rafael Nadal, an 11-time winner in Monte Carlo, and Carlos Alcaraz missed this key French Open warm-up with injury while top seed Djokovic was knocked out in the last 16.


Source link