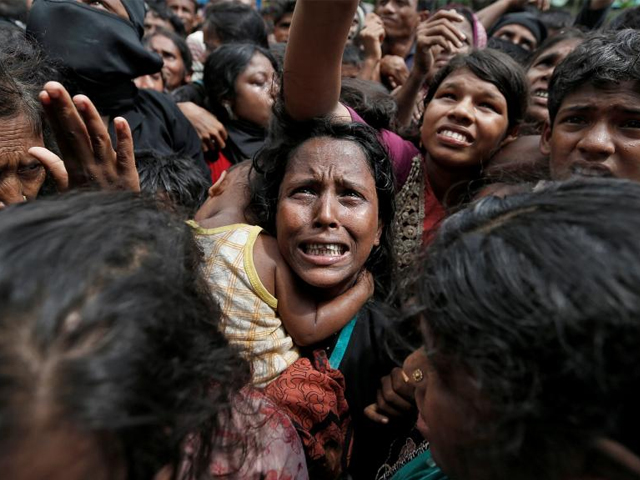 [ad_1]
International rights watchdog, Human Rights Watch (HRW), on Tuesday accused Bangladesh's police of abusing the Rohingya refugees in the congested camps in the southern border district of Cox's Bazar.
In a report published Tuesday, HRW said: "APBn (Bangladesh's Armed Police Battalion) is committing extortion, arbitrary arrest, and harassment of Rohingya refugees already facing violence from criminal gangs and armed groups."
In a statement, the rights group called on the donor governments to press the Bangladesh authorities to investigate the alleged abuses.
Quoting Rohingya refugees, the statement noted that there is collusion between the officers of this specialized unit of the Bangladesh police and armed groups and gangs operating in the camps.
"Abuses by police in the Cox's Bazar camps have left Rohingya refugees suffering at the hands of the very forces who are supposed to protect them," the statement quoted Shayna Bauchner, Asia researcher at the HRW, as saying.
Bangladesh currently hosts more than 1.2 million Rohingya refugees in its 33 congested camps. Most of these persecuted people fled a brutal military crackdown in Myanmar's Rakhine State in August 2017.
Also read: 40 nations urge Israel to lift 'punitive' sanctions on Palestinians
The statement noted that the HRW interviewed more than 40 Rohingya refugees in October and November 2022 and reviewed police reports, documenting more than 16 cases of abuse by APBn officers.
"These included abuses against 10 refugees who were detained on apparently fabricated grounds for trafficking yaba, a methamphetamine drug, or for violence-related offenses," it said, claiming that the rights watchdog and others have long documented the common practice by Bangladesh security forces of framing suspects with drugs or weapons.
The statement also underlined: "Almost every case Human Rights Watch investigated involved extortion either directly by APBn officers or communicated through majhis, the camp community leaders. Police generally demanded 10,000-40,000 taka ($100-400) to avoid arrest and 50,000-100,000 taka ($500-1,000) for the release of a detained family member. Families often had to sell gold jewelry or borrow money for bribes or legal costs."
Speaking to the Anadolu, APBn-14 Commander Naimul Haque denied the charges against the force by the HRW, claiming the report was based on exaggerations and unauthorized social media posts.
"We always work hard to maintain law and order at the refugee camps and many international NGOs including the United Nations Refugee Agency, UNHCR, are working here. They know well how we are working. But the HRW has prepared the report mostly based on some quarters who spread propaganda against us through social media," Haque said.
He did, however, promise that if any allegations are made based on authentic documents, they will take appropriate legal action.

[ad_2]
Source link