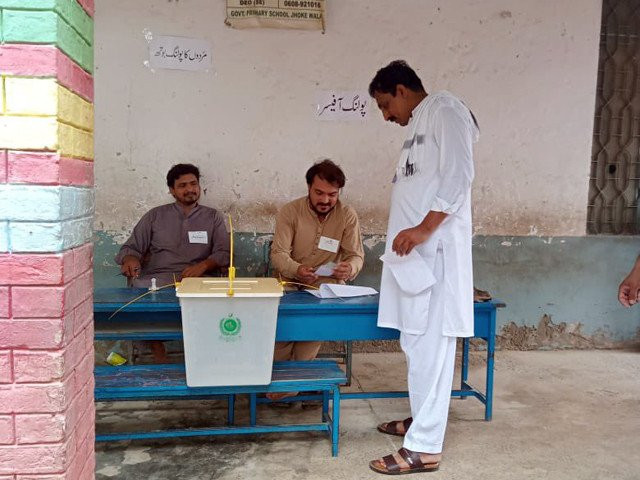 [ad_1]
A leading elections watchdog has said that the second phase of local body polls in Sindh "remained peaceful and relatively orderly, but were tainted by allegations of rigging by major political parties over delay in the announcement of results."
The Free and Fair Election Network (FAFEN) in its report issued Thursday stated that, despite controversies and uncertainty over the conduct of elections, an impressive number of people turned out to vote in the local government elections in Badin, Jamshoro, Tando Muhammad Khan, Tando Allah Yar, Thatta, and Malir Districts.
However, it added that the voter turnout remained relatively lower in Karachi Central, Karachi East, Karachi West, Karachi South, Korangi, Hyderabad, and Keamari Districts.
According to FAFEN, the turnout in the Hyderabad Division remained more than 40 per cent, while in Karachi it was less than 20 per cent — with the exception of Malir.
The turnout in Karachi and Hyderabad Divisions remained at 36 and 58 per cent, respectively, in the last local government elections held in 2015, it pointed out.
Read more: PTI decries 'theft' of peoples' mandate, arrests of party workers
"The election day environment was largely peaceful as FAFEN received only 14 reports of verbal altercations on January 15, 2023, as compared to 55 incidents of violence including some physical and armed clashes during the first phase," it stated.
The report said that FAFEN observers noted omissions and inadequacies in the polling station result forms [Form-XI (Statement of the Count)] recurring during the second phase.
They reported cases where presiding officers did not duly fill out the result forms leaving empty sections made for recording polling stations' names, registered voters, gender-disaggregated number of votes polled, and signatures of polling officials.
The second phase of local government elections in Sindh was originally scheduled for July 24, 2022, but was delayed thrice due to floods, and later due to the unavailability of security officials to perform election duty.
However, the ECP did not accede to the Sindh government's request to further delay the election on the pretext of change in the number of union councils in Karachi and Hyderabad Divisions that required fresh delimitation.
The commission's refusal led to the polls' boycott by the Muttahida Qaumi Movement-Pakistan (MQM-P), which expressed dissatisfaction over the quality of electoral rolls and delimitation.
FAFEN said that MQM-P's boycott also appeared to have resulted in a decline in voter turnout in Karachi and urban Hyderabad.
Also read: PPP defies predictions as JI stages Karachi comeback
The ECP had set up a total of 8,706 polling stations – 1,204 male, 1,170 female, and 6,332 combined – comprising 30,399 polling booths – 15,649 male and 14,750 female – to facilitate 13,283,696 registered voters including 7,314,890 men and 5,968,806 women.
Of 8,706 polling stations, 2,491 (29 per cent) were declared highly sensitive and 6,215 (71 percent) sensitive.
FAFEN's analysis is based on the observation reports received from trained and duly accredited citizen observers deployed at 343 (four per cent of the total) statistically sampled polling stations including 225 combined, 61 male and 57 female polling stations.
FAFEN deployed 104 observers, including 66 men and 38 women who observed the opening process at 90 polling stations, the availability of election staff and materials at the voting process at 953 polling booths, voter identification and ballot issuance processes for 1,121 voters, and counting process at 74 polling stations.
While the PPP emerged as the major gainer in the second round of local bodies elections in Sindh, in Karachi, no party emerged clear winner to elect the next mayor of the metropolis, according to the results released by the electoral watchdog.
There are 246 union committees (UCs) in Karachi, however, election was held in 235 UCs due to the death of 11 candidates. The election of mayor requires 124 votes.
The results showed the PPP won 93 UCs, Jamaat-e-Islami bagged 86 UCs, and the Pakistan Tehreek-e-Insaf (PTI) clinched 40. The Pakistan Muslim League-Nawaz (PML-N) won in 7, Jamiat Ulema-e-Islam-Fazl (JUI-F) 3, Independents 3, Tehreek-e-Labbaik Pakistan (TLP) 2 and Mohajir Qaumi Movement-Haqiqi (MQM) 1.
The results came more than 36 hours after Sunday's voting and drew allegations of rigging from various parties. Hafiz Naeemur Rehman, the JI Karachi chief, who himself is a candidate for the mayorship, claimed that the party had won 100 UCs.

[ad_2]
Source link