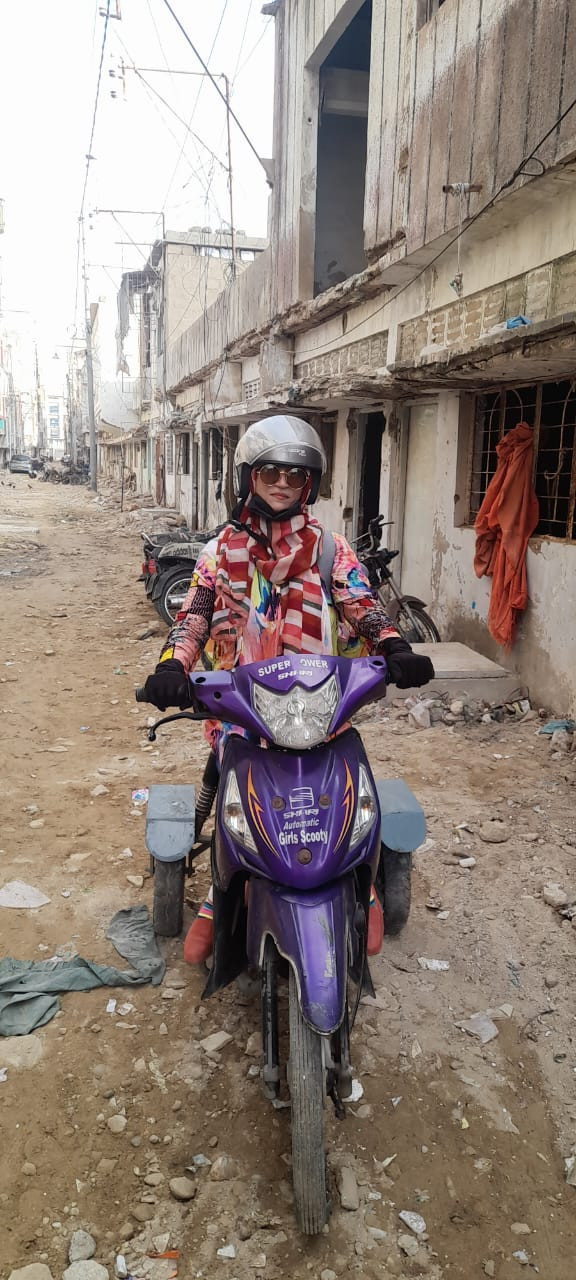 Riding a motorbike through the narrow and broken streets of Korangi, Karachi, Shaista Mahin never thought that one day she would be able to earn her own living. When the thirty-eight-year-old single mother of three daughters walked out of her abusive marriage five years ago, she had nothing but the support of her siblings. They were the ones who helped her become independent and have a better life.
The youngest of eight siblings, Mahin was sixteen when her widowed mother arranged her to be married to her nephew. Mahin moved to Lahore after the marriage. As soon as her new life began, abuse and domestic violence started. She was not given money for anything. "For a long time, I didn't share my pain with my mother and siblings as I knew my brothers had their own lives and families, and I would be just an added burden. But with time, beating became the norm. After a few years I started speaking up but nothing helped," recalls Mahin as she shares her journey of self-realisation.
Mahin, after giving birth to her daughter, bore not just physical but also mental and financial torture. She returned to her parents' home a few times, but was told, every time, to go back and try and be a better wife. "A few years ago, my sister who lives in Saudi Arabia came to Pakistan. As she was planning to move back, she stayed with me and understood my situation. She is the one who informed my other siblings about the awfulness of what I was going through," Mahin says. Her siblings suggested to her to get a separation and be on her own.
The mother of three filed for a khula in Lahore where she was living with her husband. A lawyer, who lived in the house next door, helped her with some court procedures. Mahin shifted back to Karachi after her separation. She says, "My sister bought a two-roomed flat in Korangi and asked my daughters and me to live there. It is a huge blessing at this time when even managing groceries becomes difficult for me." Mahin's family helps her in whatever capacity they can, but she understands that their resources are limited.
Education and training
Mahin had just appeared for her matriculation exams when she was married off to her cousin. Post-marriage, she remained passionate about her studies and managed to do her intermediate and BA as a private student. "It was my interest in education that has helped; otherwise, after getting separated I would not have had any work. My sister helped me get some freelance projects, and I enrolled in a training programme." She worked as a trainer for a few years before COVID-19 happened and her work was halted.
With involvement in different social work initiatives, Mahin was a fast learner, and soon she started to train others. She is fortunate to live in a good area, but nearby are many localities where living conditions are below the poverty line. Helping youngsters is a way to lift their morale and train them to pursue better future goals. "The main idea was to uplift the people of Chakra goth. There were several training programmes district-wise, and four trainers taught thirty-two modules, including community building, networking, music, arts, social change."
Life after COVID
Things were going quite smoothly for Mahin and her school-going daughters. She even had some savings to improve their lives after her divorce, but all her dreams and goals came crashing down when COVID-19 hit, and her training programmes closed due to the lockdown. "I stopped getting projects, my earnings went back to zero, and I was left with using my savings. During the lockdown I was unable to find a job, and I was forced to keep dipping in my savings for groceries and utility bills. But soon I was left with nothing. My siblings helped me, but they also have their own families to support," Mahin tells me, her eyes welling up. At that time, she even borrowed money from some relatives.
Six months passed. Mahin decided to buy a motorbike and learn how to ride it. She started working in delivery service. "After figuring out some expenses I talked to my sister. At first, everyone discouraged me, but I was confident that I could do it. I joined a scooty teaching group for girls, and that is where I learned to ride a motorbike," she shares her learning journey. Mahin always wanted to own a bike and but never had the courage to do so until she saw her daughters suffering.
Learning to ride a motorbike wasn't easy, forcing Mahin to have two extra wheels on the sides of the motorbike to maintain her balance. She now provides delivery services to neighbours and nearby places.
Mahin says, "The motorbike idea didn't go as well as I had imagined. A specific amount is needed for monthly expenses, with my one daughter going to school and the older one in college." For a few months, she worked as a female security guard in a building. After struggling for two years, she has recently landed a job at the Hashoo Hunar Training Centre.
The never-ending struggle
Keeping a big smile on her face despite having such a tough life, Mahin has never given up fighting for herself and to be a better person. Diagnosed with second-stage breast cancer two months ago, she still smiles, and the shine in her eyes remains unchanged when she goes to work daily. "During the interview, I informed my new employers about my condition. I can't stay at home and rest as I have to earn money for my daughters. They have given me the strength and the support to get myself treated," she says without any bitterness. Her condition is curable with chemotherapy.
Despite her never-ending struggles, Mahin never stopped planning. When COVID-19 hit, she was about to launch "Saheli Corner". It was a place for women to meet, network, socialize, read books, have tea sessions, play games, and relax after a long and a busy day at home or work. "Everything was ready, even booklets were printed, but COVID shelved it. I will launch it again; when that would be, I can't say right now, but hopefully soon," Mahin shares with me.
Being a single mother, and that too, of daughters, is not easy in this country. People are mostly judgemental and sometimes have very irrational opinions, but Mahin deals with everything with her high spirits. "Sometimes, even my relatives suggest to me to remarry; their logic is that I have daughters and a father figure can help them in their lives. But after living through thirteen years of daily beatings, I don't think I am ready. As I only have daughters, I can't trust any man around them," the independent, single mother says.
Mahin not only just rides her motorbike to and from her workplace but also picks up and drops her daughters to school and college, while facing all kinds of judgments. "I have stopped paying attention now—men slowing down and looking at me as if I am handicapped or stare at me when I am riding my bike. At first, I used to get scared when anyone honked at me or passed by me in speed, but now I am able to do that to men who try to harass me on road or pass comments," Mahin says, her big smile lighting up her face.


Source link