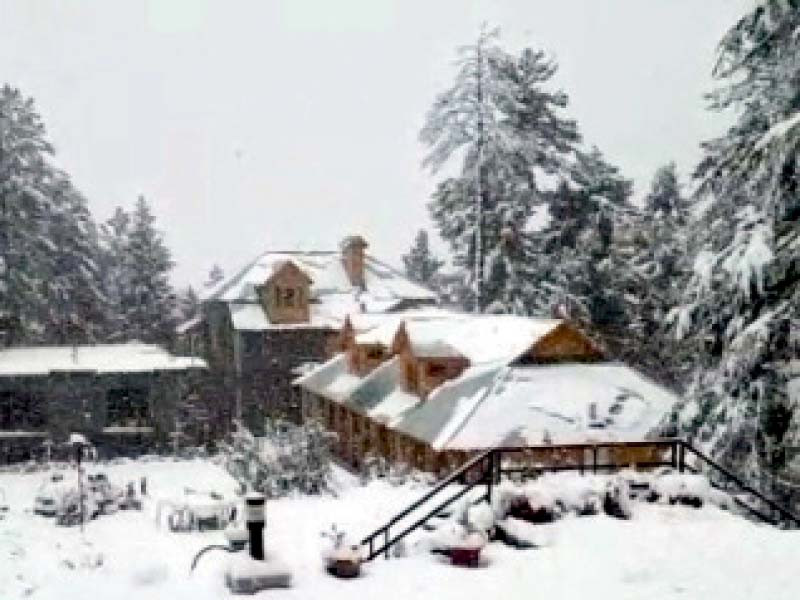 [ad_1]
As snowfall continues to blanket parts of the country, the rescue operations on Saturday struggled to scrape snow off the blocked roads and help the stranded families and tourists.
With mercury plummeting to as low as -8°C, massive snowfall over the past three days has buried Neelum Valley, Leepa Valley, Skardu, and its adjoining valleys under a thick layer of snow, blocking link roads, knocking off the power, and sending panicked citizens, including tourists, scurrying for shelter.
The highway department is busy with the clearance of roads and arteries leading to Sharda and other tourist spots in the snow-clad mountainous part of Neelum Valley.
The authorities have advised tourists to take precautionary measures before visiting the Sharda area of Neelum Valley this evening.
Meanwhile, the Leepa Valley was said to be at the centre of the snow's most intense blinding conditions as roads disappeared under the snow. With responders all but shut down, the locals of the valley had to rescue the victims of landslides themselves at night and shift them to safer places.
Many houses and shops were left damaged due to snowfall that resulted in landslides in the valley, leaving the victims waiting for relief under the open sky in extreme weather.
However, as per the officials, no deaths were reported thus far.
Skardu
Meanwhile, the snowfall also continued to hit Skardu city and across Gilgit-Baltistan (G-B) intermittently.
Furthermore, over 80 per cent of road communication system remained suspended and many roads were blocked as the temperature dropped to -14°C in upper areas.
The extreme conditions have forced cancellations of Pakistan International Airline (PIA) flights to the state.
Murree
Meanwhile, road maintenance work continues in Murree and Galyat where eight-inch snow has hit the tourist town. Several vehicles reportedly met accidents while many tourists were left stranded.
According to the spokesperson of Galiyat Development Authority, heavy machinery was being used in the snow clearance operation, Personnel of GDA, rescue teams, district administration and police are present.
Similarly, in Balakot and its adjoining areas, heavy snowfall has increased the intensity of freezing weather.
It is pertinent to mention that a day ago the Met Office predicted more rain in the twin cities of Rawalpindi and Islamabad and snowfall in Murree, respectively.
Meanwhile, the Punjab government has also asked provincial departments and the district administration officials in Murree to coordinate with each other.
The officials said that a westerly wave was affecting upper parts of the country and that rain is expected in northeast Punjab, upper Khyber Pakhtunkhwa, Kashmir, Gilgit-Baltistan, Islamabad and Potohar region.
On Thursday, rain recorded in Murree was 3mm, Zero Point (2mm), Golra, Bokra (1mm) in Islamabad and Rawalpindi Kacheri (1mm). Snowfall recorded in Murree and Kalam was 5 inches and 16 inches in Malam Jabba.
The met office recorded the lowest temperature's in Ziarat -12°C, Leh -10°C, Kalat -8°C, Gupis -7°C, Kalam -6°C, Quetta, Parachinar -5°C, Malam Jabba, Hunza -4°C and Murree -3°C.

[ad_2]
Source link