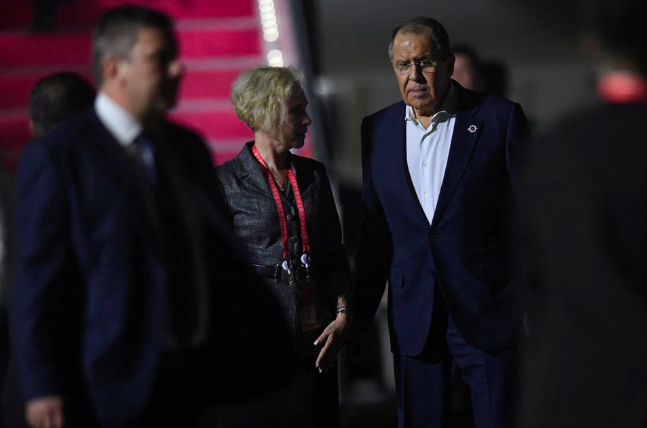 The Russian foreign ministry on Monday denied reports of Foreign Minister Sergei Lavrov being hospitalised.
The foreign ministry spokeswoman Maria Zakharova said that claims about the Russian FM being taken to the hospital in Bali, Indonesia, are "fake news".
Claims Foreign Minister Lavrov Hospitalized 'FAKE NEWS' — Russian Foreign Ministry Spokeswoman
Maria Zakharova took to her personal Telegram channel to laugh off claims the FM had been hospitalized in Bali. pic.twitter.com/YyuFOkeYhi
— RT (@RT_com) November 14, 2022
Zakharova laughed off these claims on her personal Telegram channel, reported the Russian state-affiliated media on their official Twitter account.
Earlier in the day, the Associated Press had reported that Lavrov was taken to the hospital after arriving in Bali for the G20 summit.
Read Russia rejects G20 focus on security
According to the news report, Lavrov was receiving treatment for a heart condition. However, Russia's foreign ministry said the report was baseless.
Lavrov himself denied the news report and scolded Western journalists for what he claimed was false reporting.
He said that Western journalists had been "writing falsely" for a decade that Putin was ill.
"This is a kind of game that is not new in politics," said Lavrov. "Western journalists need to be more truthful – they need to write the truth."
Zakharova shared a video of Lavrov, who has been Russia's foreign minister since 2004, sitting outdoors on a patio, dressed in shorts and a T-shirt and reading documents.
💬 FM Sergey #Lavrov regarding fake news spread by Western media regarding his alleged "hospitalization" ahead of the G20 Summit:
I wish the Western journalists to be more honest than they are and write the truth a little more often.
📍 Bali, Indonesia pic.twitter.com/NNb26lUxLZ
— MFA Russia 🇷🇺 (@mfa_russia) November 14, 2022
Further, the governor of Bali told Reuters that Lavrov was in good health and had only been to the hospital for a check-up.
(With input from agencies)


Source link