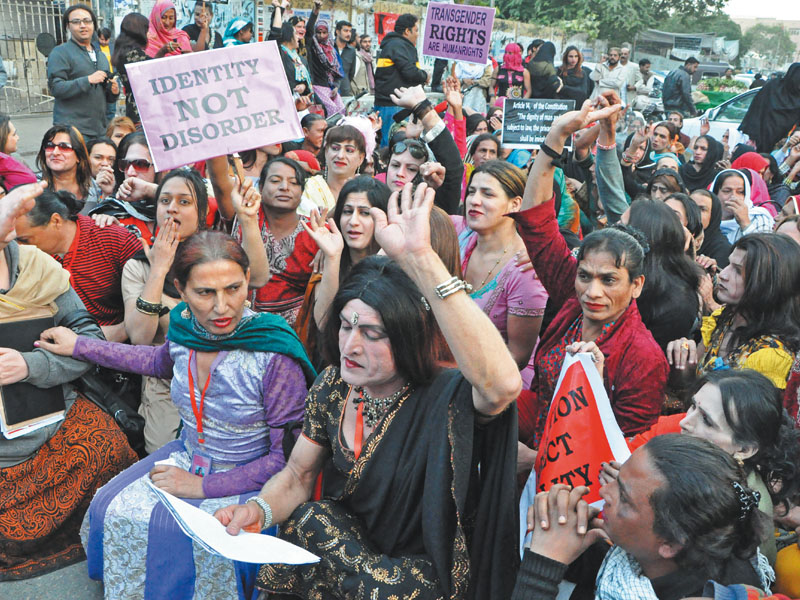 The Federal Shariat Court (FSC) was told on Wednesday that the data of jobs given to transgenders from 36 ministries showed that none of the ministries followed the quota outline in the 2018 act.
A report submitted by the Ministry of Human Rights further stated that no jobs were given in Sindh under the Transgender Act, 2018 and the data for Punjab was incomplete.
The revelations were made during the hearing of cases related to the rights of transgenders in the FSC. A two-member bench headed by Justice Syed Muhammad Anwar heard the cases.
The FSC declared the human rights ministry's report unsatisfactory and ordered it to submit a detailed report before the next hearing.
Read Shariat Court scolds JUI-F over trans act
Justice Anwar remarked that the law was meant to protect the rights of transgender people. "A law was made in 2018, why was it not implemented?" asked Justice Anwar.
Jamaat-e-Islami (JI) Senator Mushtaq Ahmed Khan told the court that 28,000 people approached NADRA after the law was passed.
"During these five years, a large amount of funds was received for the welfare of transgender people. The court should ask the government for a report on where the funds were spent," added the senator.
After hearing Khan's comments, the court ordered the Ministry of Human Rights to give a written reply to the points raised by the senator, and adjourned the hearing of the case till November 10.
Read more JUI-F moves Shariat court against transgender act
The 2018 Act
Enacted in 2018, the Transgender Persons (Protection of Rights) Act recognises the identity of the transgender people, prohibits discrimination against them, and confers upon them the right to self-perceived gender identity.
The law ensures issuance of certificate of identity to transgender persons, provides that no establishment shall discriminate against them in matters relating to employment, and provide for grievance redressal mechanism in each establishment.
The law also allows transgender persons to register according to self-perceived gender identity with the National Database and Registration Authority (NADRA). However, some quarters objected to the law, saying that people can register themselves under any gender at will.
Under the law, the transgender persons have the right to inherit, education, employment, vote, hold public office, health, assembly, property; access to public places; and guarantee of fundamental rights.


Source link