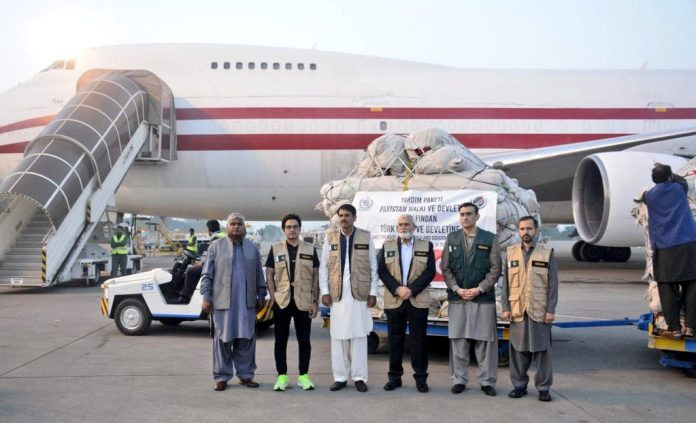 The National Disaster Management Authority (NDMA), on the directions of Prime Minister Shehbaz Sharif, dispatched second exclusive cargo aircraft for Turkiye with another 90 tons of load, containing 1200 winterised fire resistant family tents on Sunday.
The relief was part of Pakistan's assistance to quake-hit Turkiye through special air cargo flight operation, a statement said.
Special Assistant to the Prime Minister (SAPM) Khawaja Hassan was accompanying the relief aid.
On Saturday the first aircraft, with similar aid, was seen off by Federal Education Minister Rana Tanveer, which had already been received in Adana.
Both flights are part of special air bridge operation which will fly more than 34 chartered cargo aircrafts for dispatching tents to Turkiye.
The 7.8-magnitude quake that struck on February 6 and its aftershocks have claimed more than 45,000 lives in Turkiye and killed over 5,000 in neighbouring Syria.The World Bank has estimated that the devastating quake, which flattened entire cities, caused damage worth over $34 billion in Turkiye, with recovery likely to double that sum.
Other than relief goods, Pakistan had earlier also sent its rescue teams to aid in the process of recovering those injured under the rubble following the deadly earthquake.International and Turkish media has praised the Pakistani teams for arriving first and leaving at the very end of relief and rescue efforts in the brotherly country.
Pakistan's Urban Search and Rescue (USAR) squad, comprising a 33-member Pakistan Army USAR team and 53-member Rescue 1122 team, searched 91 sites and rendered services at 39 different locations, managing to rescue eight precious lives, including children, through their relentless efforts.In addition, the Pakistan team rescued five other people with the help of other rescue teams.
The Pakistan team also recovered 138 dead bodies from the rubble and handed them over to Turkish authorities.APP with input from News Desk


Source link