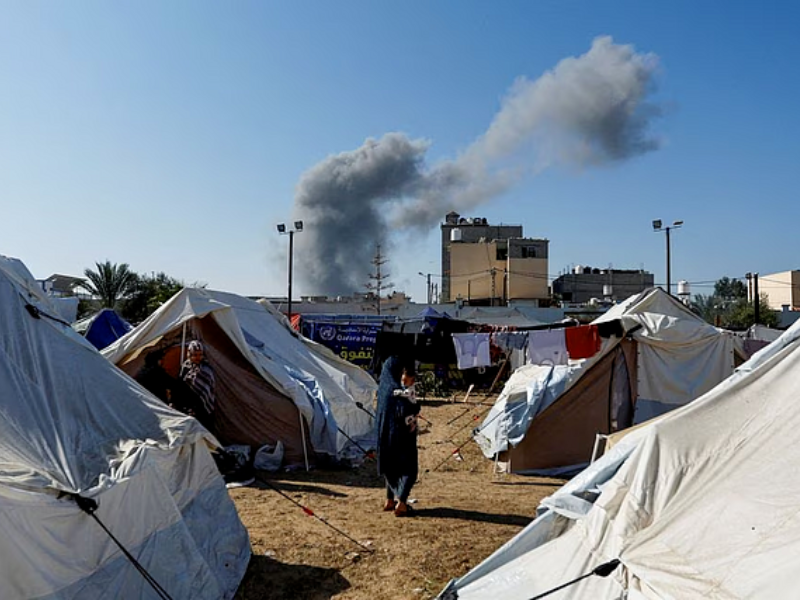 Release of hostages needs ceasefire, Hamas official says

MOSCOW/
GAZA:

A Hamas official tied the release of hostages held in Gaza to a ceasefire in Israel's bombardment of the enclave, launched after a deadly rampage by Hamas into southern Israel nearly three weeks ago.
Israel says it is preparing a ground invasion, but has been urged by the US and Arab countries to delay an operation that would multiply the number of civilian casualties in the densely populated coastal strip and might ignite a wider conflict.
Two US fighter jets struck weapons and ammunition facilities in Syria on Friday in retaliation for attacks on US forces by Iranian-backed militias since the Gaza war erupted.
An opinion poll published on Friday suggested almost half of Israelis now wanted to hold off on a ground invasion out of fears for at least 224 hostages reported to be held there.
Read More: Israeli strike kills Al Jazeera reporter's family in Gaza
The Russian newspaper Kommersant quoted a member of a Hamas delegation visiting Moscow as saying time was needed to locate all those who had been abducted by various Palestinian factions in the Hamas attack on Oct. 7.
"They seized dozens of people, most of them civilians, and we need time to find them in the Gaza Strip and then release them," Abu Hamid said.
He said Hamas, which has freed four hostages so far, had made clear it intended to release "civilian prisoners".
But this required a "calm environment", he said, repeating an assertion that Israeli bombing had already killed 50 of those held.
Palestinian fighter group Hamas clashed with Israeli troops in at least two areas inside the Gaza Strip, the latest of several small-scale incursions, Hamas-affiliated media reported, though the Israeli military did not immediately confirm the reports.
Read More: Israel bombards Gaza as world leaders call for pause in conflict to let aid in
Residents of central Gaza said they had heard an apparent exchange of fire as well as heavy shelling and air strikes along the border, with Israeli planes dropping flares and bombs.
Hamas's al-Qassam Brigades said Israeli forces had attempted to land on a beach at the southern end of the Strip.
Israel said its fighter jets had struck three senior Hamas operatives who played significant roles in the Oct. 7 attack, though there was no announcement by Hamas.
In early afternoon, rocket sirens sounded throughout southern Israel and an Israeli medic said three people had been wounded when a missile hit an apartment building in Tel Aviv.
In the Jabalia refugee camp in northern Gaza, an air strike killed the pregnant wife of a Palestinian lawyer, Jehad Al-Kafarnah.
"My life, my heart, I love you," Kafarnah wrote, weeping, on the white sheeting wrapped around his wife's body. He held the body of her 8-month-old stillborn child, also wrapped in white, in his arms.
Gaza civilians grow more desperate
As Gaza's 2.3 million civilians grow more desperate under a siege that has cut power and water as well as supplies of food, fuel and medicine, the issue of aid comes before the 193-member UN General Assembly in New York on Friday.
Unlike in the UN Security Council, where resolutions on aid for Gaza failed this week, there can be no veto on the resolution by Arab states calling for a ceasefire, which will not be binding but carry political weight.
The UN agency for Palestinian refugees, UNRWA, says more than 600,000 Gazans have been made homeless, at least three times more than its shelters can hold.
Ten more trucks of food and medical supplies arrived in Gaza from Egypt, along with 10 foreign doctors – the first to enter since Israel tightened its blockade nearly three weeks ago, a Palestinian official said.
This made for around 84 trucks in three weeks. The UN says Gaza needs around 100 relief trucks every day, and the official said negotiations were taking place with Israel, which wants to prevent resources reaching Hamas, to find a faster mechanism.
UNRWA head Philippe Lazzarini said 57 UNRWA workers had been killed in Israeli bombardments, and UN human rights spokesperson Ravina Shamdasani became emotional when describing conditions for UN staff:
"Many of them are sleeping out in the open … You have to make calculations about whether a ceiling collapsing on you or being hit by shrapnel is more likely to happen."
A UN World Food Programme representative said only one of two bakeries it had contracted to feed thousands of displaced families had fuel to make bread, "and tomorrow there might be none".
US strikes Syrian based used by Iranian proxies
Calls for restraint stem not only from concern for Gaza's civilians and Israeli hostages, but also fears that the crisis could spark conflict across the Middle East.
US President Joe Biden ordered overnight strikes on two Syrian bases used by Iran's Revolutionary Guard Corps and militias that it backs, the Pentagon said, after issuing a rare direct warning to Iran on Thursday not to attack US troops.
US and coalition troops have been attacked at least 19 times in Iraq and in Syria by Iranian-backed forces in the past week.
Israel says Hamas killed some 1,400 people in its Oct. 7 rampage.
The Hamas-controlled Gaza health ministry said 7,326 Palestinians had been killed in the retaliatory air strikes, including around 3,000 children.
Biden has cast doubt on casualty figures provided by Palestinian officials in Gaza, but international aid agencies say they are broadly accurate and have been reliable in the past.
In a poll in Israel's Maariv newspaper, 49% of Israelis said "it would be better to wait" before beginning a large-scale ground offensive, while 29% disagreed. A week earlier, 65% had backed a ground invasion.
"It is almost certain that the developments on the matter of the hostages, which is now topping the agenda, have had a great impact on this shift," Maariv said.