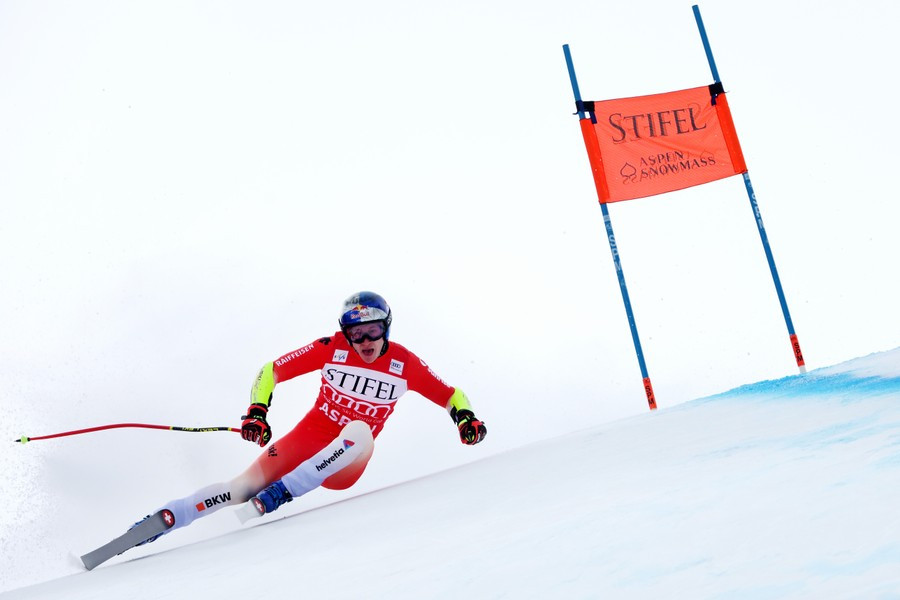 Switzerland's Marco Odermatt added the World Cup super-G season title to his growing list of honours after a record-breaking win in Aspen on Sunday.
With his victory, the 25-year-old became the first man to win five super-G World Cup races in a single season.
Odermatt, who also leads the overall standings, was first with a time of 1:06.80, finishing five hundredths ahead of Germany's Andreas Sander who claimed his first World Cup podium.
Downhill World Cup title winner Aleksander Aamodt Kilde of Norway finished third, 0.34 seconds behind Odermatt's winning time.
The victory left Odermatt 188 points clear at the top of the event standings with just the super-G at the World Cup finals in Soldeu, Andorra to come.
"It's mega, mega cool," said Odermatt.
"I raced totally on the limit. But I didn't think it would be enough to win, especially since Aleks was brutally fast again up top," he said.
"It was two races in one for me today. The fight for the day's victory and the fight for the (season title) globe. I can't believe it was enough for both.
"Because the super-G is the most difficult discipline, I would have been nervous if I had been 99 points ahead before the last race. But luckily I don't have to be anymore," he added.
Odermatt said he was unaware until just before the race that a fifth win in seven starts in super-G this season would move him above Aksel Lund Svindal, Hermann Maier and Kilde, who all won four in a single season.
"I didn't know until this morning that I could be the first to win five in one season. Records are very nice, they are something that stays. At least for a while. You always have to drive at the limit in super-G, otherwise it's not enough. That's what makes this discipline so difficult," he said.
Odermatt, 25, won gold in the World Championships in Courchevel last month in downhill and giant slalom to add to his gold medal in giant at the Olympics in Beijing.
Last season he won the giant slalom and overall World Cup titles and he is well placed to defend his overall globe with a 386-point lead over Kilde with five events remaining.
Austria's Stefan Babinksy was fourth fastest just ahead of Switzerland's Loic Meillard.
There were some impressive efforts from late runners with Liechtenstein's Nico Gauer, 53rd out of the hut, finishing in sixth place, 0.65 behind Odermatt.
Riley Seger of Canada, with bib 51, finished tenth while Americans Erik Arviddson and Jared Goldberg, both who came out of the hut among the later races, tied for 13th 0.96 off the winning time.


Source link