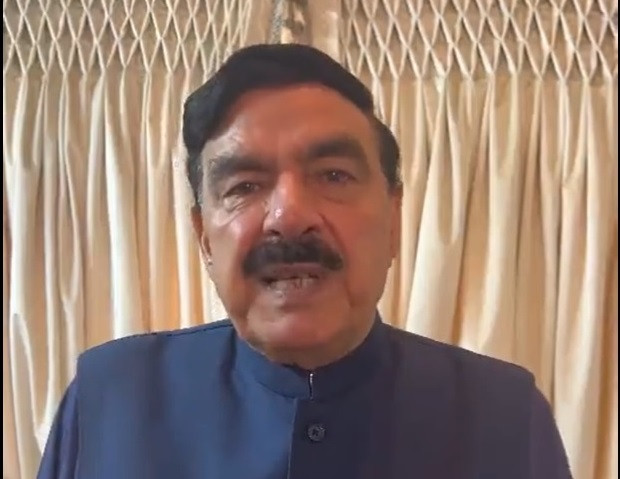 Pakistan Tehreek-e-Insaf (PTI) ally and former interior minister Sheikh Rashid urged people on Thursday to join the party's long march, scheduled for tomorrow, with full gusto.
In a video message posted to his official Twitter handle while the chiefs of the country's premier intelligence agency and media's military wing addressed an unprecedented press conference, the former minister appealed to the nation to make the march such that it foreshadows the country's true freedom.
pic.twitter.com/xaChT7xdcO
— Sheikh Rashid Ahmed (@ShkhRasheed) October 27, 2022
He urged the public to partake in the march with "vigor, zeal and strength", and reiterated that he himself would be present at Liberty Chowk at 11 am tomorrow.
The former minister also announced that he will hold an "important" press conference today at 5 pm in support of the long march, and to pay homage to slain journalist Arshad Sharif.
The former minister further stated that he had reached Lahore early to attend Imran Khan's long march, adding that the "situation" in Islamabad was not suitable for him. The comment comes days after Rashid alleged that the Islamabad police had raided his residence while he was in Rawalpindi.
Read PTI finalises long march schedule
However, the police categorically denied the claims and said that "the Islamabad Police did not raid the house of any political leader or worker".
"Spreading false news about Islamabad Police should be avoided. The Islamabad Police reserves the right to take legal action against misrepresentation," the police spokesperson added.
The Islamabad police did, however, register eight criminal cases against Imran Khan and scores of party activists in different police stations for violating different sections of the law on the pretext of a protest that was held after the disqualification of the former premier by the Election Commission of Pakistan (ECP) in the Toshakhana reference.
PTI long march
PTI chief and deposed premier Imran Khan announced that his party's long march would start on October 28 (Friday).
Addressing a news conference in Lahore, the PTI chief said the long march would start from Lahore's Liberty Chowk at 11 am.
He claimed that he was constantly being told that the country was in trouble and he should not stage the long march at this time.
However, he added that the situation had reached a point where the people were demanding that the "imported" government should be removed.


Source link