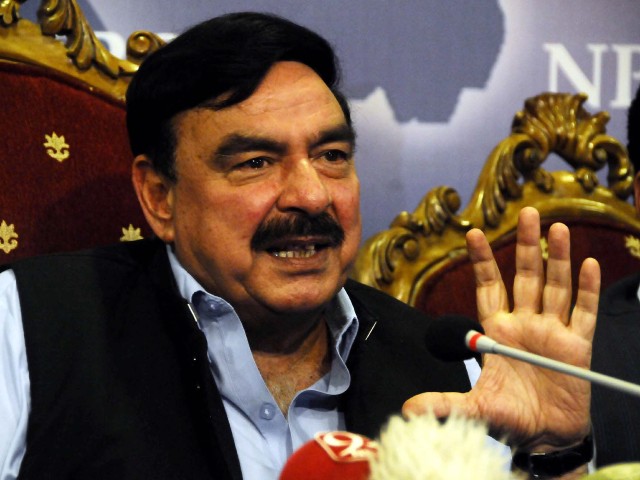 Awami Muslim League (AML) chief and former interior minister Sheikh Rashid Ahmed said on Sunday that he will move the high court against the 'unconstitutional' federal cabinet of the ruling coalition consisting 70 members.
Rashid made the comments in a series of tweets and said that "the number of 70 ministers [in the federal cabinet] is against the constitution and I will go to the high court against it. PDM [Pakistan Democratic Movement] has reached its end."
حکمرانوں کے150کرپشن ریفرنس کی واپسی کو سپریم کورٹ انشاء اللہ بحال کرے گی۔نیب ترامیم کالعدم ہوں گی اور 1کروڑ اوورسیز پاکستانیوں کو ووٹ کا حق ملے گا۔70وزراء کی تعداد ائین کے منافی ہے اس کے خلاف ہائی کورٹ جاوں گا۔PDMاپنی انجام کو پہنچ گئی ہے۔ اقتصادی بحران انتہائی سنگین ہوگیا ہے
— Sheikh Rashid Ahmed (@ShkhRasheed) September 18, 2022
The former minister's comments come as the Pakistan Muslim League-Nawaz (PML-N)-led coalition government's federal cabinet swelled to 70 members after Prime Minister Shehbaz Sharif appointed eight more special assistants for himself apparently in an attempt to keep the allies in good humour at state's expense.
With the eight new special assistants to the premier, the cabinet now consists of 34 federal ministers, including one without portfolio, seven ministers of state, four advisers to the PM and 25 SAPMs.
Read Rashid's leaked audio clip sets tongues wagging
The move drew criticism as the economy is going downhill, petroleum prices and inflation are record high and the country is seeking global aid in the wake of torrential rains and flash floods causing unprecedented devastation.
'PDM has drowned the nation in sea of ​​inflation'
The AML chief also lambasted the PDM and blamed it for the rising inflation.
He said all records of inflation in the country have been broken and that the PDM has drowned the nation in the sea of ​​inflation.
"The petrol mafia is not letting the government reduce petrol prices. Reconciliation or protests, the decision will be made soon," he added.
PDMنےقوم کو مہنگائی کے سمندر میں ڈبو دیا،مہنگائی کے تمام ریکارڈ ٹوٹ گئے۔حکومت کو3دن سے پٹرول مافیا قیمت کم نہی کرنے دے رہا۔مفاہمت یا مزاہمت اس کا فیصلہ ہونے والا ہے۔ وزراء اپنے حلقوں میں نہی جاسکتے۔بلاول پاکستان میں بطور مہمان اداکار آتے ہیں دفتر نہی جاتے۔21وزراء بے محکمہ ہیں
— Sheikh Rashid Ahmed (@ShkhRasheed) September 18, 2022
He also said that he is hopeful the Supreme Court will restore "150 corruption references" against the ruling coalition, invalidating the National Accountability Bureau (NAB) amendenments and also give 10 million overseas Pakistanis their right to vote.


Source link