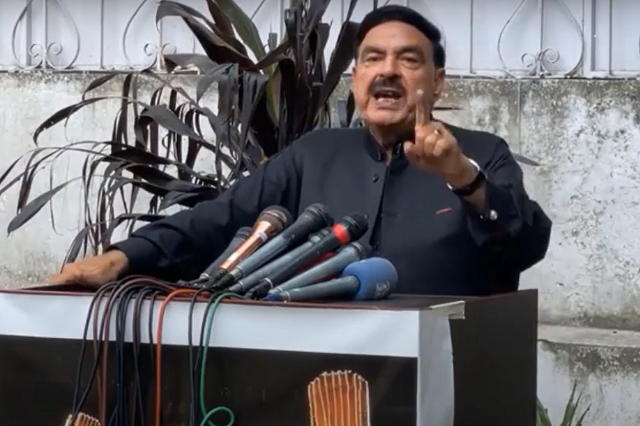 Former interior minister Sheikh Rashid Ahmed on Sunday revealed facing 'serious life threats' and said that he had nominated seven people in a letter sent in this regard to the army chief, director-general of Inter-Services Intelligence (ISI), director-general of Intelligence Bureau (IB) and the director-general Military Intelligence (MI) among others.
"Some people were chasing me last night," Rashid told media persons during a presser held in Islamabad, Express News reported. He added that he had approached Secretariat Police, naming seven people including former prime minister Nawaz Sharif, Prime Minister Shehbaz Sharif, Interior Minister Rana Sanullah, and Punjab CM Hamza Shehbaz.
Rashid, who also heads the Awami Muslim League (AML), further said that the said persons wanted to kill him and sabotage Pakistan Tehreek-e-Insaf (PTI) chairman Imran Khan's long march – scheduled to take place against what he call 'imported government' in last week of May. "What sort of a problem do they have with me," he asked.
He went on to add that those nominated will be responsible if anything happened to him.
The veteran politician also said that if he was coerced any further, he would hold a presser every week before May 31.
Also read: Long march in last week of May: Imran
Referring to the current political situation, Rashid accused the government of plotting to send him and the PTI chairman behind bars before the long march.
He also said the government wanted to use Rana Sanaullah to create unrest in Punjab.
On the hooliganism incident in Medina, the AML chief said PTI cursed anyone who disrespects the Holy mosques. He, however, reiterated that Pakistan Muslim League-Nawaz leaders will be pelted with eggs and stones wherever they would go.
Rashid also said there was no precedence that a father and son who were set to be indicted would take on the roles of the prime minister and chief minister.
Concluding, the former interior minister said that Imran Khan had issued a white paper today and people would take to the streets on his call and that it won't be easy to control a 'sea of people.'


Source link