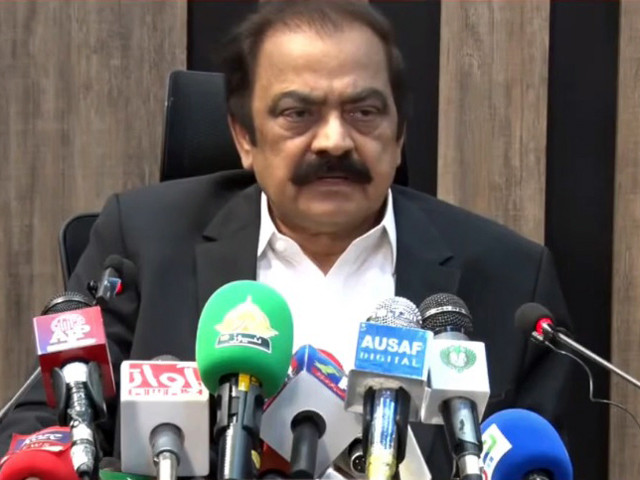 Interior Minister Rana Sanaullah in a press conference raised serious security concerns on Friday ahead of Pakistan Tehreek-e-Insaf's (PTI) November 26 (tomorrow) rally in Rawalpindi.
Earlier today, the interior minister had chaired a special meeting ahead of the PTI's long march toward the capital demanding early elections.
The minister had stressed that "it is the constitutional responsibility of the provincial governments to stop a political party from illegally treading onto the federal capital".
Read Khosa invites Imran to parliament after COAS issue 'resolved'
"Chief secretaries should ensure that no government employee becomes part of any initiative or plan to attack the federation," he had added.
Advising PTI chief Imran Khan to postpone the march while speaking to journalists, the minister said that "all the intelligence agencies have put a red alert for the long march in the city".
"Your own life is also under threat," he stressed as he addressed Imran and hinted at a possible attack from banned militant outfits.
Elaborating on his comments the minister said that "all the Al Qaeda needs to do is find an agent who would be willing to carry out an attack. Do you think that would be something they find difficult to do?"
"There are those who are interested in causing anarchy and inducing conflict," he added. "They want that we engage in in-fighting and kill each other. Is it not the perfect opportunity for such elements when a politician has himself named rivals in an FIR about his murder in his own lifetime so that the blame would automatically be shifted to them?"
Sanaullah assured the conference that he has instructed the police and other law enforcing agencies to ensure strict security at all the entry and exit points of rally venue because of the red alert.
"I have spoken to the Punjab chief secretary and inspector general (IG) in detail to ensure that all four sides of the stage are safe and every attendee can only enter after a body search.
""The stage should be kept bulletproof at every cost," he said while adding that access to the stage should be restricted because "if 200 people are standing atop it then who knows who did what".
The minister also revealed that he has shared a letter with the party's secretary general, Asad Umar, adding that if the PTI wished to verify the claims, it was welcome to "sit with the agency representatives and see for themselves".
Read more Imran refutes govt claims on D-Chowk protest
"We have told them after conducting all these meetings that these are the threats," he added, saying that he has instructed the administrations to take full responsibility and maintain strict security regardless.
"We have permitted them to take whatever route they have requested," he said, rejecting rumors that the capital was being blocked off with containers.
Nonetheless, he stressed that "the solution to his [Imran's] problem is to return to parliament" as he maintained that the only way matters could progress is if all politicians come together to end the "deadlock".
"There is no purpose for this long march now. You say that you are coming to Rawalpindi for an election date. Imran Khan, you won't get a date for elections now," said Sanaullah.
Discouraging supporters from joining the rally, the minister said that this was not a call for "Haqeeqi Azadi but to create instability in the country".
It may be noted that the PTI was granted permission to hold its sit-in at Faizabad for the party's rally scheduled to be held tomorrow.
According to Express News, the Rawalpindi administration issued a 56-point conditional permit for the PTI to hold a sit-in near Faizabad.
The notification furthered that the British cricket team would soon arrive in Rawalpindi, therefore the venue should be completely vacated after the rally was over.
Also read Imran's right of defence struck out in defamation case
In the notification, orders were issued to the Rawalpindi police to take all necessary security measures for the rally.
It clarified that PTI chairperson Imran Khan could only use the route decided by the PTI, Islamabad administration and security agencies. Moreover, Imran was barred from using a car with a sunroof before and after the rally.
A day earlier, the Islamabad district administration had refused to grant permission to the PTI chairman and former premier Imran Khan to land his helicopter at the Parade Ground for November 26 Faizabad rally.
The federal government has also extended the implementation of Section 144 in the federal capital for another two months. The district magistrate has issued a notification in this regard.


Source link