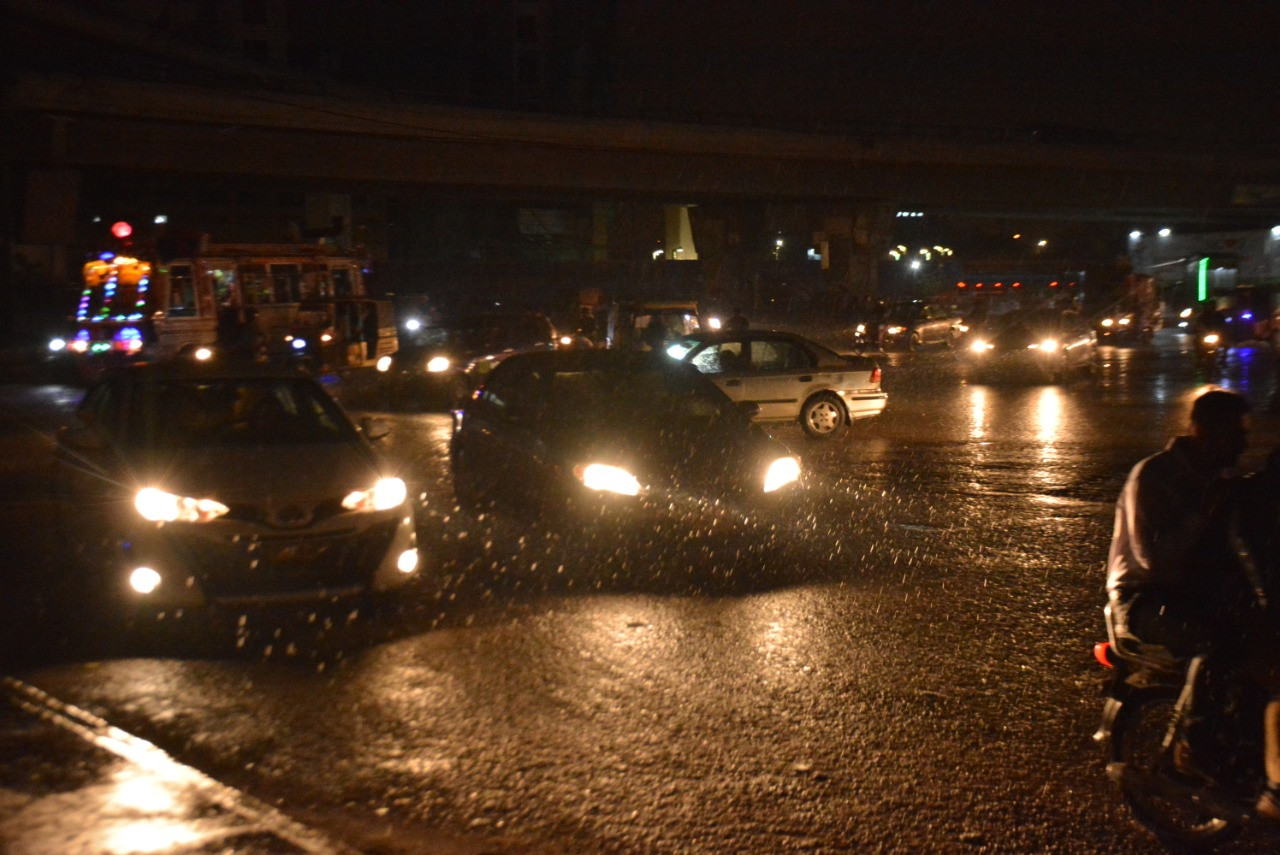 Mild to light showers with thunder and lightning brought down night temperature in the city sending citizens huddling in comforters much ahead of the start of winter.
The city experienced its first rain of winter on Monday after a precipitation system coming from the west entered the country as per weather forecasts made a few days ago.
Dark clouds covered the skies in several places throughout the day bringing light to medium rain. The highest rainfall was recorded in Gadap where heavens poured 32.5mm of rain followed by PAF Base Faisal where 12mm precipitation was recorded.
Temperature in the city dropped by three degrees Celsius compared to the previous day after the rains. According to Chief Meteorologist Karachi Sardar Sarfraz, the wave of cold air may enter Pakistan after the rain system exits the country and moves towards China.
Read more: Winter showers add more to miseries of flood-hit people
A few days ago, the met office had predicted light to moderate rains beginning November 7 in various districts of Sindh, including Karachi. In line with the forecast, the weather in different parts of the city on Monday morning was cloudy following which drizzle and rain started by midday. In some areas, drizzle continued even during the sunshine. Intermittent rains took place in parts of Saddar, Burns Road, Tower, II Chundrigar Road, Shaheen Complex, Zainab Market, Old City Area, Garden East, Garden West, Soldier Bazar, Ramswamy, Ranchhor Line, Korangi, Quaidabad, Malir, Landhi, Bin Qasim, Airport and Shah Faisal Colony.
According to the data released by the Meteorological Department, the highest rainfall was recorded at PAF Base Faisal at 12 mm. PAF Base Masroor received 11.8 mm of rain, Quaidabad 9.5 mm and Korangi 5.4 mm. Due to the rains, the temperature decreased by 3 degrees compared to the previous day. Due to the rain, slight cooling winds also started blowing in the city.
According to Sarfaraz, the recent spell acting strong in northern areas, Chaman and Sibi districts of Balochistan and parts of Punjab. However, the precipitation system will not cause very heavy rains for Karachi. Due to rains, the temperature of Shikarpur, Jacobabad, Jamshoro, Sukkur and Larkana districts of rural Sindh may drop significantly, Sarfaraz said, adding that system will move from Pakistan to China following which a wave of cold air will enter the country due to which the intensity of cold will increase.
According to the chief meteorologist Karachi, about 6 to 8 spells enter the country every year from December to March, and as per available forecast for October to December, the country will receive less than normal rains this year. The previous record of average rainfall in the country is 74.3 mm.


Source link