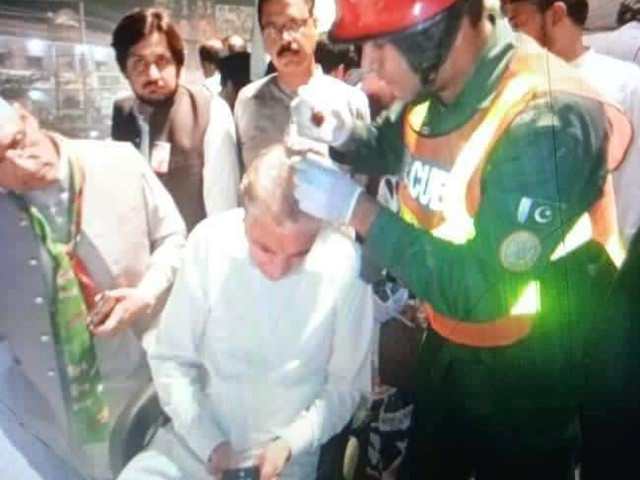 Pakistan Tehreek-e-Insaf (PTI) Vice Chairman Shah Mehmood Qureshi was injured on Tuesday during the party's long march, according to social media reports.
The PTI leader reportedly received a minor head injury after he was hit by an overhead bridge while standing on the party chief Imran Khan's container en route to Islamabad.
The reports quoted the rescue officials as saying that they immediately provided first aid to Qureshi.
لانگ مارچ کے دوران شاہ محمود قریشی کا سر اوور ہیڈ برج سے ٹکرا گیا۔۔ طبی امداد دی جا رہی ہے۔۔ pic.twitter.com/dlPzHLYBeN
— Waseem Abbasi (@Wabbasi007) November 1, 2022
The march began from Liberty Chowk in Lahore on October 28 and is expected to reach Islamabad on November 10 via GT road.
PTI leader Fawad Chaudhry said that supporters from Karachi would leave for Islamabad via Hyderabad and Sukkur, while the convoy from Khyber-Pakhtunkhwa would leave through Bada.
All these convoys would reach Islamabad to demand free and fair elections in the country, he added.
گوجرانوالہ:لانگ مارچ کے دوران تحریک انصاف کے مرکزی رہنما شاہ محمود قریشی زخمی ہوگئے،ریسکیو حکام
کنٹینر پر سوار تحریک انصاف کے رہنما کا سر فلائی اوور سے ٹرا گیا،ریسکیو حکام
شاہ محمود قریشی کے سر پر معمولی چھوٹ آئی ہے،انہیں ابتدائی طبی امداد دی گئی ہے،ریسکیو حکام pic.twitter.com/aDzhlz7Bfg
— Haider Javed Mughal (@HaiderJavedMug1) November 1, 2022
Former prime minister Imran, who is leading the march, vowed on Tuesday to defeat PML-N supremo Nawaz Sharif in "his own constituency" as the party resumed its 'Haqeeqi Azadi March' on Day 5 from Gujranwala.
"Nawaz Sharif, I challenge you, when you come back, I will beat you in your own constituency," said Imran in his first speech of the day.
He also warned the former three-time premier that when he returns to Pakistan, "we will take you to Adiala jail from the airport".


Source link