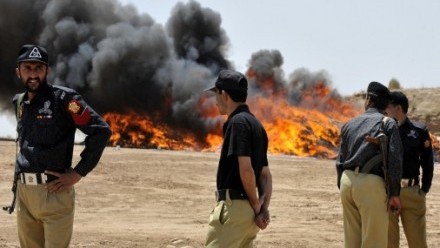 The Quetta police claimed to have killed eight drug dealers on Wednesday in an encounter near the Jinnah Road drain, Express News reported.
The police said that the drug peddlers opened fire at the police soon as they reached the spot. All eight of them died at the police's retaliatory firing. The police then destroyed their hideout.
The police have also claimed to have apprehended more than 12 drug dealers and seized a large number of weapons and drugs recovered from the hideout. The hideout was also set ablaze by the police.
The bodies of the alleged drug dealers have been shifted to the hospital as per the procedure.
Read Cop, two suspects killed in shoot-out
Last week, the Karachi police also decided to launch a grand operation against drug dealers in the city's Katti Pahari area. In this regard the police force will be posted at all the checkpoints on the hill while new checkpoints will also be built.
Previously, the area was controlled by a notorious drug dealer Hafeezuddin alias Bhalu who was killed in an encounter a few years back. Police officials told The Express Tribune that the police checkpoints at Katti Pahari, which had been inactive for a long time, would be made functional.
Whereas in Gujranwala, police have made a significant decision to crack down on drug dealers. Lists of more than 600 drug dealers throughout the district, including women, have been made. The lists were given to top officers of the police and police stations during a special meeting presided over by the CPO.


Source link