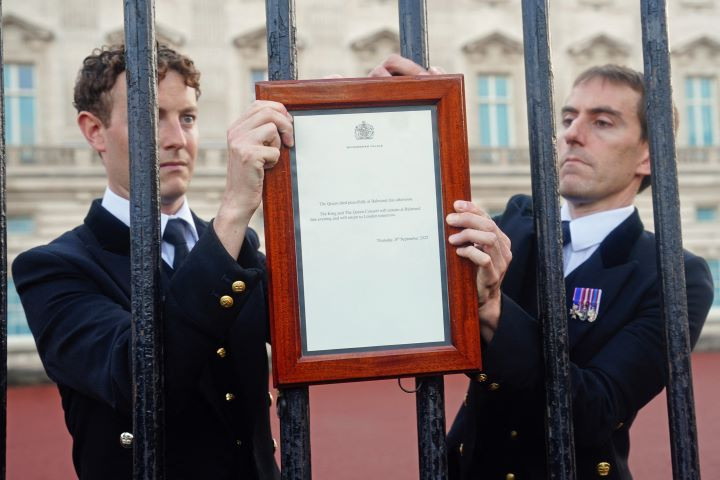 Queen Elizabeth II, the longest-serving monarch in British history and an icon instantly recognisable to billions of people around the world, died on Thursday. She was 96.
Buckingham Palace announced her death in a short statement, triggering 10 days of national mourning and an outpouring of tributes to her long life and record-breaking reign.
LIVE: Aerial view of Buckingham Palace after Queen Elizabeth, Britain's longest-reigning monarch and the nation's figurehead for seven decades, has died aged 96, Buckingham Palace said on Thursday https://t.co/pwNOgUKpCR
— Reuters (@Reuters) September 8, 2022
"The Queen died peacefully at Balmoral this afternoon," said the statement issued at 6:30pm (1730 GMT).
The Queen died peacefully at Balmoral this afternoon.
The King and The Queen Consort will remain at Balmoral this evening and will return to London tomorrow. pic.twitter.com/VfxpXro22W
— The Royal Family (@RoyalFamily) September 8, 2022
"The King (Charles) and The Queen Consort (Camilla) will remain at Balmoral this evening and will return to London tomorrow."
Read more: Family rush to be with Queen Elizabeth as doctors voice concern
The eldest of her four children, Charles, Prince of Wales, who at 73 is the oldest heir apparent in British history, becomes king immediately.
The crowning achievement of the long reign of the Queen was to maintain the popularity of the monarchy despite years of seismic political, social and cultural change which threatened to make it an anachronism pic.twitter.com/sV8uv9WMSE
— Reuters (@Reuters) September 8, 2022
Royal officials confirmed he will be known as King Charles III, the first king of that name to sit on the throne since 1685.
From the steps of 10 Downing Street, Prime Minister Liz Truss mourned "the passing of the second Elizabethan age" nearly 500 years after the first and concluded: "God save the king."
Charles himself called his mother's death "a moment of the greatest sadness for me and all members of my family".
A statement from His Majesty The King: pic.twitter.com/AnBiyZCher
— The Royal Family (@RoyalFamily) September 8, 2022
Also read: Queen Elizabeth offers thanks as Platinum Jubilee celebrations begin
"We mourn profoundly the passing of a cherished Sovereign and a much-loved Mother," he added in a statement signed "His Majesty the King".
"I know her loss will be deeply felt throughout the country, the Realms and the Commonwealth and by countless people around the world."
The queen's death came after the palace announced earlier on Thursday that doctors were "concerned" for her health and recommended she stay under medical supervision.
She was just 25 when she became Queen Elizabeth II on Feb. 6, 1952, on the death of her father, while she was on tour in Kenya with Prince Philip.
She was crowned monarch on June 2, 1953 https://t.co/LPuyk20KE5 pic.twitter.com/nxwyDXn2bu
— Reuters (@Reuters) September 8, 2022
All her children — Charles, Princess Anne, 72, Prince Andrew, 62, and Prince Edward, 58, flocked to her Scottish Highland retreat, Balmoral.
They were joined by Charles's elder son, Prince William, and William's estranged brother Prince Harry.
Here are some of the key moments defining the reign of Queen Elizabeth II #AFP pic.twitter.com/8oAGgodgUB
— AFP Photo (@AFPphoto) September 8, 2022
Condolences
President Arif Alvi, who is the head of state of the second most populous country in the commonwealth of former British colonies, hailed Queen Elizabeth II as a "great and beneficent ruler" following her death.
Her departure has left an immense vacuum, he said, adding that she "would be remembered in golden words in the annals of world history".
Pakistan Prime Minister Shehbaz Sharif also sent his "heartfelt condolences".
"Deeply grieved at the passing of Her Majesty Queen Elizabeth II. Pakistan joins the UK and other Commonwealth nations in mourning her death. My heartfelt condolences to the Royal Family, people & government of the UK."
Queen Elizabeth twice visited Pakistan — in 1961 and again 1997, as the country celebrated 50 years of independence from British colonial rule.
The United Kingdom is Pakistan's largest European trade, investment and development partner, and Britain hosts one of the biggest Pakistani diasporas in Europe, estimated at over 1.6 million.
Mourners from across the world took to their social media to offer condolences and pay a hearty tribute to the 'The Queen of Queens'. From musicians to actors to models and athletes, celebrities who had a great fondness for the second-longest reigning monarch in world history filled the internet with love for the Queen just minutes after the news of her passing became public.
Musician Elton John, who is a close friend of the Royal Family, including the late Princess Diana, for decades took to Twitter to share how "dearly" he'll miss the Queen. "Queen Elizabeth has been a huge part of my life from childhood to this day, and I will miss her dearly," the Rocketmen singer wrote.
Reality TV star Khloe Kardashian took to her Instagram stories to share an emotional note on the "sad day for the United Kingdom, commonwealth and the world". Offering the Highness her love and prayers and the family her sympathies, she said: "All of us should admire the Queen's exemplary sense of duty and commitment to her people. She will always be remembered as someone who led with dignity, grace and nobility over her 70 years as queen."
Khloe further shared how Her Majesty's presence brought her "comfort and peace".
"She truly graced the world and there will never be another like her. God bless the Queen. She's with her prince now," she concluded.
Pakistani actor Armeena Khan offered her "sincere condolences" to the Royal family and prayed for her eternal peace.
While actors Saba Qamar and Minal Khan shared iconic pictures from the life of the monarch to pay their tributes, RJ Anoushey Ashraf expressed her sadness upon her sudden demise. "A life lived under scrutiny and criticism, much reverence and fanfare, she had a wholesome existence indeed," wrote Ashraf as she prayed for her to "rest in power".
Host and anchor Dr Shaista Lodhi remembered the Queen's "unmatched dignity". She tweeted, "I extend my heartfelt condolences to the Royal family and the people of the United Kingdom on the sad demise of Queen Elizabeth II. Her Majesty was respected around the world and her grace and dignity were unmatched. She will be dearly missed."
Former Miss Universe Sushmita Sen shared a glorious picture of the Queen in a parrot green suit and penned, "What an incredible and truly celebrated life [she lived]. She loved colours and lived every shade of it, in a single lifetime. The very embodiment of queen!" She concluded with a prayer for her eternal peace as well.
Actor Fakhr-e-Alam also paid his condolences to the Royal Family and the people of England. "The Queen is dead. Long live the Queen," he wrote with prayers for her soul.
Tom Hardy shared pictures ranging from her teenage years to now on his Instagram, although without a message, to commemorate her tragic death.
Model Naomi Campbell posted pictures of the Queen on her Instagram stories with a dove emoji, that represents peace, a few white hearts and the flag of England as a tribute to the Queen.
Musician Salman Ahmed went to his archives and brought out a picture of the Queen gracing the Pakistani cricket team at England's Lord's stadium in 1971. "Rest In Peace, Queen," he wrote as he detailed the picture for context.
Queen Elizabeth II took to the throne on February 6, 1952, and ruled the realm for 70 years and 214 days. Since the age of 25, she has been served by 15 prime ministers and endured great personal triumphs and sorrow. Her Majesty, whose husband Prince Philip passed away in April 2021, was a mother to four children – Prince Charles, Princess Anne, Prince Andrew and Prince Edward. (With input from afp)


Source link