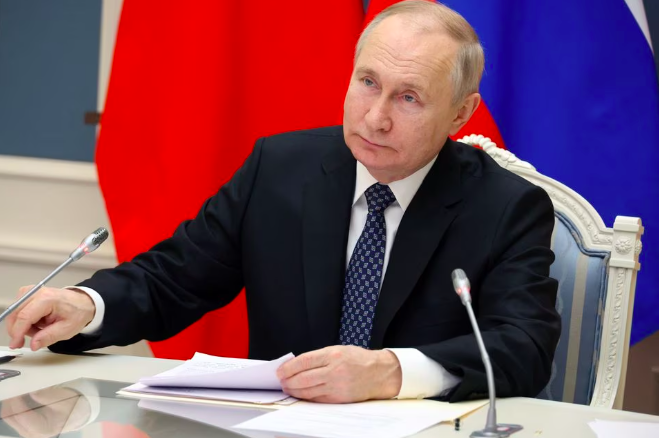 Russian President Vladimir Putin extended Eidul Fitr greetings to Russian Muslims on Friday and praised the contribution of Muslim organisations to maintaining dialogue between ethnicities and religions.
"This holiday, which is especially revered by Muslims across the globe and marks the end of the holy month of Ramazan, bears an important spiritual meaning as it embodies people's aspirations to achieve moral progress, show mercy and feel compassion," Ministry of Foreign Affairs of Russia quoted Putin as saying.
"It is with great satisfaction that I note how the adherents of Islam in our country show deep respect for their centuries-old paternal, historical, religious and cultural traditions, and that they are introducing the youth to [these traditions]."
According to the Russian president, the Muslim Ummah has been leading an exemplary life of good deeds and benevolent undertakings. "It has been actively developing interaction with public and social organisations while tirelessly paying attention to educational and charitable initiatives," Putin maintained.
The Russian head of state also highlighted the role of Muslim fighters in the special military operation, who he said have been protecting Russia, taking part in combat operations with courage and displaying admirable esprit de corps.
Putin also praised the valuable contribution of Muslim organisations to maintaining interethnic and interreligious communication and the patriotic education of Russia's next generation.
✍️ President Vladimir Putin sent greetings to Russia's Muslims on Eid al-Fitr.
💬 It is deeply gratifying that the followers of Islam in our country have a deep respect for the country's centuries-old historical, religious & cultural traditions.
🔗 https://t.co/Akxrn6YqFk pic.twitter.com/GLbQOfFMVp
— MFA Russia 🇷🇺 (@mfa_russia) April 21, 2023
Earlier, British Prime Minister Rishi Sunak also extended Eid greetings to the Muslim community in the United Kingdom and abroad.
Also read: UK PM Sunak felicitates Muslims on Eidul Fitr
"Eid is a timely opportunity to acknowledge the shared values which bind us together, particularly your compassion and dedication to contribute to charity and philanthropy," he said paying tribute to the "outstanding response" of the Muslim community in extending support to the victims of the earthquake in Turkey and Syria.
Sunak also applauded the contributions the Muslim community makes to the UK.
"Whether it be in business, sports, media, our public services, or of course our NHS and armed forces, British Muslims are helping to make the country the success it is," he added.
The UK premier is set to join representatives from the British Muslim community at Downing Street in Eid celebrations today.


Source link