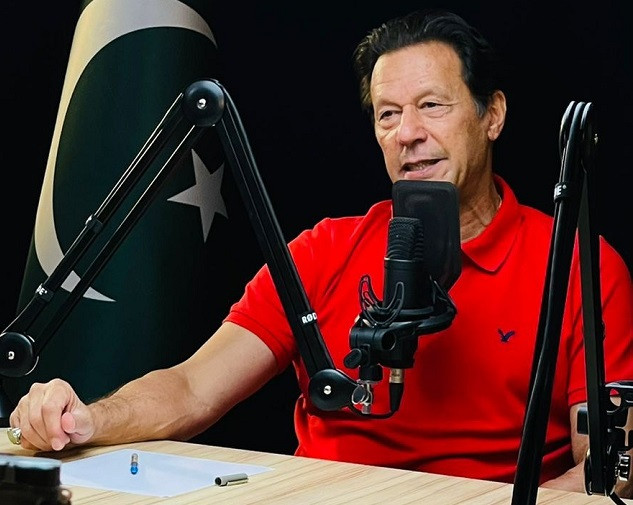 Former prime minister Imran Khan on Thursday said that he wanted to pursue an independent foreign policy whether or not "someone" liked it, nearly three weeks after he was ousted from power after a no-trust vote by the parliament.
"My independent foreign policy was clear from day one," Imran told interviewers during a podcast while commenting on the reasons for his rift with the establishment.
"If someone didn't like it, then I don't know about it," he said and went on to add that it was his prerogative as the prime minister and the chief executive to pursue the same.
While responding to another question about his party, Pakistan Tehreek-e-Insaf's ties with the establishment, Imran rubbished speculation that he wanted Lt Gen Faiz Hameed to be the next army chief.
"I wanted him to continue serving as the director-general of the Inter-Services Intelligence (ISI) during the difficult winter season when the fallout of the Afghan infighting was imminent."
"You don't replace an intelligence chief during difficult circumstances," he said and added that instead, there arose an speculation that he wanted Lt Gen Faiz to be the next army chief.
Also read: Imran Khan – the first Pakistani PM to be ousted through no-trust vote
The PTI chief further said that he couldn't even think about appointing an army chief against the rules of merit.
Imran also said that unlike Pakistan Muslim League-Nawaz (PML-N) supremo Nawaz Sharif, he never wanted to control the army as he had a clean record and didn't fear anyone.
The former premier also criticised policy of "neutrality" of the institutions, saying one is only supporting falsehood if they choose to remain neutral in a battle between truth and falsehood.
On April 10, Imran Khan, the 22nd prime minister of Pakistan, became the first chief executive to be removed from office after losing majority in the National Assembly.
Khan's PTI party, which governed the country for over three-and-a-half years, had been struggling to stay in power as its allies betrayed to joined hands with the opposition parties that had joined forces against the government.
While Pakistan's history has been marred with political instability, no prime minister has ever been removed from office through a no-trust motion.
Listen to the full podcast here:
https://www.facebook.com/ImranKhanOfficial/videos/336030568598799/?extid=CL-UNK-UNK-UNK-AN_GK0T-GK1C