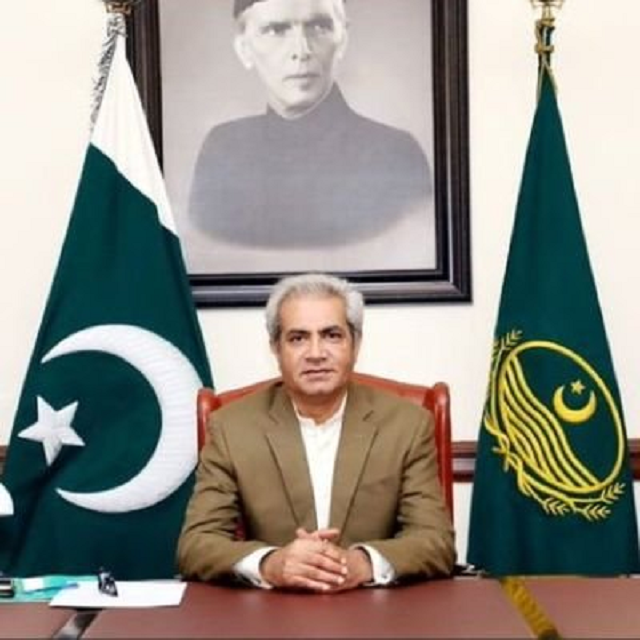 Punjab Governor Omer Sarfraz Cheema is likely to meet President Dr Arif Alvi and Chief of Army Staff General Qamar Javed Bajwa tomorrow (Friday) to discuss the 'constitutional crisis' in the province.
In a series of tweets on Thursday, Cheema said: "An unconstitutional, illegal and fake chief minister has held Punjab hostage since April 16. I have officially written to the Prime Minister of Pakistan and heads of constitutional institutions about the situation. I have fulfilled my constitutional and legal responsibility and brought everything on record."
The governor said he would continue to fight against the 'Sicilian mafia' with public support till his last breath. The siege of the chief minister and state resources would end soon. "I would ask for public help if I was not governor. I have told the entire situation to authorities concerned and indicate what type of intervention is needed. Political parties had always demanded intervention of 111 Brigade in the past. I always demanded neutral empire during my political struggle of 26 years. Neutral empire always has the same rules for both teams otherwise it could not be called neutral," he maintained.
"If Army chief Qamar Javed Bajwa can provide me just one subedar and four soldiers, I will arrest this 'unconstitutional, illegal and fake' chief minister [Hamza Shehbaz] and send him to jail," he said.
He underscored that if such unconstitutional and illegal acts were supported, the day was not far when anyone can capture constitutional positions through illegal and fake notifications and unconstitutional decisions of the courts. It was very alarming that the biggest province of the country had become hostage by illegal use of power. The silence of big political parties is also very dangerous and concerning.
Also read: Governor refuses to administer oath to Punjab cabinet
He further said that if everyone has accepted Hamza Shehbaz's formula then other provinces should wait for their turn. The next chief minister of the Sindh could be Dr Arif Alvi if this formula is accepted.
A day earlier, Cheema had written a letter to General Bajwa urging him to play his role for the implementation of the Constitution in the province. He asked the army chief to restore people's confidence in provincial and federal governments by playing his role. He also sent copies of his letter to the prime minister and the president.
In the letter, the Punjab governor vowed to protect the country's Constitution by utilising all of his abilities. "No power can bar me from stopping your son's unconstitutional actions," the governor told the prime minister.
Meanwhile, addressing a news conference on Thursday Cheema also announced filing a reference against Lahore High Court (LHC) Judge Justice Jawad Hassan, who had ordered the National Assembly Speaker Raja Pervaiz Ashraf to administer the oath to Hamza Shehbaz as Punjab's chief minister.
He said Justice Hassan made an unconstitutional decision. "I will file a reference in the Supreme Judicial Council as the governor, where it will be written that only the president and the governor can administer the oath," he said.
The governor furthered that Pakistan's largest province is being held hostage by the 'unique favourites' and courts, parliamentarians and political parties have a role to play in this crisis.
Also read: Punjab governor dismisses Buzdar's resignation
"The situation of the Punjab Assembly in the recent past has turned into a major constitutional crisis," Cheema said. "The decision to administer oath was taken by betraying the judiciary," he added.
He said that one constitutional body cannot interfere in matters of other constitutional bodies, whereas the judiciary is bound not to interfere in matters of parliament.
On April 30, after a long legal and political battle, the PML-N leader Hamza Shahbaz, the son of Prime Minister Shehbaz Sharif, was finally sworn-in as the Punjab chief minister – hours after Governor Cheema dismissed former provincial chief executive Usman Buzdar's resignation, saying it was "not constitutionally valid".
The oath of office was administered to him by National Assembly Speaker Raja Pervaiz Ashraf, in accordance with the Lahore High Court's order, at the Governor House in Lahore.


Source link