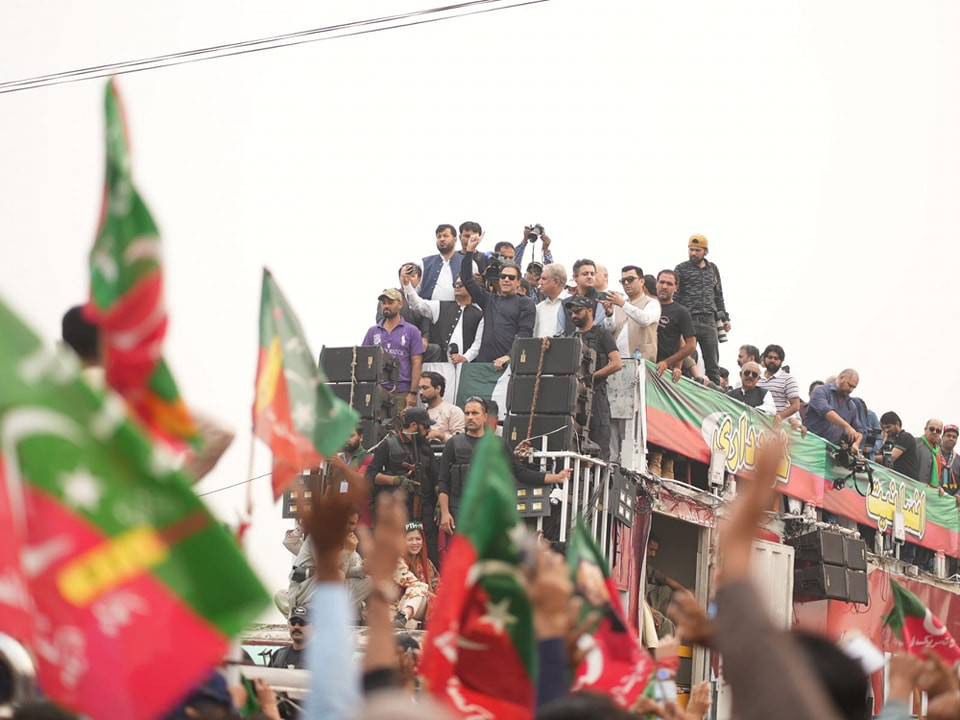 The Pakistan Tehreek-e-Insaf's (PTI) Haqeeqi Azadi March will resume from Lala Musa and Jhang today, party leader Musarrat Cheema announced on Saturday.
Musarrat said Lala Musa was the last pit stop before the march reached Islamabad, adding that a second procession will march from Jhang, under the leadership of PTI Secretary General Asad Umar.
She said that besides the two main processions, caravans of party supporters were also heading towards the federal capital from across the country under the leadership of party's central figures.
"Everyone will reach Rawalpindi together, God willing," she added.
حقیقی آزادی مارچ کا گزشتہ روز لالہ موسی میں آخری پڑاؤ تھا جو کہ آج وہیں سے دوبارہ آغاز ہوگا.
اس کے علاوہ اسد عمر صاحب کی قیادت میں جھنگ میں بھی مارچ کیا جائے گا.
ملک کے مختلف علاقوں سے مرکزی لیڈرشپ کی قیادت میں قافلے نکل رہے ہیں اور انشاءاللہ سب ایک ساتھ راولپنڈی پہنچیں گے.
— Musarrat Cheema (@MusarratCheema) November 12, 2022
The PTI long march resumed on Thursday, a week after the assassination attempt on Imran Khan that had earlier brought the march to a halt. The march was split in two processions.
Read LHC declines request to halt PTI's long march
The first continued from Wazirabad, the site of the attack on Imran, and was led by PTI Vice Chairperson Shah Mehmood Qureshi. The second rally departed from Toba Tek Singh a day later, led by Asad Umar.
After his speech at Toba Tek Singh, Asad led the crowd to Gojra, where he was welcomed outside Hamza Usman's residence.
At a public gathering in Gojra, Asad said that "the march is now taking place throughout the country" and that Imran will "finally lead participants from all over the country from Rawalpindi to Islamabad".
In his speech, the PTI leader advised Interior Minister Rana Sanaullah to be prepared to leave the government with all his allies rather than continuing to hold illusions of torturing marchers.
Asad said that the long march will force the country's "imported" rulers to call for general elections, in which Imran will win with a "majority of more than two-thirds".
Other party leaders, including PTI leader Shahbaz Gill were present. After the speech, the marchers continued the procession from Toba Tek Singh to Kamalia via Rajana and Pirmahal.
PTI Vice Chairperson Shah Mehmood Qureshi led the rally from Wazirabad towards Gujrat where party chief Imran Khan addressed the participants of the long march via video-link.


Source link