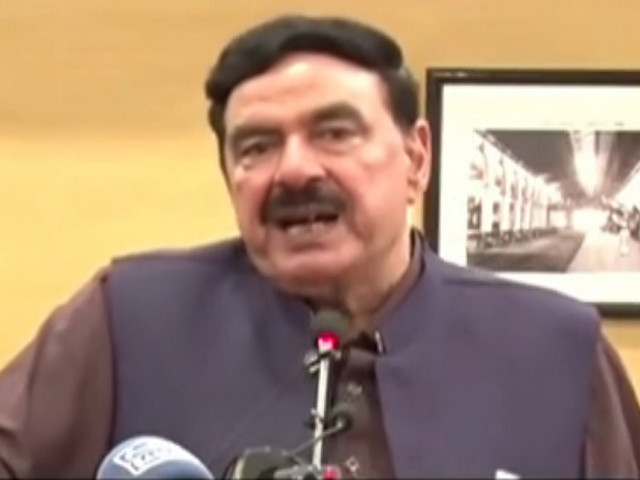 Awami Muslim League (AML) chief Sheikh Rashid on Sunday said PTI chairman and deposed premier Imran Khan would give a call for a long march on Islamabad once the floods recede.
The announcement by Rashid, who is a close ally of Imran, came a day after the PTI chief warned the PML-N-led coalition government to stop the "harassment" of his party activists through court cases, otherwise he would again lead a long march to Islamabad.
Rashid accused the government of planning to impose additional taxes worth Rs608 billion on the people.
Taking to Twitter, the AML chief also hit out at the government for the rising inflation.
"The IMF has struck yet another pact with the government for the recovery of Rs608 billion. First they [the government] robbed the national exchequer and now they are looking to pick people's pockets," Rashid wrote.
The AML chief further maintained that the flash floods had "opened the eyes" of the people of Sindh.
Also read: Fawad denies reports of 'behind-the-scenes contacts' between Imran, Nawaz
He added that he would appear before Justice Muhammad Amjad Rafiq of the Lahore High Court on Monday (today).
Rashid claimed that the recent devastating floods had destroyed the Pakistan Democratic Movement's (PDM) reputation.
He inquired how other countries will give aid to these "money launderers" when their own nation did "not wish to see their faces and refused to donate to them".
He added that the people were unable to pay their electricity bills and buy petrol.
"Yet the government was planning to impose more taxes on them," he claimed.
In his traditional way of making predictions, Rashid further wrote that September would be "brutal".
In May this year, Imran had backtracked from the six-day ultimatum he had given to the government for the announcement of fresh elections.
A day earlier, the PTI chief while addressing a rally, had regretted that police raided the houses of his party activists in their long march and registered cases against them.
He had added that when his opponents had staged a long march, nobody was booked.
However, he had maintained that during the PTI's long march, activists and supporters were subjected to shelling.
He claimed that even families were not spared.
Imran had also hinted at another long march to Islamabad if the coalition government continued to use "negative tactics" against his party.


Source link