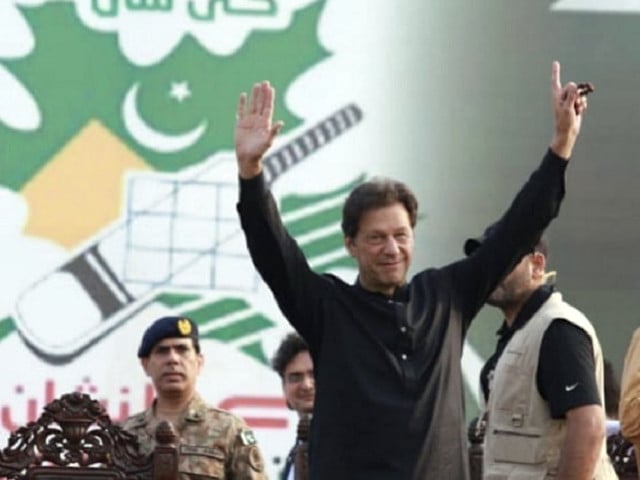 Prime Minister Imran Khan has said that his government's five-year performance will "bury" the politics of his opponents and added that all his policies were focused on the future of the country instead of winning next election.
"From day one, they [opposition] wanted to topple my government because they fear that their 'political shops' will be shut after [PTI's] five-year performance," said PM Imran while addressing a ground breaking ceremony of dualisation of Lillah-Jhelum road on Tuesday.
LIVE #APPNews : Prime Minister Imran Khan addressing ground breaking ceremony of dualisation of Lillah-Jhelum road @PakPMO @fawadchaudhry https://t.co/DI6pYdw1Uz
— APP 🇵🇰 (@appcsocialmedia) November 16, 2021
PM Imran said past rulers made polices and built projects which were only aimed at winning next elections such as Metro Bus projects.
Hailing the performance of his government, the premier said for the first time in the country's history his administration was undertaking long term projects to tackle the challenges of climate change and water crisis.
"We are building mega dams… planted 2. 5 billion trees and in the coming years 10 billion more trees will be planted," he added.
PM Imran said Economist Magazine ranked Pakistan as the top country in the world which handled the Covid-19 pandemic in a best possible way despite limited resources. He also quoted a World Bank report on how the poverty in Pakistan had been reduced during his government's tenure.
Also read: PML-N keeps attacking judiciary: PM Imran
However, the premier admitted that people were facing difficulties due to high inflation, saying that due to Covid-19 entire world was facing the same problem amid supply chain disruption.
The premier also assured that his government was making all-out efforts to ease the woes of the masses, saying, "Like I saved country from Corona, I will also reduce inflation".
Speaking on introducing the electronic voting machine (EVM), PM Imran said he wondered why opposition parties were opposing the use of technology in the elections.
He said this latest technology was being used across the world in the elections but "I wonder why opposition parties [in Pakistan] are afraid of technology".
His statement comes as the stage is all set for a decisive battle between the treasury and the opposition benches over the electoral reform bills, among other things, as they would go for a vote in the joint sitting of parliament summoned on November 17 (Wednesday).
Later while responding to a question on the crucial parliament session, PM Imran expressed displayed his confidence on coming out on top, drawing parallels to "a sportsman wanting to always win on the field".
WATCH: As tomorrow's key Parliament session looms with the controversial bill on electronic voting machines on the agenda, #PMImranKhan has displayed his confidence in coming out on top, drawing parallels to "a #sportsman wanting to always #win on the field."#etribune #Pakistan pic.twitter.com/aTkcGbVr7d
— The Express Tribune (@etribune) November 16, 2021
The ruling Pakistan Tehreek-e-Insaf (PTI), which landed in hot water last week after its allies expressed reservations whether the next general elections in the country should be held through the EVM, has finally won back their support on electoral reforms after they met PM Imran on Monday.


Source link