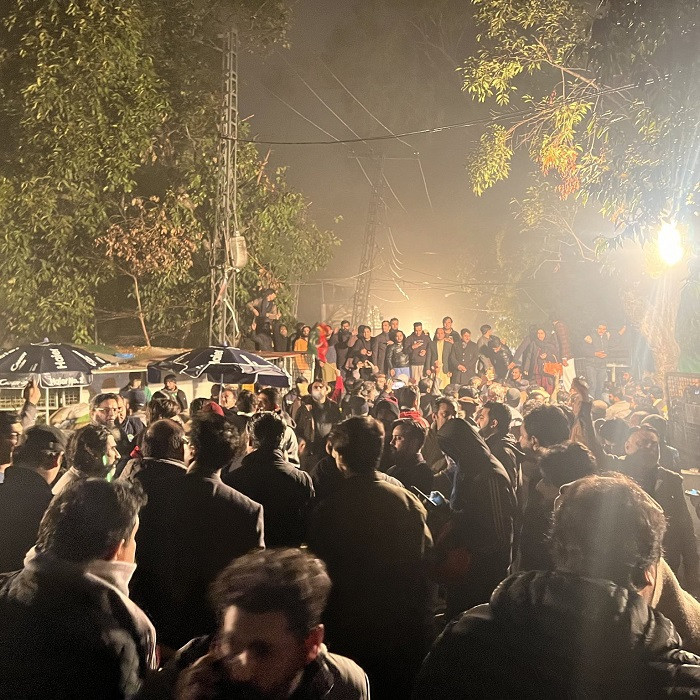 [ad_1]
Pakistan Tehreek-e-Insaf (PTI) workers gathered outside Zaman Park, the residence of PTI Chairperson Imran Khan, in the wee hours of Wednesday to protect the former premier after reported intel that he may be arrested in the night.
The official Twitter handle for the PTI announced that there were reports that the "puppet government may try to arrest Chairman Imran Khan tonight". It furthered that PTI members were reaching Zaman Park in an effort to "protect their leader".
اطلاعات ہیں کہ کٹھ پتلی حکومت آج رات چئیرمین عمران خان کو گرفتار کرنے کی کوشش کرے گی
تحریک انصاف کے کارکنان اپنے لیڈر کی حفاظت کے لیے زمان پارک پہنچ رہے ہیں
— PTI (@PTIofficial) January 24, 2023
A video posted by PTI leader Fawad Chaudhry, hours before the Islamabad Kohsar police arrested him on sedition charges, showed several party supporters and workers outside Zaman Park in the early hours of the morning.
The crowd could be heard chanting slogans of unity with Imran.
Zaman Park Imran Khan Residence at this hour pic.twitter.com/eO2270D9K6
— Ch Fawad Hussain (@fawadchaudhry) January 25, 2023
PTI leader Zubair Niazi feared Imran's arrest, while Musrat Jamshed Cheema appealed to workers to reach Imran's residence for his safety.
Fawad Chaudhary and Hamad Azhar had reached Zaman Park Lahore along with their workers after receiving the information.
'Nationwide protest if Imran arrested'
Talking to media personnel, Fawad detailed that it was reported that the police were trying to and could potentially arrest Imran.
He added that the former premier's arrest would be a conspiracy against the country and that the "fools" were unaware that his arrest would hasten the PTI movement.
"If Imran is arrested, there will be a nationwide protest," he maintained.
Read PTI leader Fawad Chaudhry arrested from Lahore
According to Fawad, thousands of workers reached Zaman Park within half an hour of receiving the message.
He furthered that the police should arrest Imran Khan if they had the courage to do so, and urged the authority to work within the law.
"If you take our decency for weakness, you are mistaken. The [PTI] workers will not allow fascism to be established in the country," he stated.
He added that the incumbent government was "afraid" of the people and involved in Imran's arrest even during an economic crisis. Fawad said the middle-class people supporting the PTI were not armed.
"The only solution to the problems is immediate elections," he emphasised.
PTI leader Hammad Azhar also spoke to the media and said that an environment was being created for the arrest of Imran Khan. He added that PTI workers were to protect the party chief and urged the assurance that Imran would remain safe in Zaman Park.
He furthered that the "nation was angry" and that no one had the courage to arrest Imran Khan.

[ad_2]
Source link