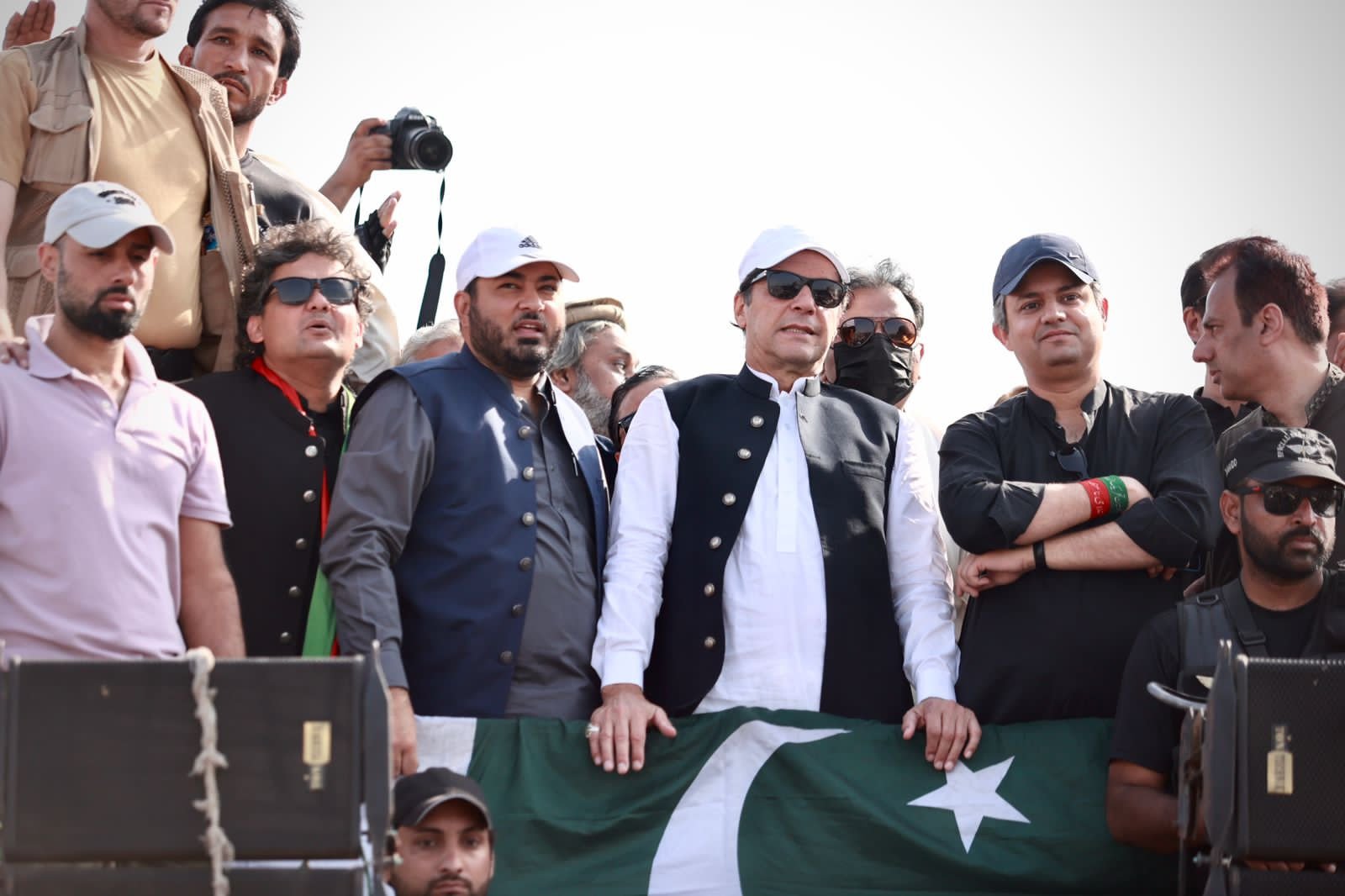 The Pakistan Tehreek-e-Insaf (PTI) will resume its Haqeeqi Azadi March to the federal capital from Wazirabad on Thursday, the seventh day of the long march, being held to demand early elections in the country.
The party's official Twitter handle announced that party chief and deposed premier Imran Khan will spend the day in Wazirabad.
Chairman PTI @ImranKhanPTI will spend the day 7 of Haqeeqi Azadi March in Wazirabad today.#پاکستان_بچاؤ_مارچ pic.twitter.com/KXfRaEgG5Y
— PTI (@PTIofficial) November 3, 2022
According to PTI leader Hammad Azhar, the rally is set to continue from Kot Khizri in Wazirabad from 1 pm today.
Led by PTI Sindh President Ali Haider Zaidi, a caravan from the province will join the long march in Wazirabad. The legion departed from Karachi and arrived in Gujrat last night.
حقیقی آزادی لانگ مارچ میں شرکت کیلئے صدر پی ٹی آئی سندھ @AliHZaidiPTI کی قیادت میں کراچی سے روانہ ہونے والا سندھ کارواں کل رات گجرات پہنچا۔
قافلہ آج وزیر آباد میں لانگ مارچ میں شامل ہوگا۔ #پاکستان_مارچ pic.twitter.com/luMWghFrK8
— PTI (@PTIofficial) November 3, 2022
Zaidi thanked PML-Q leader Moonis Elahi for the "warm welcome" and for "making comfortable arrangements" for the convoy.
سندھ کا قافلہ کل رات گجرات پہنچ گیا اور انشاء اللہ ہم آج وزیرآباد سے حقیقی آزادی لانگ مارچ میں شامل ہوں گے۔
مونس الٰہی، حسین الٰہی اور ان کی ٹیم کا دل کی گہرائ سے شکریہ ادا کرتا ہوں کہ ہمارا پرتپاک استقبال کیا اور ہم سب کے لیے انتہائی آرام دہ انتظامات کیے۔#حقیقی_آزادی_لانگ_مارچ pic.twitter.com/04ssm4Uwa4
— Ali Haider Zaidi (@AliHZaidiPTI) November 3, 2022
'Let the public decide'
PTI chief Imran Khan said on Wednesday his 'Haqeeqi Azadi Movement' would continue till the announcement of free and fair elections in the country.
Addressing a large number of participants on day 6 of the long march, Imran said one should not think that this march would conclude after reaching Islamabad, adding that his movement would continue for even 10 months.
Imran again referred to the recent presser of the ISI chief, saying: "If you have decided to remain neutral then what is stopping you from holding free and fair elections."
He said: "Let the public decide who will govern Pakistan."
Violation of May 25 verdict irks SC
A day earlier, Supreme Court majority judges expressed that they were "disappointed" with the PTI leadership for breaching the court's trust by violating its May 25, 2022 order, wherein the party's "Azadi March" was restricted from reaching Islamabad's D-Chowk.
Even during the hearing of the presidential reference on Wednesday, Chief Justice of Pakistan Umar Ata Bandial said the judges were "deeply disturbed" that the court's trust was breached.
Senior lawyers, who witnessed the court proceedings, said the PTI leadership had "embarrassed" the judges, who were so generous and protected the party's activists from coercive actions taken by the PML-N-led federal and Punjab governments on May 25.


Source link