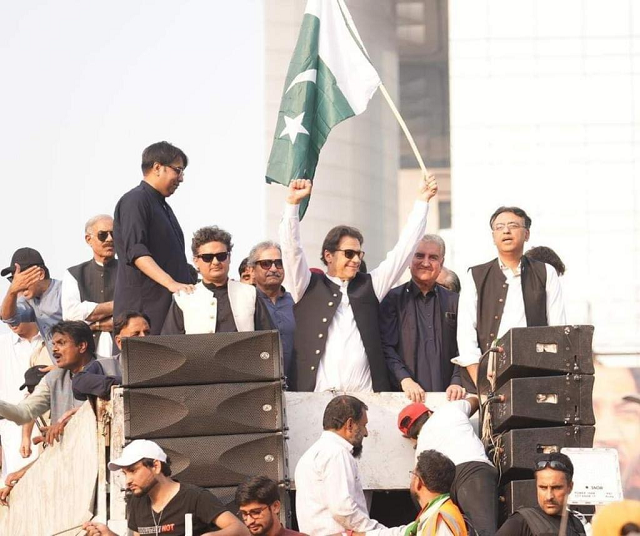 Pakistan Tehreek-e-Insaf (PTI) Chairperson Imran Khan will resume his party's Haqeeqi Azadi March on Saturday from Lahore's Shahdara area.
PTI leader Fawad Chaudhry announced that the march would continue to the Kamoke district in Gujranwala today.
"The love that people have shown Imran Khan highlights the political consciousness of the nation," Fawad said through his official Twitter handle, adding that the PTI wanted to especially thank those women who came to the march with their children.
آج #حقیقی_آزادی_مارچ کا دوسرا دن شاھدرہ سے شروع ہو گا اور کامو نکی میں اختتام پذیر ہو گا، لوگوں نے عمران خان پر جو محبت نچھاور کی ہے اس سے عوام کے سیاسی شعور کا اندازہ ہوتا ہے تحریک انصاف خصوصاً ان خواتین کا شکریہ ادا کرنا چاہتی ہے جو بچوں کے ساتھ مارچ میں آئیں
— Ch Fawad Hussain (@fawadchaudhry) October 29, 2022
According to the former information minister, the PTI's Haqeeqi Azadi movement included those who wanted "to change the system for the next generation". He maintained that the movement aimed to empower people and bring "decision-making out of closed rooms".
اس تحریک میں وہ لوگ شامل ہیں جو اگلی نسل کیلئے نظام بدلنا چاہتے ہیں،اس تحریک کا مقصد عوام کو باآختیار بنانا ہے اور فیصلہ سازی کو بند کمروں سے نکالنا ہے۔ پاکستان کی مڈل کلاس دقیانوسی نظام کو بدلنے کیلئے باہر نکلی ہے اور عمران خان کی قیادت میں اس نظام کو بدلے گی #حقیقی_آزادی_مارچ
— Ch Fawad Hussain (@fawadchaudhry) October 29, 2022
"Pakistan's middle class has come out to change the obsolete system and will change this system under the leadership of Imran Khan," he said.
"This is the biggest freedom movement of the country," the PTI official Twitter handle cited the party chief.
یہ ملک کی سب سے بڑی آزادی کی تحریک ہے۔
چئیرمین عمران خان pic.twitter.com/oX1pRTmicD
— PTI (@PTIofficial) October 29, 2022
PTI kicks-off march
The march had set off from Lahore's Liberty Chowk after Friday prayers. Imran reached the starting point of the long march by a container along with other senior party leaders.
Addressing the supporters, the PTI chairman said that the only objective and demand of the long march was the free and fair elections in the country, which would guarantee true independence in Pakistan.
"The time has come for us to start the journey of real freedom of this country," Imran said, stressing that he was embarking upon the most important journey in his political career spanning over 26 years.
"My march is not for politics, not for elections or personal interests, but only for the purpose that the nation should be truly free, the former prime minister said from atop the container.
"Our decisions should not be taken in Washington or in Britain, rather Pakistan's decisions must be taken in Pakistan and for the [benefit of the] people of Pakistan," he said.
The PTI chairman further said that he wanted to see Pakistan as a country where the people's rights were protected and everyone was equal in the eyes of the law.


Source link