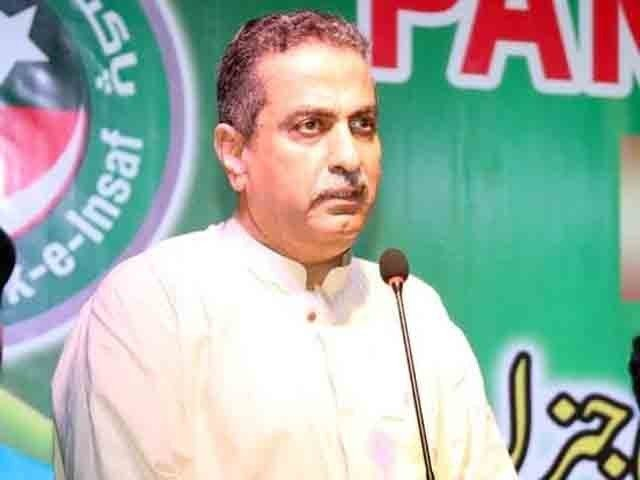 The Pakistan Tehreek-e-Insaf (PTI) has suspended the party membership of MNA Abdul Shakoor Shad and served him with show-cause notice for challenging his resignation in the Islamabad High Court (IHC) "in violation of the party instructions".
Shad, the PTI lawmaker from Karachi's NA-246 constituency (Lyari), had challenged his resignation in the IHC, claiming that he did not resign from his National Assembly seat and that his resignation letter was written by a computer operator at PTI's head office and was signed by 123 members.
Subsequently, the IHC on Friday suspended the notification that had declared the NA-246 seat from Lyari, Karachi vacant.
In the show-cause notice issued by PTI Sindh chapter president Ali Zaidi, the party said challenging the resignation was a 'gross violation' of party rules.
سابق رکن قومی اسمبلی شکور شاد صاحب کو پارٹی پالیسی کے خلاف اقدام کے حوالے سے شو کاز نوٹس جاری کر دیا گیا۔ انہوں نے پارٹی پالیسی کے خلاف اپنا استعفی عدالت میں درخواست دائر کر کے منسوخ کروایا۔ان سے انکےاقدام اور میڈیا پر پارٹی پالیسی کےخلاف بیانات کے حوالےوضاحت طلب کی گئی ہے! pic.twitter.com/nKc1RRwfe7
— Imran Ismail (@ImranIsmailPTI) September 10, 2022
The notice further said Shad in violation of the party instructions withdrew his candidature for by-election on the vacant seat after the acceptance of the PTI Chairman Imran Khan's papers.
"This is gross misconduct and violation of party rules and therefore you are required to submit reply within seven days of this notice stating why your party membership should not be cancelled," the notice added.
A day earlier, the IHC termed the resignations of 123 PTI MNAs "suspicious" after it was informed that the parliamentarians were not called in personal capacity before the National Assembly speaker.
Also read: IHC terms PTI MNAs resignations 'suspicious'
Chief Justice Athar Minallah heard the petition against the acceptance of the resignation of PTI MNA Abdul Shakoor Shad.
The court suspended the Election Commission of Pakistan's notification declaring NA-246 Lyari Karachi seat vacant as the PTI MNA informed that he had sent the resignation letter without putting his name or date to the National Assembly speaker only to express solidarity with Imran Khan and for 'political purposes'.
The petitioner pleaded through his lawyer that he did not resign from the NA seat as the resignations were typed by the computer operator of the party's head office and signed by 123 members. "I sent the resignation letter to the speaker without writing my name or putting the date as the PTI had said that these resignations are to maintain party discipline."
Shad's lawyer said that his client signed only to express solidarity with Imran Khan and for political purposes.


Source link