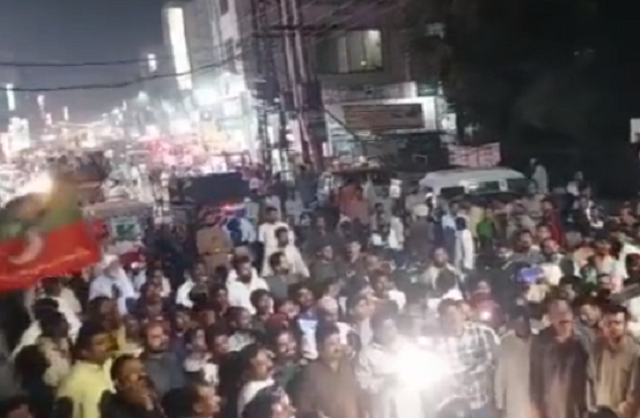 The supporters and workers of Pakistan Tehreek-e-Insaf (PTI) staged demonstrations in all major cities of the country for a third straight day on Saturday to protest against the failed assassination attempt on party chief Imran Khan's life.
PTI chief Imran Khan on Friday had urged his supporters to continue protesting against the attack on party's long march in Wazirabad until those who plotted the attack resigned from their positions.
عمران خان پر قاتلانہ حملے کیخلاف پورے ملک میں آج بھی احتجاج جاری!
نہ آواز بندی کام آئے گی نہ کوئی اور اوچھے ہتھکنڈے، قوم کا فیصلہ سب کے سامنے ہے۔
#عمران_خان_ہماری_ریڈ_لاین_ہے pic.twitter.com/IXTpdciLAG
— PTI (@PTIofficial) November 5, 2022
The PTI workers and police clashed at Faizabad Interchange after the protesters pelted stones at them, prompting them to fire tear gas shells in return.
The PTI workers also blocked the Faizabad Interchange, blocking the traffic coming from Rawalpindi.
PTI workers are protesting t Faizabad despite heavy rainfall in imran khan support #PTIProtest #اعظم_سواتی_کو_انصاف_دو pic.twitter.com/agSTJMFROQ
— Riaz Chamkani (@RiazChamkani1) November 5, 2022
Long queues of vehicles were formed while the protesters also raised slogans against the government.
وہاڑی کے عوام بھی سڑکوں پر اُمڈ آئے – کپتان پر قاتلانہ حملے کی ایف آئی آر کے اندراج ، امپورٹڈ حکومت کے خاتمے اور نئے انتخابات کے اعلان تک قیادت کی جانب سے ہرکال پر لبیک کہنے کے عزم کا اعادہ۔ #عمران_خان_ہماری_ریڈ_لائن_ہے pic.twitter.com/kCaUmB9lIh
— PTI (@PTIofficial) November 5, 2022
PTI leader Sheikh Rashid Shafiq and former provincial minister Raja Rashid Hafeez also participated in the protest.
Reportedly, the protesters also attempted to vandalise a petrol pump in Faizabad but the security guards of the fuel station dispersed them.
Protesters also burned tyres at Rawat in Islamabad and blocked the GT road due to which commuters faced difficulties as traffic came to a standstill.
سابق وزیراعظم پاکستان و چیئرمین پاکستان تحریکِ انصاف عمران خان، ان کے ساتھیوں پر بزدلانہ قاتلانہ حملے اور ایک کارکن کی شہادت پر کوئٹہ میں احتجاجی ریلی اور مظاہرہ۔ #عمران_خان_ہماری_ریڈ_لاین_ہے pic.twitter.com/4rhXNS0ens
— PTI BALOCHISTAN (@PTIBaluchistan) November 5, 2022
The Islamabad police resorted to shelling on protesters after they attempted to advance towards the federal capital, which pushed the protesters to march back towards Murree Road.
Likewise, a demonstration was also held in Attock where the protesters blocked the Bahtar Interchange.
کراچی پی ٹی آئی کی جانب سے احتجاج!
پی ٹی آئی کراچی کی جانب سے نمائش چورنگی سے طبت سینٹر تک پیدل مارچ- #عمران_خان_ہماری_ریڈ_لاین_ہے pic.twitter.com/CLQVRFXZ6w
— PTI (@PTIofficial) November 5, 2022
PTI leaders Shafqat Mehmood, Dr Yasmin Rashid, Musrat Jamshed and others addressed the protesters at Lahore's Liberty Chowk.
President PTI Central Punjab @Dr_YasminRashid addressing the crowd at Liberty Chowk #عمران_خان_ہماری_ریڈ_لاین_ہے pic.twitter.com/wNPboZv4sL
— PTI (@PTIofficial) November 5, 2022
According to CTO Lahore statement, protests and sit-ins are taking place at eight places in the city. Lahore Ring Road is closed for traffic while protesters have also closed Abdullah Gul Interchange for traffic in the city.
A report was compiled by the Provincial Intelligence Centre on PTI's protest, according to which the PTI workers are protesting at 32 places across Punjab.
PTI denied permission to hold protest in Islamabad
Meanwhile, The district administration of the federal capital has denied permission to the Pakistan Tehreek-e-Insaf (PTI) to hold a protest and sit-in in Islamabad.
The administration stated, in a separate petition filed in the Islamabad High Court (IHC) by Advocate General Islamabad Jahangir Khan Jadoon, that there are reports from security agencies of a 'serious threat' to PTI chief Imran Khan's life, hence, in view of such serious threats, they cannot give permission for a rally or sit-in.
The application added that the deposed prime minister's container during the party's 'Haqeeqi Azadi' march was attacked in Wazirabad, adding that the assailant has mentioned religious tendencies in his confessional statement.
A written confession of the assailant has also been made part of the application.


Source link