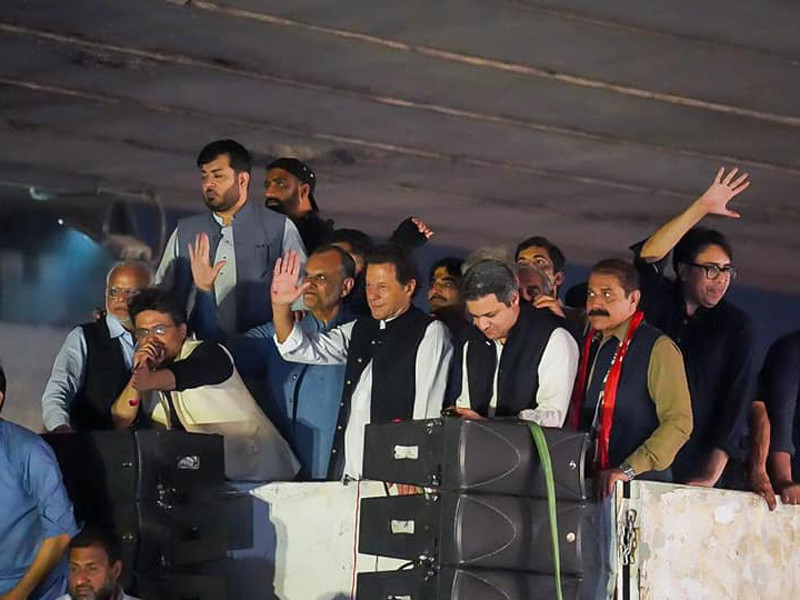 PTI Chairman Imran Khan said on Saturday if were to be held with the government it would be only on one point: the date for the early general elections in the country.
Imran took to twitter while seeking to quash rumours that a high-level meeting was being held in Lahore between the two sides. The rumours spread after Imran returned to Lahore, when his long marched reached Kala Shah Kaku.
On the second day, the long march was scheduled to culminate at Kamonki. However, the PTI leadership called it a day in Kala Shah Kaku, while Imran left the march for the Punjab capital.
"For all those spreading rumours about my mtg in Lahore, the reason we returned was bec Lahore was closer & we had already decided not move at night," the PTI chief wrote in his tweet.
Earlier, prime minister Shehbaz Sharif formed a 13-member committee regarding the long march, saying that if anyone wanted talks, he could talk to the committee.
In the tweet Imran said if talks were to be held, his only demand would be the date for early elections. "The only demand I have had for 6 mths is date for early fair & free elections.
That will be the ONLY demand if talks are to be held."Meanwhile, Senior PTI leader Fawad Chaudhry also snubbed the negotiations committee formed by Prime Minister Shehbaz as "frivolous", alleging that the government was not serious about the talks.
"There is news of the formation of a frivolous committee," Chaudhry said. "These are tricks to only engage the Azadi March, and they won't work," he added. Instead, he demanded date for the fresh elections in the country.
He claimed that the Imran Khan-led 'Haqeeqi Azadi' march still faced government-imposed restrictions. "PTI workers are being arrested and the Haqeeqi Azadi March's coverage is being restricted," he added.
In a late-night tweet, meanwhile, Information Minister Marriyum Aurangzeb also rejected the rumours that a meeting was taking place with the PTI in Lahore. "There are no talks with the rejected foreign-funded fitna," she said.


Source link