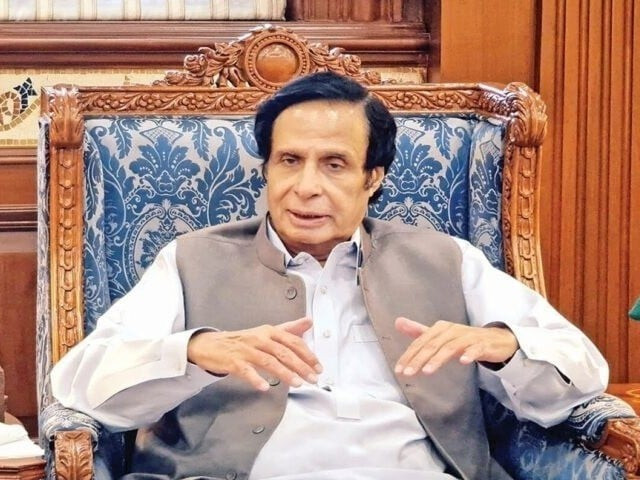 [ad_1]
Ahead of general elections in the country, the senior leadership of the PTI-PML-Q alliance have decided to stick together heading into their next major campaign – cruising through the general elections with an intact electoral coalition – with a strong likelihood of PML-Q merging with the PTI.
Following a meeting with PTI chief Imran Khan at his Zaman Park residence here on Sunday night, Punjab Chief Minister and PML-Q leader Chaudhry Pervaiz Elahi told the media that the former prime minister has recommended that PML-Q merge with the PTI.
"We are considering the offer of PTI chairman and have already called a meeting of our leadership on Monday (today) to develop consensus among party members," he said.
He shared that PML-Q leader Chaudhry Moonis Elahi has already given his consent to the envisaged merger as it will prove to be a win-win situation for both parties.
"The PML-Q joining will further strengthen the PTI. We will continue to work and cooperate even after merging in the PTI, he maintained.
He further disclosed that several nominees were deliberated upon with Imran for the slot of interim chief minister, including former federal secretary Ahmad Nawaz Sukhera, former health minister Naseer Ahmad Khan and former chief secretary Nasir Saeed Khosa.
"We are sending these names to Punjab Governor Muhammad Baligh-ur-Rehman and believe that consensus will be developed on a name as it will be hard for anyone to raise objections on these names. PML-N will avoid holding consultations with us but will send its proposed names to the governor," he clarified.
Answering a query, Elahi said Imran Khan has made all arrangements to knock out Prime Minister Shehbaz Sharif in the vote of confidence. "They are fleeing hurry-scurry to avert their defeat in the lower house too as they are well aware of our preparations."
"I believe that it would be hard for Shehbaz Sharif to fall asleep even after taking sleeping pills," he quipped.
Responding to another question, he said neither the PML-N nor PPP have contacted him. Pakistan Democratic Movement (PDM) is an alliance of 'tired bullets', he said and asserted that elections will be held within a period of 90 days as prescribed by the constitution. "There is no chance of any delay in it."
On the other hand, PML-N is considering the names of two former chief secretaries Azam Suleman and Nasir Saeed Khosa for the interim CM slot. However, there were reports that the party will not participate in the consultation process and would prefer to let the Election Commission of Pakistan (ECP) decide on the name of the caretaker chief minister.
During the meeting, the PTI chairman issued directions for forming parliamentary boards at divisional levels within two days. The boards will be tasked to prepare lists of all shortlisted candidates and submit them to the central parliamentary board.
The meeting also decided to blacklist party members who betrayed the party in its hour of need. "Special attention should be paid while selecting women and minorities candidates. Their services for the party and community would be considered," Imran instructed.
Meanwhile, PTI Senior Vice President Fawad Chaudhry tweeted that under Article 224-A of the Constitution, both the chief minister and the leader of the opposition should agree on the name of the interim chief minister with consensus.
"If the two leaders fail to reach an agreement, then two proposed names from each side will be sent to a parliamentary committee. If the parliamentary committee also fails to agree on a name, then the names will be sent to the ECP, which will nominate one of these names as the chief minister. The commission has no authority to name someone out of the list given," the PTI leader clarified.
Meanwhile, speaking to the media, Fawad invited the opposition for consultation on the interim government. He highlighted that his party will propose two names for the caretaker chief minister.
Imran refuses to meet estranged leaders
Also on Sunday, PTI chief Imran Khan refused to meet any estranged leader of his party who demanded an audience with him. The party chief instead directed them to respond to the show cause notice served to them for violating the party's instructions during Elahi's vote of confidence.
Fawad Chaudhry disclosed that disgruntled party members were trying to approach the party chairman but maintained that there was now "no need for this". They should respond to the show cause notice and explain their position to the party's Secretary General Asad Umar.
Those who were served show cause notices include Faisal Cheema, Monia Waheed and Khurram Laghari who abstained to give a confidence vote to Chief Minister Pervaiz Elahi.
The disgruntled PTI members had attempted to approach the party chairman to explain their position.
A strong resentment was being witnessed among PTI workers against defected members and protests are underway against them in their constituencies for ditching the party at a crucial time.

[ad_2]
Source link