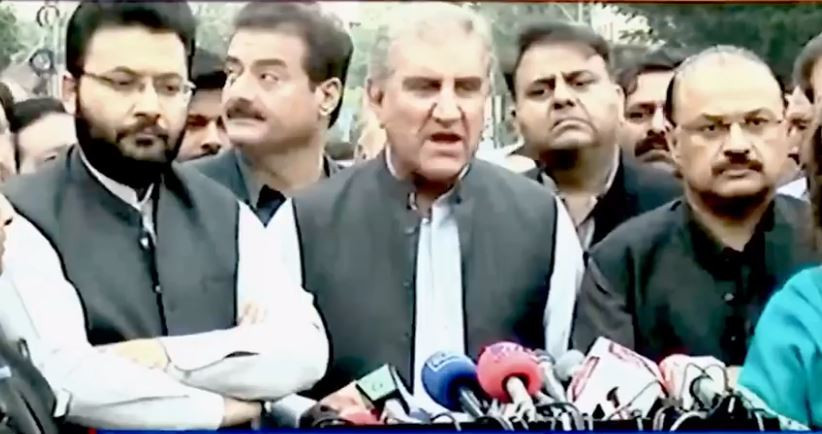 The Pakistan Tehreek-e-Insaf (PTI) filed a constitutional petition simultaneously in the Supreme Court's (SC) Lahore, Karachi, Peshawar and Quetta registries on Monday challenging the decision not to include the names of the three suspects identified by party chief Imran Khan in the FIR over the murderous gun attack on him.
The petition was filed in Lahore by senior PTI leader and Vice Chairman Shah Mehmood Qureshi, Usman Buzdar, Shafqat Mehmood and other parliamentarians.
The former chief minister Punjab Buzdar submitted the application to the Deputy Registrar Supreme Court Ejaz Goraya, who received the constitutional application and provided the diary number.
Read: FIR of attack on Imran registered after SC's ultimatum
The party also requested the court to take action against Azam Swati's incident and to give justice to the family members of journalist Arshad Sharif.
The former ruling party, in the petition, requested the formation of a judicial commission and that the SC should take suo motu notice on these matters.
"A judicial commission should be formed… we think that a lot of important events have taken place and a probe needs to be carried out," the PTI vice chairman said while talking to the media in Lahore.
He also said that the citizens of this country want to know the facts.
Vice Chairman PTI @SMQureshiPTI talks outside SC registrar after filing petitions regarding assassination attempt on Imran Khan, and for Azam Swati's case. #امپورٹڈ_فیصلے_نامنظور pic.twitter.com/2vIQNFnOFi
— PTI (@PTIofficial) November 14, 2022
The party also filed petitions, signed by 26 members of the National Assembly (MNA) and members of the provincial assembly (MPA), in the apex court's Karachi Registry for investigation of various incidents.
The position adopted in the petition maintained that a judicial inquiry should be conducted into the attack on Imran Khan, the alleged indecent video of Azam Swati and the murder of anchorperson Arshad Sharif.
A similar petition was also submitted to the SC's Peshawar Registry by Deputy Speaker Mehmood Jan, Provincial Ministers Atif Khan, Shaukat Yousafzai, Kamran Bangash, Dr Amjad, Senator Usman Tarkai and women MPs.
The attack on the cricketer-turned-politician occurred during his "Haqeeqi Azadi March" on November 3 in Punjab's Wazirabad district but the FIR was not registered in accordance with the complainant's desire.


Source link