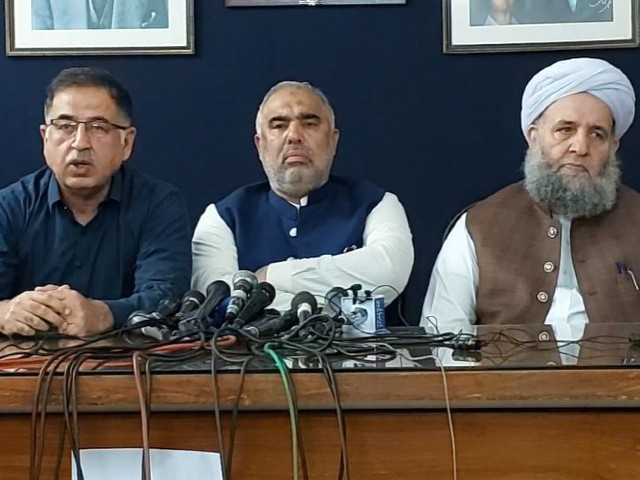 Lashing out at Pakistan Muslim League-Nawaz (PML-N) leader Ayaz Latif and the government for spreading "religious hatred" in the country, Pakistan Tehreek-e-Insaf (PTI) leaders on Wednesday said that an attempt is being made to make former prime minister Imran Khan a controversial personality by using religion.
During a news conference, Javed Latif had accused the PTI chief of pushing the country towards "secularism and away from the religion".
"Imran Khan wants to create anarchy in the country as he is using religion for his politics," Latif said. He also showed a few short video clips of Imran Khan to make his point.
The minister said there could be a strong public reaction if Imran Khan's tactics are not checked, warning there would be bloodshed in the country if Imran Khan went ahead with his politics. "We respect the state institutions and there should not be double standards for political parties."
Read more: Imran appears before JIT over terrorism charges
Addressing a press conference in Islamabad along with PTI leaders Asad Qaiser and Iftikhar Durrani, former religious affairs minister Noorul Haq Qadri said that the entire PML-N was involved in an organised campaign against the former premier to make Imran Khan a controversial personality using religion, not just Javed Latif.
"I joined Imran Khan's party after being impressed by his religious views. He is the only leader in the Islamic world who roams around barefoot on the streets of Madina such is his devotion to Prophet Muhammad (PBUH)," he said while defending the PTI chief.
He said that Imran has fought for the honour of Holy Prophet (PBUH) on all forums including the UN and OIC, adding that those involved in hurling accusations are only playing to the gallery.
"This is a very dangerous game… it will divide people and create chaos," he added.
Condemning using state resources for hurling unfound accusations against Imran Khan, Asad Qaiser said that his party is strictly against spreading hate against any religion.
"They [PML-N] are trying to ignite riots in the country by spreading hatred. Imran Khan lives in the hearts of people and how he has served the Ummah can be witnessed by anyone," he added.
He said that it was due to Imran Khan's efforts that the UN now observes a day against Islamophobia. "When we got in power in K-P, we passed a resolution against interest. We also made it compulsory to teach Nazra in all schools from nursery to matriculation. We made Seerat-e-Nabi a part of the syllabus."
Asad said that Imran Khan had become a true leader of the Muslim Ummah and this is what the opponents are fearful of. "I am not sure about Javed Latif's knowledge about religion."
He said that PTI represented all ethnicities of Pakistan and it is the only federal party of Pakistan at the moment. "They cannot handle the economy. Look at the price of dollar. inflation is at an all-time high. The people are struggling to even pay their electricity bills. The PML-N should focus on these things first," he added.
He said that Prime Minister Shehbaz Sharif used to think he is a champion of some sort but he has been unable to manage economy as well as the governance.
Iftikhar Durrani, on the occasion, said that the entire Pakistan Democratic Alliance (PDM) including JUI-F Amir Maulana Fazlur Rehman are involved in the campaign.
"You will see more fatwas will be issued in future because they [PDM] do not have a political resolution so they will ignite religious hatred," he added.
Durrani also said that the government used state television to violate National Action Plan (NAP). "NAP clearly states one cannot spread religious hatred. There are laws in the Constitution of Pakistan as well against such acts," he added.
He said that the PML-N is a product of dictatorship and it has never fought on democratic lines. "Whenever political opponents get ahead of them, they always resort to personal attacks," the PTI leader further said.
https://www.facebook.com/PTIOfficial/videos/374336991567623