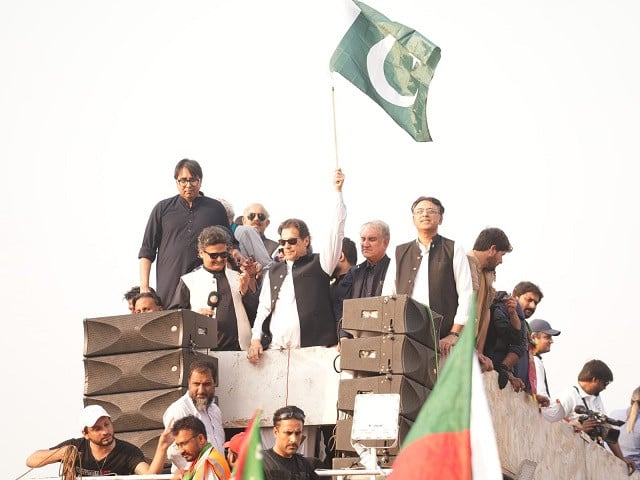 Former prime minister and Pakistan Tehreek-e-Insaf (PTI) chief Imran Khan while standing atop a container while addressing the DG ISI said that "we do constructive criticism, a criticism for your own good".
"We do constructive criticism, a criticism that only benefit you and for your betterment"-@ImranKhanPTI #حقیقی_آزادی_لانگ_مارچ pic.twitter.com/xRrSyzF9y3
— PTI (@PTIofficial) October 28, 2022
Speaking to cheering crowds at Liberty Chowk on Friday afternoon, Imran Khan said that unlike Pakistan Muslim League-Nawaz (PML-N) supremo Nawaz Sharif, he was "not a runaway that would either sit quietly here or criticise the military in London".
"I am not going to leave this country. I will live and die in this country," added the PTI chief.
"I want to see a Pakistan that is free and to have a free country you need a powerful military," he added, "if your military is weakened then the country loses its freedom".
"So DG ISI sir when we criticize you we do constructive criticism, we do it for your own good," said Imran as he noted that "we do not wish to hurt our country".
"And I repeat myself," he continued, "I could say a lot more, I could even answer you back. But, I do not want that the institutions of the country are weakened".
The PTI chief also said that the march will remain confined to the designated areas that "they have allowed us in Islamabad".
"We have always remained peaceful, and will remain peaceful this time too!"-@ImranKhanPTI #حقیقی_آزادی_لانگ_مارچ pic.twitter.com/0l6LeDJGux
— PTI (@PTIofficial) October 28, 2022
"We will not break any laws," he said, "nobody will go to the red zone. For the past 26 years we have always followed the law and the constitution. Our protests are always peaceful".
PTI supporters gather at Liberty Chowk
The PTI chief arrived at Liberty Chowk on Friday afternoon, welcomed by a sea of party supporters.
Tsunami at Liberty Chowk! Chairman PTI @ImranKhanPTI has arrived! #حقیقی_آزادی_لانگ_مارچ pic.twitter.com/PrVgiMNNcH
— PTI (@PTIofficial) October 28, 2022
The party's activists and supporters were converging in droves at Lahore's Liberty Chowk, as the party geared up to launch its 'Haqeeqi Azadi March' from there.
The march, being held to pressure the government into announcing a date for fresh elections, will reach Islamabad by next Friday and has begun moving forwards.
لاہور سے حقیقی آزادی مارچ کا شاندار سفر شروع ہوچکا ہے۔ الحمداللہ
#حقیقی_آزادی_لانگ_مارچ pic.twitter.com/ywm6DhG3CW
— PTI (@PTIofficial) October 28, 2022
Party chief Imran Khan's container reached Liberty Chowk shortly before he arrived at the site of the march to officially kick it off.
عمران خان کا کنٹینر لاہور لبرٹی چوک پہنچ گیا- #حقیقی_آزادی_لانگ_مارچ
pic.twitter.com/AUpz10fQ7A
— PTI (@PTIofficial) October 28, 2022
Former interior minister Sheikh Rashid said he would be joining the march today as well, and expressed optimism that "the nation will come out" and that "an election date would be acquired".
چاروں طرف عمران خان کی حکومت ہے انشاء اللہ الیکشن کی تاریخ ملے گی، شیخ رشید#حقیقی_آزادی_مارچ pic.twitter.com/MFphMotz3P
— PTI Sargodha Official (@PtiOfficialSGD) October 28, 2022
Echoing Rashid's optimism, senior party leader Shireen Mazari emphatically stated that even the highest authorities will be compelled to announce an election date if the nation marched to Islamabad.
ہمیں الیکشن کی تاریخ چاہئے
قوم اسلام آباد کی طرف جائے گی تو ان کا باپ بھی تاریخ دے گا
شیریں مزاری کی گفتگو#حقیقی_آزادی_مارچ pic.twitter.com/YQrlaTxh4J
— Ishfaq Khan (@IshfaqK100) October 28, 2022
"We are even more energised after yesterday's press conference," Mazari said in response to a question if yesterday's unprecedented press talk, by the chiefs of the country's premier intelligence agency and the military's media wing, had dampened their spirit.
Read Kaptaan marches again: What next?
PTI leader Hammad Azhar shared that he was already making his way to the meeting point.
Leaving for liberty chowk from my constituency. pic.twitter.com/FSxMJV7PAF
— Hammad Azhar (@Hammad_Azhar) October 28, 2022
Supporters could be seen riding along his car on their motorcycles carrying party flags.
لبرٹی چوک کی طرف گامزن۔@Hammad_Azhar #حقیقی_آزادی_مارچ pic.twitter.com/L8W6oyev11
— PTI (@PTIofficial) October 28, 2022
Meanwhile, Yasmeen Rashid was also seen rallying support ahead of the march.
The Iron lady Dr.Yasmeen Rashid is ready for Haqiqi Azadi long March. #حقیقی_آزادی_مارچ pic.twitter.com/fRDrMCv2zK
— PTI Rwp Official (@PTIOfficialRWP) October 28, 2022
She was also reportedly making her way to Liberty.
ہماری بہادر آئرن لیڈی کے ہمراہ ایک کثیر تعداد لبرٹی چوک روانہ #حقیقی_آزادی_مارچ
pic.twitter.com/jwUufurew2
— Hina Abbasi (@illusionisthina) October 28, 2022
Earlier, Fawad Chaudhry had urged Lahore's citizens to come out onto the streets and join the march, saying "if you do not come out today, then you should not have any complaints about this system".
لاہور والو! آج عمران خان کے ساتھ پاکستان کا نظام بدلنے کیلئے نکلو، اگر آج آپ اس #حقیقی_آزادی_مارچ کا حصہ نہیں بنتے تو آپ کو اس نظام دے کوئ گلہ نہیں ہونا چاہئے اگر اس نظام کو بدلنا چاہتے ہو تو گھر سے نکلو ورنہ بچوں کی زندگیاں بھی اسی گلے سڑے نظام میں گزریں گی
— Ch Fawad Hussain (@fawadchaudhry) October 28, 2022
"If you want to change this system, come out of your homes. Your childrens' lives will otherwise also be spent in this rotten system," he warned.
Interior minister warns of 'strict action'
Earlier in the day, Federal Interior Minister Rana Sanaullah warned that those who "attack" the federal capital will be "met with such dire consequences that no one will ever think of committing such an act again".
While speaking to the media in Islamabad, the minister said that the government was prepared to deal with anyone attempting to break the law with an iron fist.
Warning protestors of "strict action", Sanaullah said "if they [protestors] abide by the law, we will facilitate them".
"We will fulfill our responsibility according to the situation. If they are coming to march on Islamabad, they should understand that no group will be allowed to march on Ithe capital".
He urged the nation to reflect on "this kind of thinking", adding that "a lot has been revealed about the case of Arshad Sharif. Who helped him go abroad, who issued the false threat alert". He also said that the full report on the matter will be presented before Prime Minister Shehbaz Sharif.
On the question of potentially imposing governor raj in Punjab, the interior minister said that the issue rested with the Cabinet. However, he added that "if any such situation arises, I will move a summary".
It may also be noted that during a hearing at the Supreme Court (SC) over the PTI's May 25 March, the CJP had said that the march was the party's political strategy, and everyone had the right to protest, but not be violent or damage public property. He had added that the government had the authority to take action against the violation of law.
Acknowledging the SC's orders, Sanaullah said that the government would abide by the law, but added that democracy will be compromised if "mob culture" was allowed to continue to grow in the country.
The interior minister made these comments while standing outside a court in Rawalpindi. "Two days ago Imran Khan said that these people could not arrest Rana Sanaullah, the Punjab government has failed".
He said that today the anti-corruption unit has withdrawn the warrant. "It was a shameful example of political revenge. Imran Khan should dismiss the Punjab government," he said.
Commenting on the press conference by the DG ISPR and DG ISI yesterday (Thursday), Sanaullah said that "if an institution is accused of something then it has the right to present its position with the permission of the head".
He also said that "DG ISI's conference helped the nation a great deal; a false narrative was rejected".
A day earlier, the interior minister had said the PTI could stage its long march at the federal capital's sectors H-9 and G-9 as allocated by courts, but its participants were restricted from entering the Red Zone, which would be protected by Rangers and Pak Army personnel.
Read more ISI chief speaks publicly on political crisis
Security preparations
Meanwhile, political tension is growing in the country as Islamabad was put on high alert after former prime minister Imran Khan had on Tuesday announced to hold the long march, demanding the government call fresh general elections.
The government has also started preparations to deploy thousands of security personnel to block Imran's supporters from entering the capital.
According to officials, the interior ministry has already decided to deploy around 30,000 police, rangers, and para-military troops in Islamabad and not allow protesters to enter the red-zone area near the parliament building.
President's House, Prime Minister's House, ministers' offices, parliament, and other important buildings, including foreign embassies, are located in the red-zone area.
With forces about to roll into Islamabad and the government on an anxious vigil, the scenario had cast the nation's capital back to a familiar state of affairs witnessed on the eve of PTI's May 25 long march that saw intense showdown and crackdown.
According to a notice issued by the interior ministry on Wednesday, the Islamabad police have completed their preparation for the long march.
The notice stated that a total of 13,086 officers, including two deputy inspector generals of police, four senior superintendents of police and 11 superintendents of police will be posted at the long march venue. Thirty assistant superintendents of police and deputy superintendents of police will also be posted.
Moreover, 4,265 Frontier Corps officers, 3,600 Rangers personnel and 1,022 policemen from the Sindh police will be on duty during the march.
The authorities had also sent hundreds of containers into Islamabad to barricade all entry points before the arrival of demonstrators.
Also Read No option but to indict Imran after Nov 10: ECP
The officers will be provided 616 tear gas guns, 50,050 shells, 611 twelve-bore guns and 36,700 rounds. Likewise, 2,430 masks and 374 vehicles will also be given to the police.
All police officers and personnel have been instructed to remain unarmed.
Furthermore, on the direction of the interior ministry, the Pakistan Railways (PR) prepared a list of 400 railway police personnel to thwart the long march.
The ministry had asked for a force of 2,000 personnel from the railway police authorities, sources said but added that due to the lack of enough personnel, only 400 personnel from all eight divisions of the railways could be gathered.
March plan
The march's commencement date was announced on Tuesday by Imran. "We will gather at Liberty Chowk at 11am on Friday, and set off for Islamabad," he had said.
"We will stay peaceful. If any disruption comes, it would be from the other side, not ours. We are aiming for soft revolution. We are not going to Islamabad to create any mischief," Imran assured, adding that despite all his peaceful intentions he was ready for arrest as well.
حقیقی آزادی مارچ– لاہور تا اسلام آباد روانگی پلان: #حقیقی_آزادی_مارچ pic.twitter.com/gM702lLkfP
— PTI (@PTIofficial) October 27, 2022
According to the party's plans, the march will commence from Lahore's Liberty Chowk on Friday (today) and will reach Rawat by November 3, where the leadership will decide on the next course of action. The first priority of the party would be to hold a public rally, whereas the second priority would be to turn the protest into a sit-in.


Source link