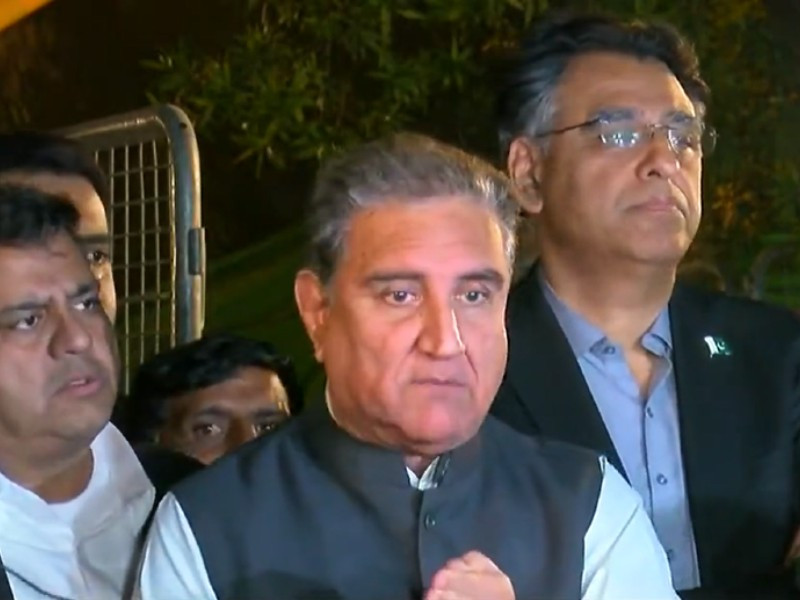 Pakistan Tehreek-e-Insaf (PTI) senior leader and former foreign minister Shah Mahmood Qureshi on Wednesday said that his party desired that new provincials governments be formed before Ramazan next year following the dissolution of Khyber-Pakhtunkhwa and Punjab assemblies.
"Imran Khan intends to dissolve K-P and Punjab assemblies in the next few days so that the entire process can move forward. The PTI leadership has given Imran Khan the right to dissolve assemblies," he said while addressing the media following a meeting between the senior leadership of PTI with the former prime minister.
Media talk by @SMQureshiPTI after important senior leadership meeting. pic.twitter.com/vreOuAoLLa
— PTI (@PTIofficial) December 7, 2022
"If the federal government of PDM wants to give priority to its own interest over the country's, and does not want to move towards general elections and further sink the country in the process, then it is their decision. We desire that the process of elections gets completed in Punjab and K-P before Ramazan," he stated.
Qureshi said that Imran took everyone into confidence about his decision during the meeting, adding that the only solution to the current problems the country was facing was early elections.
Read more: Imran vows to stand by 'haqeeqi azadi' stance
"All indicators point towards destruction of the economy. The government has lost the confidence of traders' community," he added.
The PTI leader said that the differences between Finance Minister Ishaq Dar and former finance minister Miftah Ismail were seen by everyone, adding that their opinions about the economy are well-known.
Qureshi said that the path towards negotiations between PTI and the government could not be paved. "Dr Arif Alvi tried to mediate [for negotiation] between the government and PTI. Only after a dialogue, Imran announced the dissolution of assemblies," he added.
Talking about the mistrust between PTI and institutions, he said the party wanted to move forward in a democratic manner. "If there is a rift between PTI and institutions, we should take confidence-building measures so it can be eliminated," he added.
He further said that senior journalist Arshad Sharif's mother must get justice as such incidents do not take place in any civilised society.


Source link