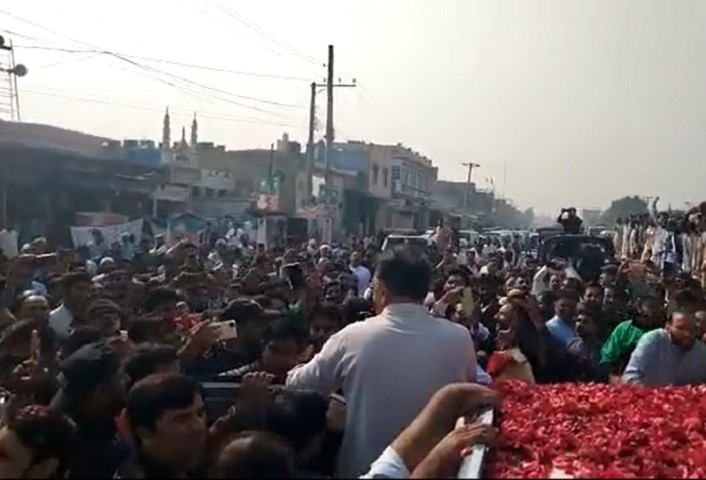 The Pakistan Tehreek-e-Insaaf (PTI) continued its now divided long march on the federal government on Sunday as party Vice Chairman Shah Mehmood Qureshi led the participants in Kharian, party secretary general Asad Umar led the march in Faisalabad and Pervez Khattak led the one in Nowshehra.
حقیقی آزادی مارچ کا سفر آج بھی جاری رہے گا
آج رات 7:30 بجے چئیرمین تحریک انصاف عمران خان کا لائیو خطاب ہو گا
• کھاریاں – شاہ محمود قریشی مارچ کے شرکأ کو لیڈ کریں گے
• فیصل آباد – اسد عمر مارچ کی قیادت کریں گے
• نوشہرہ – پرویز خٹک مارچ کو لیڈ کریں گے pic.twitter.com/JeD1nmERr8
— PTI (@PTIofficial) November 13, 2022
Meanwhile, PTI chief Imran Khan is expected to address the march via video link at 7:30 pm today.
Read Imran's shifting scales
While addressing supporters at Samundri, Asad Umar attacked the Prime Minister Shehbaz Sharif, calling him "cherry blossom" and alleging the rival party leadership was running scared of the public.
Secretary General PTI @Asad_Umar addressing the crowd at Samundri. #حقیقی_آزادی_لانگ_مارچ pic.twitter.com/dIYNcqPDMr
— PTI (@PTIofficial) November 13, 2022
Umar also criticised the premier for "runing away" to his "fugitive brother".
PTI Secretary General @Asad_Umar at Samundri addressing the crowd! #حقیقی_آزادی_لانگ_مارچ pic.twitter.com/nBHKrOqKaj
— PTI (@PTIofficial) November 13, 2022
"They used to think that by oppressing and forcing people, the people would get scared," added Umar expressing faith that the "Haqeeqi Azadi March" would soon "achieve its objective".
On the other hand, Qureshi in a press conference questioned why "the uncertainty" was emerging ahead of an "important appointment" and why "important decisions" were being made in Lodon.
Press conference in Gujrat by Vice Chairman @SMQureshiPTI ahead of Haqeeqi Azadi March, which will head to Kharian today. #حقیقی_آزادی_مارچ pic.twitter.com/UpkmeosMzn
— PTI (@PTIofficial) November 13, 2022
Earlier today, PTI leader Fawad Chaudhry engaged in a Twitter spat with Defense Minister Khwaja Asif over the issue claiming "any leader interested in long-term relations with Pakistan would maintain its distance from present rulers".
Asif had alleged that the PTI's long march was the reason the Saudi Crown Prince Mohammed bin Salman had postponed his trip to Pakistan.
However, Fawad hit back at the minister's claims stating that he was "lying" and misrepresenting the situation as the official visit had been postponed "across Asia, not just Pakistan".
Yesterday, PTI chief Imran Khan refuted the allegations levelled against him of making the appointment of the army chief controversial and clarified that he did not want the military's change of guard to take place according to his own choice.
In a televised address to the long march protestors in Lala Musa, the former prime minister had said he only wanted "the best people on the basis of merit".
Read More Imran compromises national interests for personal political gains: Marriyum
"I say that the army chief should be appointed on merit. I don't want an army chief, judge, IG or NAB head of my choice. I want the best people on the basis of merit."
He had alleged that the government wanted to appoint people of their choice to top posts and claimed that the Islamabad IG's appointment by Prime Minister Shehbaz was such an example. "Because he (the IG) is corrupt, he will now serve the PM, he will do every unlawful task given by him."
'Country's decisions being taken in London'
The former prime minister had gone on to reiterate his criticism of PM Shehbaz and other PML-N bigwigs for holding a meeting in London to make the important decision of the army chief's appointment.
"It is beyond anyone's imagination that the country's important decisions are being taken abroad and by those who have been looting the state wealth for the past 30 years," he said.
Imran's criticism was in reference to the prime minister purportedly discussing the key appointment and other issues of national importance with his elder brother Nawaz Sharif during his unscheduled London visit.
Also Read 'Imran taking undue advantage of leniency'
The meeting sparked controversy when Defence Minister Khawaja Asif confirmed that the premier had indeed discussed the matter with the elder Sharif who lives in exile in London and faces a slew of corruption cases back home in Pakistan.
پہلی بات تو یہ ہے کہ یہ پاکستان کا اہم وزیر ہے اور اس کی اخلاقی حالت یہ ہے کہ انھیں جھوٹ بولتے ذرا بھی مسئلہ نہیں، محمد بن سلمان نے ایشیاء کا دورہ ملتوی کیا ہے صرف پاکستان کا دورہ ملتوی نہیں کیا، https://t.co/Y7UqE9V4GV
— Ch Fawad Hussain (@fawadchaudhry) November 13, 2022
دوسری حقیقت یہ ہے کہ دوسرے ممالک کے تجزیہ کار اپنے حکمرانوں کو رائے دے رہے ہیں اور ان کا تجزیہ یہ ہے کہ موجودہ حکمرانوں سے تعلق پاکستان کے عوام سے لاتعلقی کا اظہار ہو گا لہذاٰ کوئ بھی ملک جسے پاکستان سے لانگ ٹرم تعلقات میں دلچسپی ہے وہ موجودہ حکمرانوں سے فاصلہ رکھے گا
— Ch Fawad Hussain (@fawadchaudhry) November 13, 2022
Opposition leaders – chiefly PTI – have said that someone who does not hold government office and has absconded from the law should not be part of discussions on arguably the most important appointment in the country.


Source link