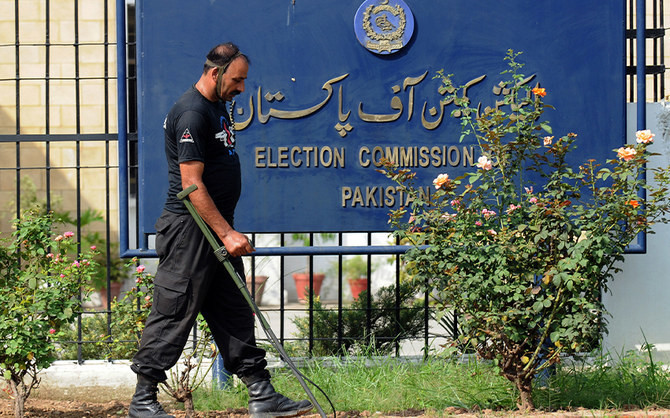 The Election Commission of Pakistan (ECP) has informed the Islamabad High Court that the case against PTI was not that of a "foreign-aided" party but it pertained to "prohibited funding".
The IHC, while dealing with the PTI's plea to stop the commission from giving an immediate verdict, noted in its judgment that an ECP representative had told the court that the electoral body was carrying out proceedings against the party under sub-rule 6 of the Rules of Political Parties 2002.
The representative had added that following the completion of the proceedings relating to prohibited funding under Rule 6, the commission will look into whether or not there was any credible evidence of prohibited funding against the PTI.
He had further informed the court that if the ECP felt that it was necessary, it would issue a show-cause notice to the PTI.
In accordance with the verdict issued by IHC Chief Justice Athar Minallah and Justice Babar Sattar, the commission had also informed the court that the case against the PTI was not under clause (c) of sub-section 2 of the Political Parties Rules 2002. Therefore, the case against the PTI was not about foreign aid.
The IHC verdict further read that the PTI's counsel had contended that the ECP only hearing his client's case and delivering its verdict could have political implications for the party.
The court noted that the ECP could proceed independently and the PTI could apply to the commission for a level-playing field for all parties.
READ Incomplete ECP cannot conduct polls: MQM-P
"There is no reason before the court not to trust the ECP that it will not consider the PTI's application," it added.
The court order also read that the IHC had no doubt in the ECP that it would not protect the rights of a political party.
It added that no adverse order was likely to be passed by the ECP against the PTI as after the completion of proceedings, the commission would look into whether or not the party should be issued a show-cause notice.
"The ECP would only issue a show-cause notice if it had reason to believe it needed to do so."
Earlier during the hearing of the case, Justice Minallah had observed that according to the law, if the prohibited funding was proven, the only punishment it entailed was that it would be confiscated by the government. "Otherwise, there are no other effects."
Separately, the PTI filed a miscellaneous petition in the ECP pertaining to its foreign funding case pending before the commission.
It pleaded that the decision in the PTI case should be announced along with those of the PPP and the PML-N as the IHC had ruled that all parties should be treated equally.
The party took the position that the scrutiny process of the PTI, the PPP and the PML-N had started in 2018.
It added that in 2022, there were 19 hearings of the PTI case and only two of those related to the PPP and the PML-N. "The slow pace of the PML-N case does not give the impression of equal treatment."
The ECP was asked to implement the observations of the IHC.


Source link