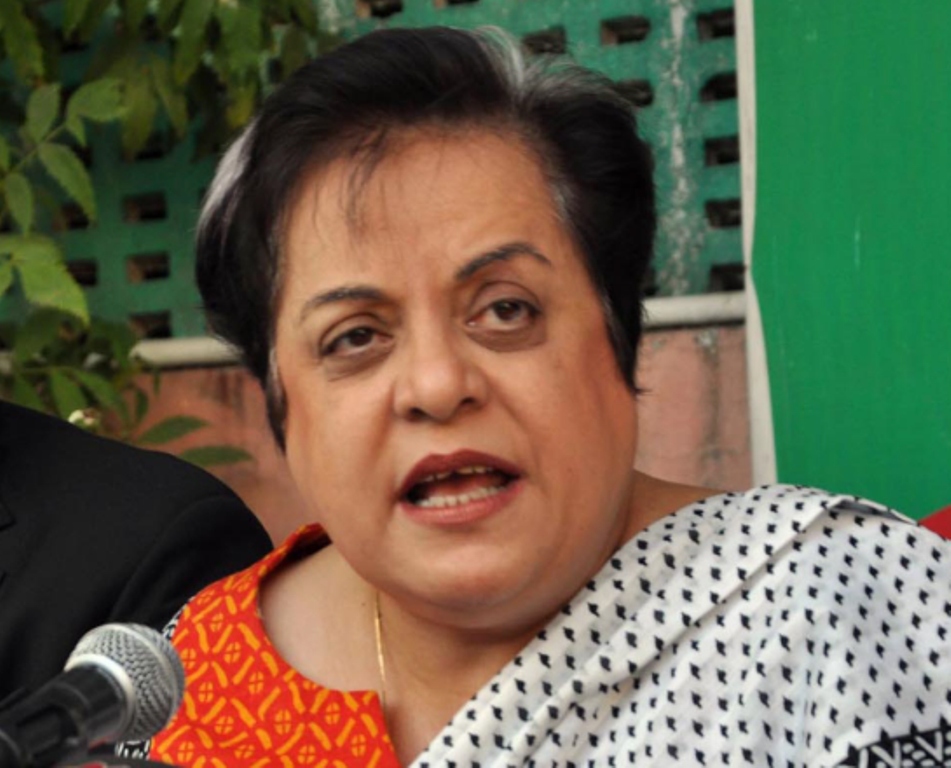 Former human rights minister and Pakistan Tehreek-e-Insaf (PTI) leader Shireen Mazari has called for intervention by the United Nations (UN) to stop the government's misuse of the blasphemy law against former prime minister Imran Khan and senior party leaders.
She said that Pakistan had been engulfed in a political crisis ever since the Imran Khan-led government was ousted in the aftermath of a "regime change scheme" and replaced with a government led by Shehbaz Sharif.
Shehbaz Sharif is named in multiple money-laundering and corruption cases and is out on bail, Mazari added.
Read more: Imran urges SC to take action against 'horse-trading'
In another letter to UN United Nations High Commissioner for Human Rights Michelle Bachelet, Mazari objected to the government's decision to appoint Rana Sanaullah as the interior minister, calling him an "ally of terrorist groups and an alleged killer."
The PTI leader has also claimed that Sanaullah, who is an "accused" in the Model Town case, is using the "religion card" against his political rivals.
On Sunday, FIRs under blasphemy laws were lodged against the PTI chief and other top leaders of the previous government across Punjab over the recent incident of pilgrims, apparently supporters of the PTI, surrounding Prime Minister Shehbaz Sharif's delegation at Masjid-e-Nabwi and shouting slogans.
Former interior minister Sheikh Rashid's nephew Sheikh Rashid Shafiq, was taken into custody on arrival at the new Islamabad airport from Saudi Arabia and handed over to the Attock police station, where he was nominated in one of the FIRs.
Also read: Want friendship with US on equal footing, says Shahbaz Gill
Mazari, in a series of tweets, said she was not surprised by the "dirty tricks" of registering a "fake FIR". She described Rana Sanaullah as a "shameless criminal".
CrimeMinister a gift from US regime change conspiracy.But he shd realise no matter what he does, the people have risen against Imported govt.The State must show clearly where it stands: with the nation or with US regime change conspiracy. @OfficialDGISPR #امپورٹڈ__حکومت__نامنظور
— Shireen Mazari (@ShireenMazari1) May 3, 2022
She said that the move showed that PM Shehbaz, whom she termed as "crime minister", and "his cabal of crooks brought in by the US regime change conspiracy [are] getting desperate because they have no legitimacy amongst nation".
CrimeMinister a gift from US regime change conspiracy.But he shd realise no matter what he does, the people have risen against Imported govt.The State must show clearly where it stands: with the nation or with US regime change conspiracy. @OfficialDGISPR #امپورٹڈ__حکومت__نامنظور
— Shireen Mazari (@ShireenMazari1) May 3, 2022
Mazari also took a broadside at the PPP. She wrote: "Look how low AZ's (Asif Zardari's) PPP has fallen to become part of this desperate 'Imported' govt scheme!" She termed it "unfortunate" that the "dark shadows continue to provide an invisible cloak of protection to such low life criminal actions by their chosen ones".


Source link