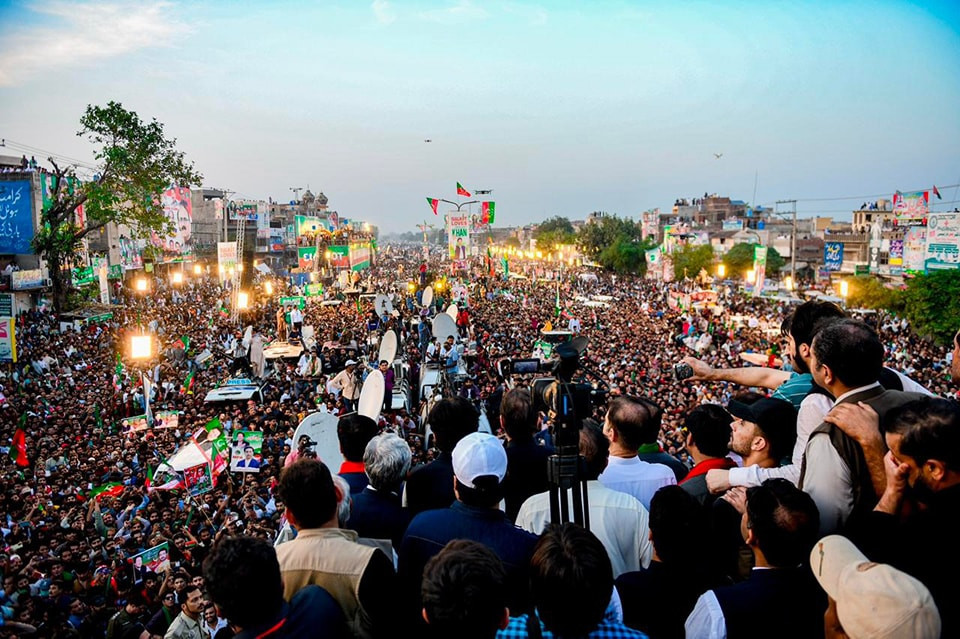 Pakistan Tehreek-e-Insaf (PTI) General Secretary Asad Umar announced nationwide protests will be held after Friday prayers today and that demonstrations will continue until the demand of PTI Chairman Imran Khan is met.
The PTI senior leader took to his Twitter handle to make the announcement just a day after the party chief narrowly escaped an assassination attempt.
"Today, after the Friday prayer, there will be a protest in the whole country. Until Imran Khan's demand is met, nationwide protests will continue," Umar said in the tweet.
آج نماز جمعہ کے بعد تمام ملک میں احتجاج ہو گا. جب تک عمران خان کا مطالبہ پورا نہیں ہوتا، ملک گیر احتجاج جاری رہے گا
— Asad Umar (@Asad_Umar) November 4, 2022
The former prime minister sustained a bullet wound to his leg after an armed attack on his container, as he led the Pakistan PTI's 'Haqeeqi Azadi March' in Wazirabad on Thursday.
One person died in the incident, while several members of the PTI chairman's close circle, including Senator Faisal Javaid, former Sindh governor Imran Ismail, Ahmad Chattha and Imran Yousaf, were injured, party sources said.
PTI supporters took to the streets in protest hours after the assassination attempt on the party chief on day 7 of the long march.
Read Social media reacts to targeted attack on Imran Khan
Angry protesters attacked the residence of Interior Minister Rana Sanaullah in his hometown of Faisalabad. Protesters also took to the streets in Rawalpindi, Peshawar, Quetta, Karachi and other parts of the country.
The PTI protesters clashed with police at Faizabad Interchange in the twin cities of Rawalpindi and Islamabad. The capital police used heavy tear gas shelling to disperse the protesters, while a woman was detained.
Former ruling party workers, led by Punjab Minister Fayyaz Chauhan and National Assembly Member Sadaqat Abbasi also staged protests on Murree Road, Peshawar Road, GT Road, Kalar Saedaan Road and at other places.
Also Read Political assassinations: have we learnt any lessons?
The National Highways and Motorway Police said that PTI workers staged protests by burning tyres in Rawat, Gujar Khan, Suhawa, Wah Cantt and other places.
As soon as the news about the gun attack on Imran's convoy spread, PTI workers came out on roads in Peshawar. Some provincial ministers and assembly members also joined them.
The workers marched from Hashtnagari to the Assembly Chowk. Angry marchers also attacked a police armoured vehicle during the protest, however, traffic continued on GT Road and Khyber Road continued to ply.


Source link