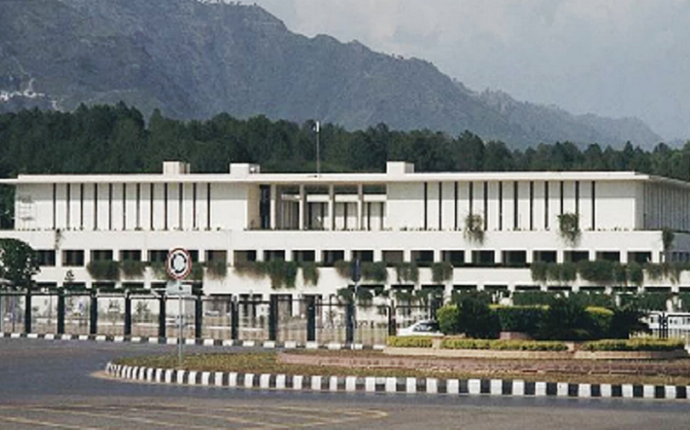 Within five days of the regime change in Pakistan with the PML-N assuming power, the Establishment Division has promoted and transferred officers of the Pakistan Administrative Service (PAS), the Police Service of Pakistan (PSP), and the Secretariat Group.
According to a notification issued by the division on Saturday, 43 PAS officers, 31 of PSP and 23 of the Secretariat Group have been promoted to Grade 19.
The division, on the recommendation of the Departmental Selection Board, has issued notifications for promotion of officers of all three cadres to Grade 19. Regular promotions have been given to 34 PAS officers.
The officers who got regular promotions are: Omar Jahangir, Mehtab Wasim Azhar, Zainab Khan, Altaf Hussain, Muhammad Qasim Khan Kakar, Noorul Ain Fatima, Ikramul Haq, Rizwan Qadeer, Quratul Ain Memon, Abid Ali, Mohammad Khizar Afzal, Sundus Irshad, Maryam Mumtaz Butt, Adeela Hafeez, Shahzeb Hasnain, Salma Suleiman, Farrukh Atiq Khan, Adnan Mahmood, Ahmad Fawad, Fahim Afridi, Tariq Manzoor, Tariq Salam, Imrana Tauqeer, Maleeha Rashid, Shafiullah Khan, Maria Tariq, Rao Atif Raza, Asim Javed, Shazia Qazi, Anwar Ali Shar, Wasif Saeed, Akmal Khan, Qaiser Khan.
Those who took charge in Grade 19 are: Asma Ali Awan, Fareeha Tehseen, Asim Raza, Rana Amir, Waheed Asghar, Waqas Rasheed, Saba Adil and Fazal Akbar, Shahid Mahmood have been promoted.
Thirty-one PSP officers were also promoted to Grade 19.
Also read: Over 150 bureaucrats promoted
Rizwan Omar Gondal, stationed in Balochistan, was promoted.
In Punjab, Capt (retd) Tariq Wilayat, Ismail Rehman, Syed Hasnain Haider, Syed Khalid Mahmood Hamdani, Muhammad Sohaib Ashraf, Capt (retd) Wahid Mahmood, Asad Ijaz Malhi, Capt (retd) Mansoor Aman, Sadiq Hussain, Atif Nazir, Adil Memon, Faisal Shehzad and Akhtar Farooq were promoted.
In Islamabad, Syed Akbar Shah, Maria Mahmood, Mian Afnan Amin, Syed Qarar Hussain, Syed Zahida Bukhari, Gulfam Nasir and Liaquat Hayat got promotions.
Syed Muhammad Bilal and Yasir Afridi, stationed in Khyber-Pakhtunkhwa received promotions.
The officers who got promoted in Sindh are Farrukh Raza, Shabbir Ahmed Sehtar, Muhammad Arif Aslam, Fida Hussain and Syed Muhammad Ali Raza.
Syed Mustafa Tanveer and Zubair Ahmed of the Federal Investigation Agency were promoted.
After promotion to Grade 19, Adil Memon's services were handed over to Sindh from Punjab while that of Amjad Hayat after promotion were given to Punjab from Sindh.
Further, 23 Secretariat Group officers were promoted to Grade 19 and transferred.
After promotion to Grade 19, Muhammad Qadeer was posted as Overseas Pakistan Division deputy secretary. Afshan Sabir was appointed as National Heritage Division deputy secretary. Amir Sohail as Establishment Division deputy secretary. Asadullah, Ashfaq Ahmed Hiraj and Farooq Ghani as Finance Division deputy secretaries.
Syed Abdul Manan as Power Division deputy secretary. Ashraf Khan and Shazia Mushtaq as Commerce Division deputy secretaries. Saima Bibi as Parliamentary Affairs Division deputy secretary. Shafqat Abbas and Khurram Shehzad as Planning Division deputy secretaries. Nazish Amjad as National Health Division deputy secretary. Naveed Akbar as National Food Security Division deputy secretary. Shahjahan as Defence Division deputy secretary. Qaiser Farooq as Home Division deputy secretary.
Yasser Arafat as Interior Division deputy secretary. Salahuddin Narejo as Climate Change Division deputy secretary. Jahanzeb Potafi as Defence Production Division deputy secretary. Aurangzeb as Law and Justice Division deputy secretary. Aftab Ahmed as Economic Affairs Division deputy secretary. Ghulam Yaseen as Communications Division deputy secretary. Zakaria Akram as Inter-Provincial Coordination Division deputy secretary.


Source link