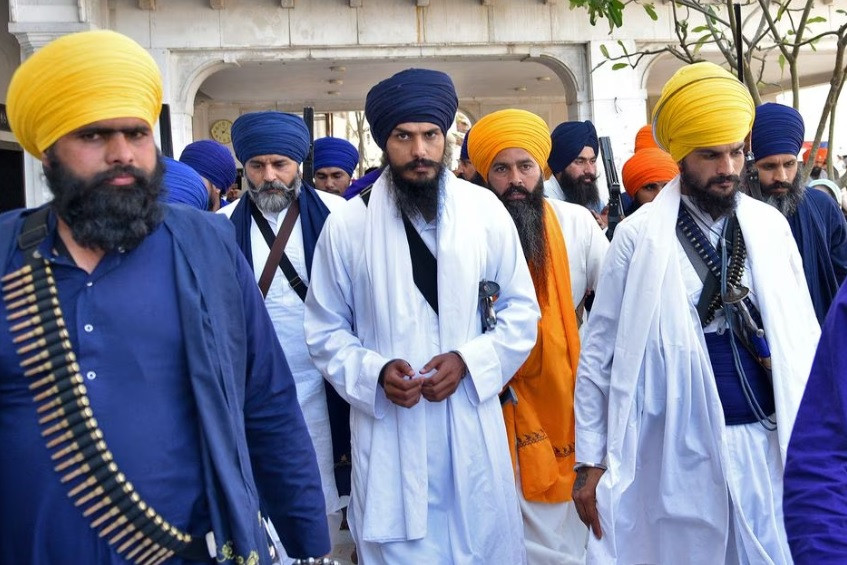 The prominent Sikh and pro-Khalistan leader Amritpal Singh in a video message released on Wednesday called for a 'Sarbat Khalsa' — a deliberative assembly of the Sikh community — as a massive search operation against him continues.
Earlier this month, the Indian police had launched "massive cordon and search operations" and suspended internet and mobile services across Punjab in a push to nab Amritpal.
Read Twitter blocks Pakistan govt's account in India
The Indian government had also summoned its United Kingdom's senior-most diplomat to protest the taking down of its national flag at the Indian High Commission (HC) in London by pro-Khalistan demonstrators.
Soon after, India had summoned Canada's High Commissioner as well to "convey strong concern" over Sikh protesters in Canada and how they were allowed to breach the security of India's diplomatic mission and consulates.
Meanwhile, the operation against Amritpal and his outfit 'Waris Punjab De' (heirs of Punjab) continues, as per Indian media reports.
The Punjab government, through an affidavit, informed the Punjab and Haryana High Court that Amritpal is still absconding from the law, reported the Indian Express.
The affidavit was filed during the resumed hearing on a habeas corpus petition filed by Advocate Imaan Singh Khara claiming Amritpal Singh was in "illegal custody" of Punjab Police and that he be immediately released.
Punjab government, through the affidavit, submitted that the petitioner had levelled vague, false, misleading and frivolous allegations in the petition without attaching any proof to support his allegations.
"Amritpal Singh is absconding from the law. Raids have been conducted to apprehend and detain Amritpal Singh. Multiple teams headed by senior police officers, including Senior Superintendent of Police, Amritsar Rural, SPs, DSPs and SHOs, have raided at various suspected hideouts of Amritpal Singh. The case diaries in this regard have also been recorded. But despite best efforts on the part of police, he could not be arrested/detained so far," said the IG in the affidavit.
Meanwhile, in a recorded video message being shared online, Amritpal spoke of the crackdown against Sikhs, particularly his "friends and allies" saying that "we knew we would have to suffer all this injustice owing to the path that we tread".
'But," he continued, "it is our national responsibility to raise our voice against it".
BREAKING: Bhai Amritpal Singh has called a Sarbat Khalsa for Vaisakhi 2023. Bhai Amritpal Singh has appeared in front of a camera for the first time since March 18th. pic.twitter.com/SHWIgolGvY
— CSYA (@TheCsya) March 29, 2023
Amritpal said that he was therefore calling upon the entire Sikh community in India and abroad to convene a Sarbat Khalsa at Damdama Sahib in Punjab this Baisakhi on April 14.
It may be noted that Takht Damdama Sahib is one of the five takhts or seats of temporal authority of Sikhism.
Read more Sikh resistance
Amritpal has requested the jathedar Giani Harpreet Singh "to take a very tough stand" and appealed to the Sikh community to attend the gathering "in great numbers" to "save Punjab" and "reclaim our national rights".
"I am in high spirits," he added, "nobody would even touch me" as he appealed to everyone to "prepare, because if we go and hide in our homes now and allow fear to creep into our minds, our future generations will never forgive us".
Scroll.in also reported that he questioned the intentions of the Punjab government saying that had they been interested in making an arrest, they could have sent the police to his house and he would have given up.
Meanwhile, according to Times of India, the video came as a surprise as unconfirmed reports indicated that he might surrender to police after taking a dip and praying at the Golden Temple in Amritsar.
According to the Indian Express, Akal Takht Jathedar Giani Harpreet Singh was also put up on Takht Damdama Sahib premises on Wednesday. The Jathedar had recently given an ultimatum to the Punjab government to release all the Sikh youths arrested in the crackdown against Amritpal and his outfit 'Waris Punjab De'.
A heavy police force was seen all over Talwandi Sabo.
Notably, the Punjab police had claimed to have taken into custody 360 people tied to the 'Waris Punjab De' group, but Amritpal has been giving them the slip.
The latest video followed a 24-hour ultimatum set this Monday by the Akal Takht Jathedar — the head of Sikhs worldwide — to the Punjab government to set free all arrested supporters of Amritpal.
The Indian government responded Wednesday that 348 of the 360 people picked up during the police action have been released, assuring that the remaining dozen will be out soon.


Source link