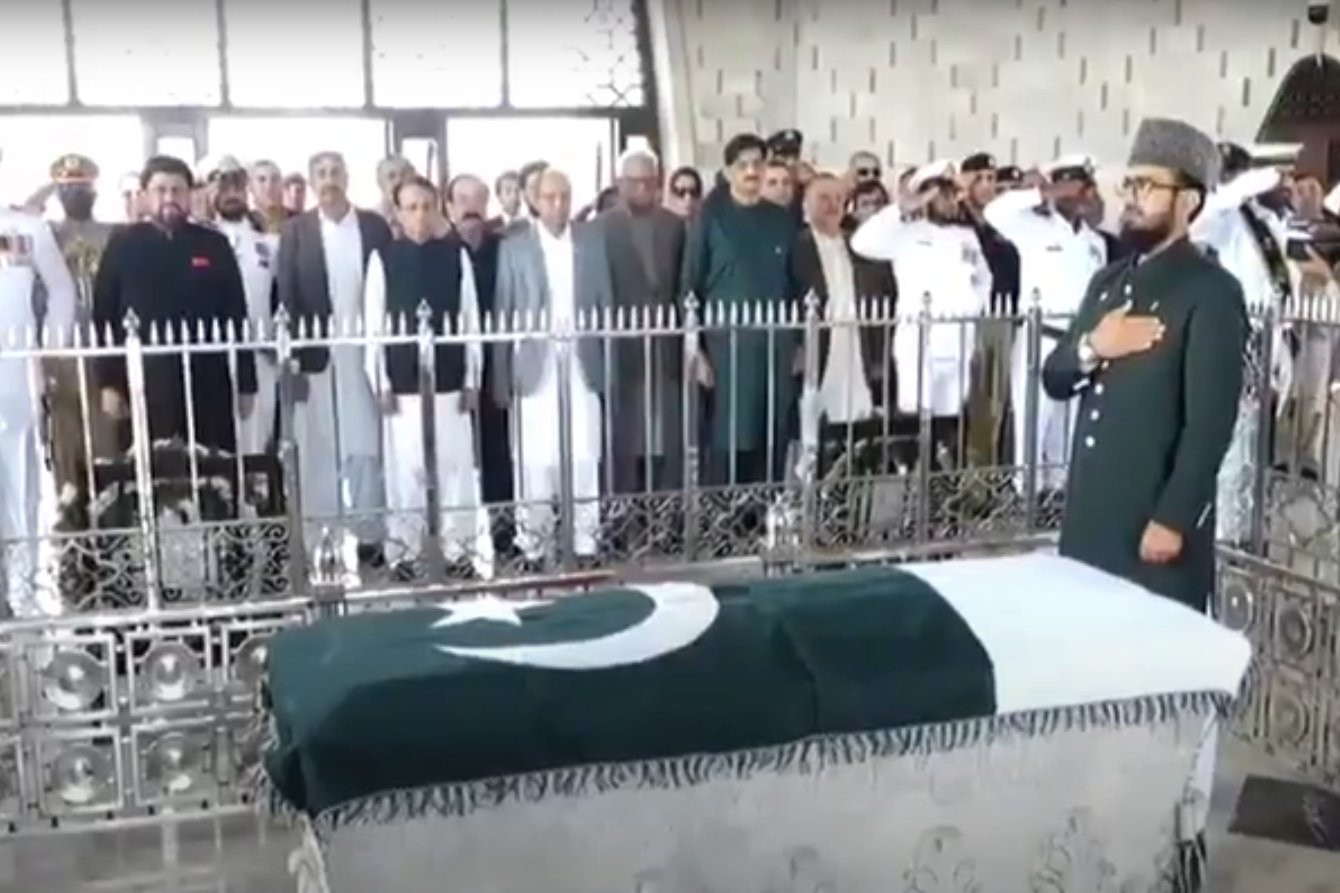 [ad_1]
Prime Minister Shehbaz Sharif and President Dr Arif Alvi on Sunday called upon the nation to uphold Quaid-e-Azam Muhammad Ali Jinnah's vision of Pakistan and follow his principles to ensure the progress and prosperity of the country.
In a message on the occasion of Quaid's 146th birth anniversary, the premier said that the whole nation is celebrating with patriotic fervour and zeal.
The founder of Pakistan "valiantly fought the constitutional and political fight" for the rights of Muslims in the Indian subcontinent and, as a result, they are living independently in Pakistan today, he added.
Shehbaz said that Quaid-e-Azam was against the idea of a majority usurping the rights of minorities on the basis of numerical superiority, adding that Jinnah had strived for the restoration of a unique way of life of Muslims and for their separate social, and economic, political and cultural identity in the comity of nations.
Read Imran sees elections in March or April
The PM said Jinnah's efforts were directed not only to create a separate and independent state for the Muslims but also for a state in which minorities lived without fear or danger and were given equal opportunities and complete religious freedom.
Shehbaz remarked that because of the rising religious animosity and mindset of extremist Hindutva, India as a state has failed to protect the rights of its minorities. This situation makes Quaid's farsightedness evident and proves his arguments for the two-nation theory, he stressed.
The prime minister said Quaid-e-Azam's life was a "practical demonstration of his steadfastness for principles, constitutional struggle, political sagacity, and of the golden principles of faith, unity, and discipline".
We, as a nation, have failed to live up to the Quaid's ideals. Nothing undermines a nation more than lack of unity. Adherence to the Quaid's ideology can make us defeat all the odds. My resolve on this Day is to keep working for the well-being of our people. https://t.co/aZJwLN8X9H
— Shehbaz Sharif (@CMShehbaz) December 25, 2022
He emphasised that the nation needs to follow Quaid's vision and principles, adding that in Jinnah's Pakistan there would be no superiority on the basis of language, class, religion or numerical strength.
"The Constitution of Pakistan truly represented Quaid's 14 points and under it, everyone would have equal opportunities for achieving progress and prosperity, without diminishing the individual strength of any federal unit," he added.
PM Shehbaz said Pakistan is going through a difficult phase and following Quaid's footsteps is more necessary now than ever. The best way to pay tribute to the founder is to make Pakistan an Islamic welfare state, he said.
"We have to put an end to internal chaos and work tirelessly for the advancement of Pakistan," he urged.
Read More Economy devoid of Quaid's principles: ICCI
President Dr Arif Alvi, in his message to the nation, reiterated Pakistan's commitment to cherish and uphold Quaid-e-Azam's vision for the country, mobilising resources to tackle grave issues and move on the path of political stability and economic prosperity.
"Today, we celebrate the 146th birth anniversary of our beloved founding father, Quaid-e-Azam Muhammad Ali Jinnah, with great affection, enthusiasm and reverence," he said.
"On this day, we express our gratitude for carving out a separate homeland for the Muslims of the sub-continent where we are free to realize our dreams as envisioned by the Quaid. Due to his untiring efforts, we were blessed with a country where we can live and breathe as free men and can develop it according to our own wishes and culture and uphold the principles of Islamic social justice."
Message from President Dr. Arif Alvi on the occasion of Christmas, 2022.#APPNews #Christmas #Christmas2022 #MerryChristmas #MerryChristmasToAll @PresOfPakistan @ArifAlvi pic.twitter.com/Z4P4aotgmR
— APP 🇵🇰 (@appcsocialmedia) December 25, 2022
"We also reiterate our commitment to always cherish and uphold Quaid's vision for Pakistan where we mobilise all our resources in a systematic and organised way and tackle the grave issues that confront us with grim determination and discipline worthy of a great nation," he added.
Change of guard ceremony
A change of guards ceremony was held at Mazar-e-Quaid in Karachi today. Pakistan Air Force (PAF) cadets handed over the guards' duty to the cadets of the Pakistan Military Academy.
Major General Umer Aziz was the chief guest on the occasion and he laid a floral wreath at the mausoleum and offered Fateha.
Governor, CM visit Quaid's mausoleum, pay homage on his 146th birthday #APPNews #QuaideAzamDay #QuaidDay #Quaid #QuaideAzamMuhammadAliJinnah #25DecemberQuaidDay #25December #quaideazamzindabad #Quaid_Day https://t.co/vijTDdeyN9 via @appcsocialmedia pic.twitter.com/kbGnF3EYxX
— APP 🇵🇰 (@appcsocialmedia) December 25, 2022
Sindh Governor Kamran Tessori and Chief Minister Murad Ali Shah also visited the Quiad's mausoleum and paid homage to him on his 146th birthday.
Nation pays tribute to Quaid
Foreign Secretary Asad Khan, in a tweet, paid tribute to Jinnah and praised his "indomitable will and fierce determination".
On this #QuaidDay we pay tribute to the incomparable Quaid-e-Azam Muhammad Ali Jinnah, who forged a nation through his indomitable will and fierce determination. We also recommit ourselves to achieving his dream for a modern, prosperous and progressive Pakistan. @ForeignOfficePk pic.twitter.com/wP5O1okUnR
— Asad M. Khan (@asadmk17) December 25, 2022
Spokesperson of the Foreign Ministry Mumtaz Zahra Baloch wished Pakistanis a "happy Quaid Day" and highlighted Quaid's principles of "faith, discipline and devotion to duty".
Wishing all Pakistanis a very happy #QuaidDay as we pay tribute to the Father of the Nation, Quaid e Azam Muhammad Ali Jinnah.
Let us follow our Quaid in espousing the principles of faith, discipline and devotion to duty in all our endeavours.
🇵🇰Zindabad pic.twitter.com/JIYSOLwre2
— Spokesperson 🇵🇰 MoFA (@ForeignOfficePk) December 25, 2022
Interior Minister Rana Sanaullah Khan also remembered Quaid's vision of Pakistan and felicitated the nation, pledging to "sacrifice everything for the integrity and development" of the country.
The 25th of December reminds us of Quaid's vision of making Pakistan an Islamic welfare state where everyone gets equal rights. Felicitations of Quaid-i-Azam's birthday to the whole nation, as we pledge to sacrifice everything for the integrity and development of Pakistan.
— Rana SanaUllah Khan (@RanaSanaullahPK) December 25, 2022
Meanwhile. Finance Minister Ishaq Dar felicitated the entire nation as he paid tribute to the founder of Pakistan and noted that the day also marks the birthday of Nawaz Sharif, who he referred to as the "builder" of Pakistan.
25 دسمبر یوم پیدائش
بانی پاکستان قائد اعظم محمد علی جناح اور
معمار پاکستان محمد نواز شریف صاحب 🌹🌹🌹
پوری قوم کو مبارک ہو ❤️❤️❤️ pic.twitter.com/UOoRSukGMv
— Ishaq Dar (@MIshaqDar50) December 24, 2022
Minister for Education and Professional Training Rana Tanveer Hussain thanked Quaid-e-Azam for devoting his life to Pakistan and urged the youth to "follow Quaid's message of unity, faith, and discipline".
Nothing is more precious, wanted and blessing than freedom and independence. Thank you Quaid-i-Azam Muhammad Ali Jinnah for devoting your life to get us #Pakistan. I urge all of us and especially our youth to follow Quaid's message of Unity, Faith and Discipline.#QuaideAzamDay pic.twitter.com/QF7FRcGIz8
— Rana Tanveer Hussain (@RTanveerPMLN) December 25, 2022
Minister for Energy Khurram Dastgir Khan also took to Twitter to appreciate Jinnah's "steadfast commitment, untiring hard work, and charismatic leadership".
[]
M. A. Jinnah
Quaid-e-Azam
146th birth Anniversary
Founder of Pakistan
Politician & statesman
Peerless advocate
Steadfast commitment
Untiring hard work
Charismatic leadership
[] pic.twitter.com/4GFsJmfQHy
— Engr. Khurram Dastgir-Khan (@kdastgirkhan) December 24, 2022
[ad_2]
Source link