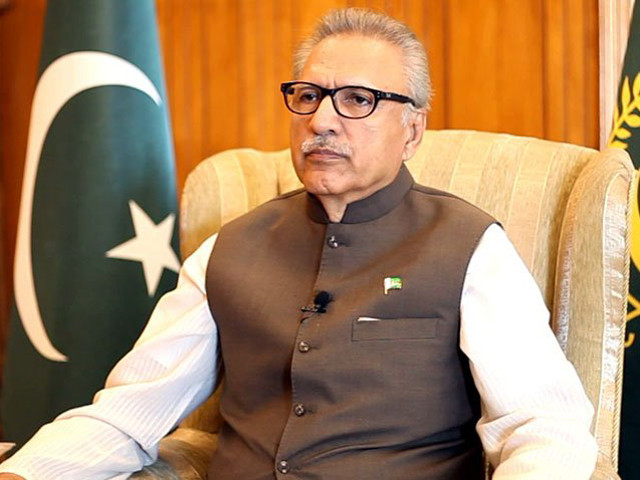 [ad_1]
President Dr Arif Alvi on Saturday said that he would ask Prime Minister Shehbaz Sharif to take a vote of confidence if he felt that he lacked majority in the house.
In an interview with a private television channel, he said that opposition that was outside the National Assembly (NA) had popularity among the people.
Political parties should take responsibility for taking the country forward, he stressed.
He also expressed his belief that fresh elections could help the country's economy.
He added that according to the constitution, the Election Commission of Pakistan (ECP), should always be prepared for holding elections.
He further said that elections were very important for Pakistan and the spirit of the constitution should be followed. Elections should not be avoided by finding loopholes in the constitution, he added.
Alvi said that elections at the national, provincial and local levels were reflective of the will of the people. Elections should be held on time or before time and avoiding election was undemocratic, he added.
He disclosed that he talked to Finance Minister Ishaq Dar about the need to hold elections.
He said that Pakistan Tehreek-e-Insaf (PTI) was continuously asking the government to enter into talks on the prospects of early elections.
He also remarked that the current establishment wanted to stay away from politics.
The president claimed that PTI was the most popular political party in Pakistan at present.
He expressed confidence that Pakistan would not default economically. However, he noted that the biggest issue for Pakistan at the moment was its economy.
He said that no "red line" could be imposed on a politician who was linked to the people of Pakistan. He added that members of PTI resigned from the NA but their resignations were not accepted.
"I advised Imran Khan to not leave the assemblies, but he did not follow my suggestion. His decision to quit assemblies was popular among the public," he disclosed.
Imran's narrative on the issue of cipher was very popular with the public, he observed.
To a question, Alvi said that releasing audios and videos of people was not Islamic and was immoral.
He said that Imran was his leader and will remain his leader and he knew Imran even before the formation of their political party.
He added that it should be ensured that the next elections in Pakistan were free and fair.
"I tried my best for use of electronic voting machines in the polls and for giving voting rights to the overseas Pakistanis," he concluded.

[ad_2]
Source link